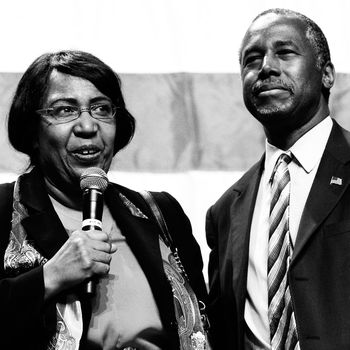 Candy Carson and Ben Carson.
Photo: Kevork Djansezian/Getty Images
Thanks to watchdog group American Oversight's commitment to this pressing story, the question of who okayed the purchase of Ben Carson's $31,000 dining room set has finally been resolved. Turns out that not only was the Department of Housing and Urban Development secretary involved in the selection, but he also enlisted the help of his wife, Candy.
In short, Carson — who previously claimed that he had nothing to do with the purchase of a new custom hardwood table, chairs, and a hutch for his office — lied. Through the Freedom of Information Act, American Oversight obtained the incriminating emails between Carson's aides, HUD's scheduling office, and Candy.
A few months after Carson's aides reprotedly asked to have the chairs of the existing set repaired, someone from HUD's scheduling office reached out to Candy via email.
"Hi Mrs. Carson!" they wrote. "There is a designer who will be in town next week on the 15th-17th to look at possibly redecorating the Secretary's office and bringing in new furniture. Are you available on any of those dates and would you like to come in and have input on the redecorating?"
While American Oversight did not obtain an email response from Candy, an email from one HUD official to another reads, "there were some furniture boardr'choices [sic] for Mrs. Carson to see". The message continues: "1 will see her tomorrow if 1 can get those in the morning" [sic].
Four months later, the office moved forward with the purchase — just not with two different bar carts and a bar cabinet that officials had previously considered.
Now, the only remaining question is, did Carson actually cancel the order like HUD said he did?