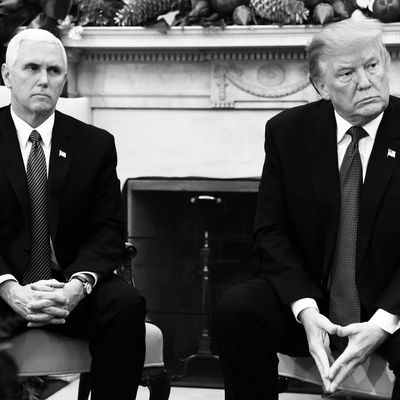 Mike Pence and Donald Trump.
Photo: Pool/Getty Images
The president and vice-president, to absolutely no one's surprise, were noticeably absent from any of the 800 worldwide March for Our Lives rallies Saturday against gun violence. Turns out they were separately indulging in two of their most beloved pastimes: golfing at Mar-a-Lago and thinking about faith-based pop culture, respectively.
While the White House did issue a statement yesterday about the March for Our Lives, applauding students for "exercising their First Amendment rights," neither Donald Trump nor Mike Pence appeared at a rally or released statements of their own.
According to The Hill, Trump jetted down to his private Florida resort yesterday morning, where he played golf while children and teenagers in D.C. delivered astonishingly inspiring speeches about the need for stricter gun legislation.
But sadly for the President, he couldn't totally ignore the rallies. According to BuzzFeed, approximately 2,000 protestors showed up up
What Pence chose to do during the rallies, on the other hand, is less obvious. He clearly had free time to think about some of his favorite things, though, because in the afternoon, he tweeted about an early screening of the faith-based movie I Can Only Imagine he caught a few weeks back.
"Great movie! Inspiring message!" he tweeted.
Congrats to our leaders on having such leisurely Saturdays!