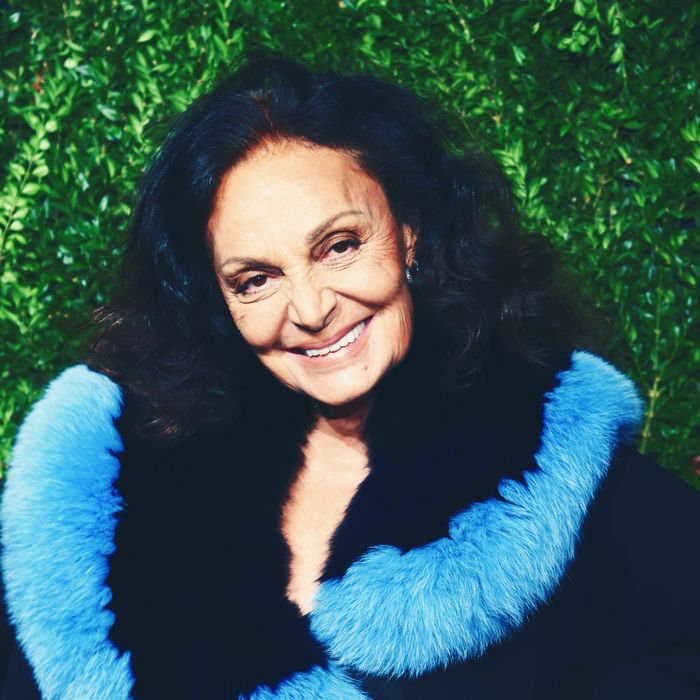 Diane von Furstenberg.
Photo: Dimitrios Kambouris/Getty Images
Diane von Furstenberg went on Katie Couric's podcast on Wednesday to discuss aging, her brand, and New York Fashion Week. As chairman of the Council of Fashion Designers of America (CFDA), Furstenberg said she always sends out a pre-Fashion Week good luck email to all of the designers showing, but this year's message was a little different.
"There's such a disruption in the world," she told Couric and her co-host, Brian Goldsmith. "Therefore there's such a disruption in every industry. And so as the chairman of the CFDA, I have to advise all my fellow designers and help them to navigate the tsunami of all these changes."
Fashion often reflects and comments on the culture of our time, and this year, NYFW, as well as the London, Milan, and Paris counterparts, came right on the heels of the #MeToo movement. Furstenberg urged designers to stay true to their own aesthetic and not let the cultural climate impede on their designs.
"This year when I emailed them I said, you know, at this moment of disruption, my biggest advice to you is to be yourself and to stand for who you are and who your brand stands for and don't look so much left and right, and do what is right for you," she said. "Because at the end, it's that authenticity that will last."
Some designers were greatly influenced by the political climate. Karl Lagerfeld buttoned up Chanel, and showed a more conservative collection. Dior went a different route and plastered the runway with '60s protest posters, staging their own, fashionable women's march. That was just in Paris, however. The political undertones didn't seem to seep into NYFW as much. Maybe the designers took Furstenberg's message to heart.