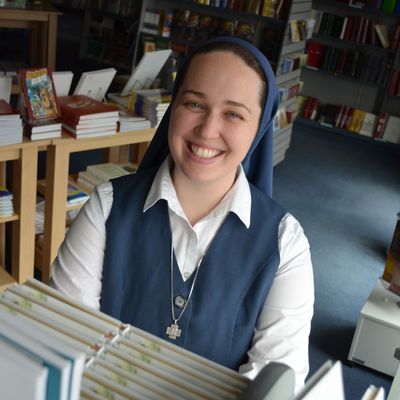 Sr. Carly Paula Arcella, a sister with the Daughters of St. Paul.
Photo: Sr. Danielle Victoria Lussier, FSP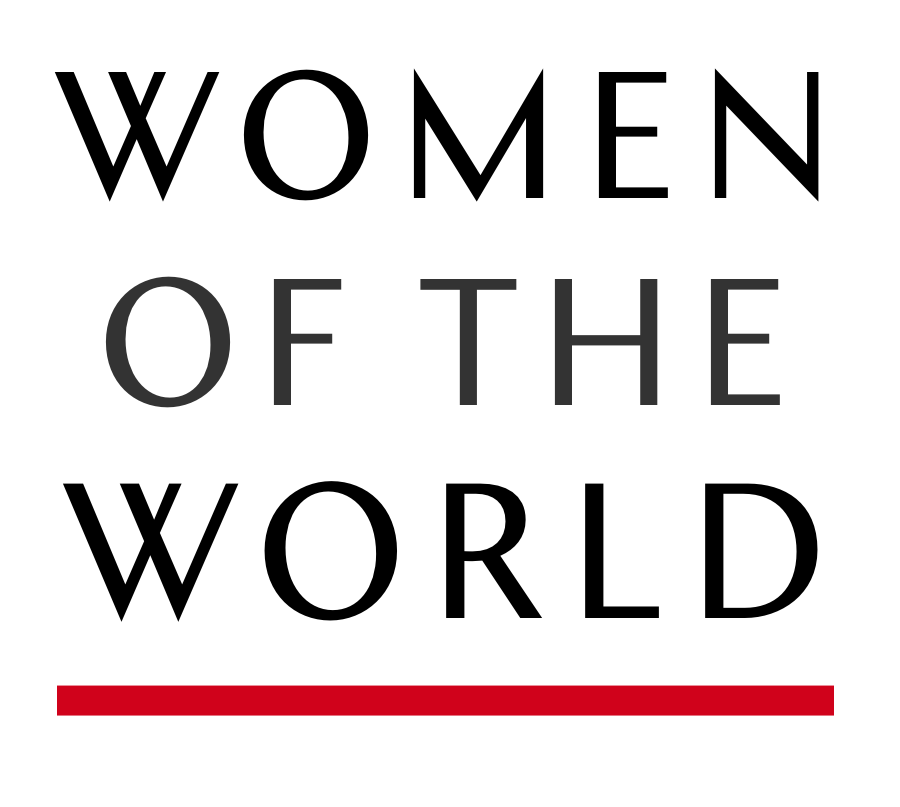 Women of the World is a series of snapshots of how women live, in honor of International Women's Day. Only about one percent of nuns in the U.S. are under 40, but some millennial women are still choosing to become nuns, the term for a cloistered life, or "sisters" if they're out working in the world. Two or three women between the required ages of 18 and 35 join the Daughters of St. Paul, otherwise known as the #MediaNuns, every year. Here, a 28-year-old sister born in Florida but based in a Toronto convent shares where she bought a closetful of white shirts and what it means to marry God.
Each morning I wake up around six in our convent, which is upstairs above our books center. There are about five other sisters in the same hallway and we each have our own rooms. It's a simple room, just a bed and a sink and a small bookshelf. I opted not for a desk just so I can have some space for prayer.
I have a special prayer that I pray to offer my day for the Lord, and then I immediately make it to the kitchen down the hallway for some coffee. From there I get ready for the day. I usually put on my profession cross and my habit and make sure my veil is straight and make it down to chapel. Each sister has her own unique way of doing her hair under the veil. I don't wear makeup because it's a life of simplicity. And also, why would I cover up who God created me to be?
We spend about three hours of prayer each day divided up into different parts. I'm getting my master's degree in theology now, so I'm participating in the Daughters of St. Paul mission as well part-time. Every day is a balancing act to be able to carve out the necessary time for each. For me it's being responsible about what the needs of the community are, like: Am I the cook? Do I have homework? Or do I prepare for the next ministry outing? It really forces the sisters to be in constant communication with one another to form the schedule, especially in a small group of five sisters.
When we first start out, we receive a list of things to enter the convent with, and they're very simple: it's a whole bunch of white shirts and an A-line navy blue skirt. Shop National is a big nun store, and so is L.L. Bean. A lot of people may see nuns as sheltered, but you enter the convent and see the world. I went from St. Louis to Boston for novitiate [nun training], and I was also sent to San Francisco for six months. I made my first vows in Boston and my first assignment was in New Orleans. Just a year after being there I was needed for our community in Toronto.
A lot of people think, "Oh, wait, you're from a family? You weren't born a nun?" I think there are definitely stereotypes out there, either from films or just maybe a different time period. Really, it's like being married to God. I've offered my entire life, all of who I am and who I'm called to be to Him alone, so He is my beloved. It doesn't mean I can't be around men. I have very good friendships with good holy guys. Many of them at this point are married and have families. I think it's beautiful how at times, especially with my girlfriends, they share the difficulties of that first year of married life and I have the gift of being able to reflect on the difficulties of my first year of religious life. There are some very profound similarities of what a person goes through when they've given and dedicated their life to someone.
I do take the vows of poverty, chastity, and obedience, so for that vow of poverty I do not receive a salary and I don't have a bank account or a credit card, but I live simply along with my sisters. I don't have any control over finances personally, so when I receive my bill from the school I turn it into my superiors and there is an education fund where the sisters have set aside donations and such. If I wanted a tub of ice cream? I would ask permission and give a really good reason, like it was someone's birthday.
It's not so much about what my hopes and my dreams and my desires are — those are part of my experience and my offering to the Lord — but this fact of obedience and surrendering to the will of God. That's part of our life: being able to surrender what may have been a successful career to simply do the Lord's will.
I love the gift of being able to center my day on the Lord, and really everything comes from Him. Because if you think about it, a bunch of women living together side by side does not make any sense without Him, and without Him directing my life and having a relationship with each one of my sisters. It's a beautiful, beautiful aspect of just communing with Him that builds community among my sisters, and then creates a greater community of drawing other people closer to the Lord.
This interview has been condensed and edited for clarity.