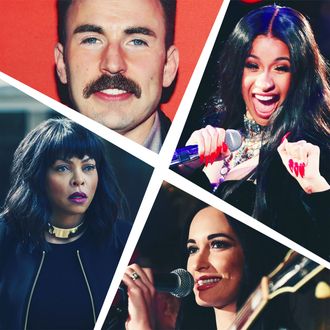 What's Good is a weekly column collecting TV, music, movies, and miscellaneous cultural ephemera worthy of your time. Why? Because we like it. Check back Fridays at lunchtime for your guide to what is good.
A week ago, Chris Evans debuted a mustache. I think he's also in a play and has some movie coming out, but really, his big drop this year is the mustache. One day he had that standard-issue Hollywood scruff; the next he had a frond of upper-lip hair so thick and geometric that it looked like a Lego.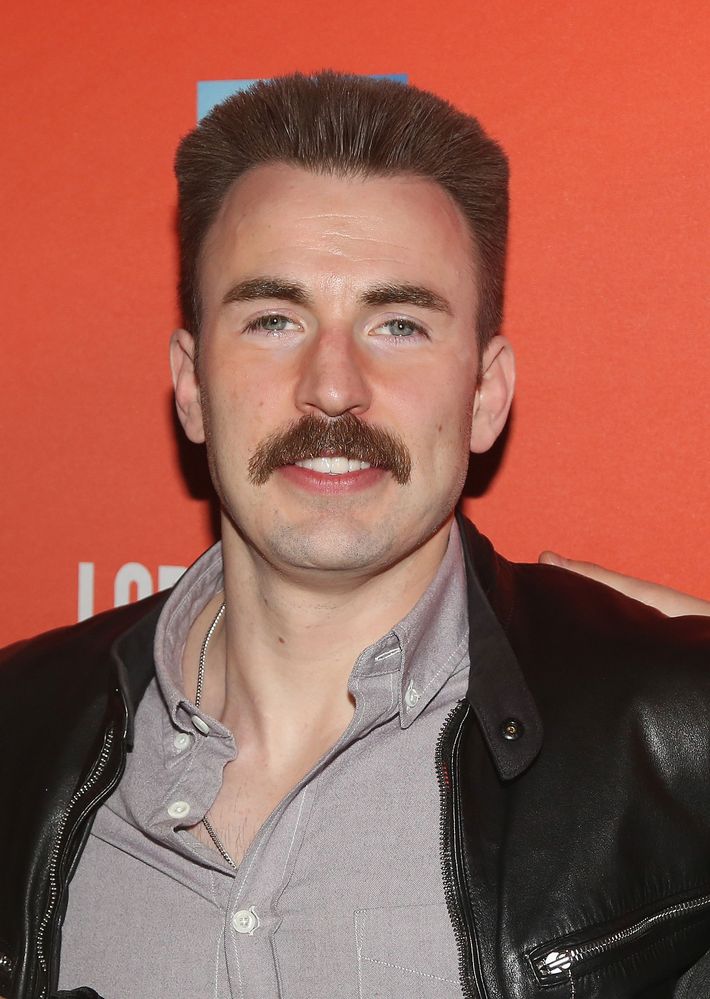 My initial reaction was, Oh, hello! You know, new facial hair can do a lot for a man — it can uplift, enhance, add a new virility to an otherwise meh face. And the mustache is a bold choice. Evans's styling choice immediately called to mind a '70s sex-party vibe. Maybe, in addition to being the kind of guy who reads Rebecca Solnit (okay), he's also the kind of guy who craves a hedonistic lifestyle that includes group sex. But is the Evans 'stache a good thing? It seems so far to be more "divisive" than straight-up "good." With this mustache, he has ignited a war. Is it a hot 'stache? Or a bad 'stache?
Let's take a closer look at this mustache. Can I get a zoom?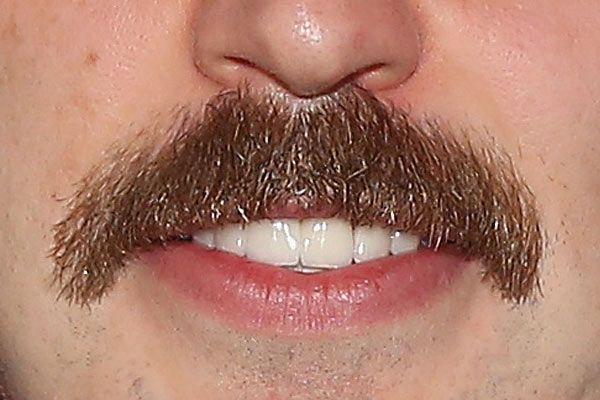 My. That's a dense nose bang. It's lush. Initially, I felt it deserved a tentative "Zaddy!"
However, there have been other reactions. Some looked at the mustache in question and did not see Zaddy. They saw the facial hair of a man who loves Gap chinos and often has remnants of a morning glass of whole milk drying in the corners of his 'stache. To some, this is the mustache of a man who wants to watch Remember the Titans after he does a little planning for the next missionary trip.
Others still see a small-town cop. For comparison, here he is next to two fictional small-town cops, Reno 911's Lieutenant Jim Dangle and Twilight's Sheriff Charlie Swan: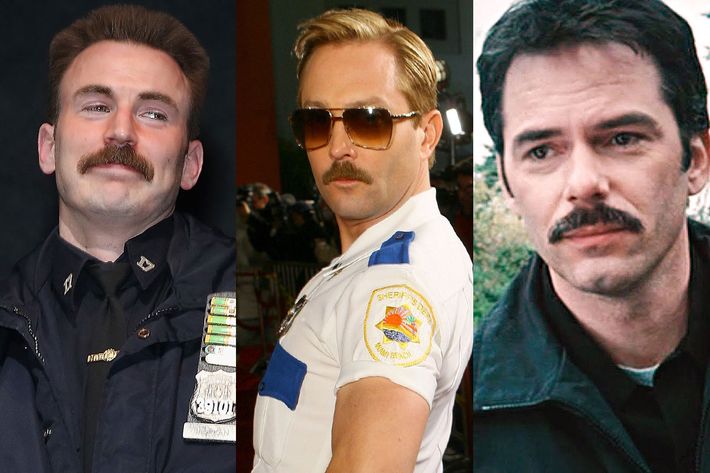 And then — the worst-case scenario — others see racist small-town cop. Which, yeah, the square police-academy hair does not help.
So, which is it, a small-town cop who is going to pull you over for turning your high beams off too late and then detain you for an hour? Or a host of a key party in Montclair, New Jersey? OR a small-town cop who has just recently gotten into polyamory, because we all contain multitudes?
Well, inasmuch as Evans plays a bad cop in Broadway's Lobby Hero, it seems confirmed that this is the mustache of a bad cop, not a swinger. Now the real questions remain: What does it mean if some people are sexually attracted to Chris Evans's mustache despite its negative connotations? Why is this the standard mustache of hate? Are we talking about this too much?
Last night, I went to bed early, and when I woke up to pee, my phone alerted me to a new Cardi B song and a new album from the Weeknd, so I haven't slept since because I've just been listening to all these new hot jams.
First up — in advance of an album, Invasion of Privacy, and an SNL performance next week — Cardi B dropped a penny from heaven, a.k.a. a new song, to get us hyped. "Be Careful" is a vibier track than usual (Cardi sings!), and the beat reminds me of something Eve would've rapped over in 2001. But the song hinges on Cardi's unique ability to be vulnerable while also immediately checking people (in this case, Offset — Jay-Z has some advice for you) with some genuine don't-mess-with-me-ness ("Be careful with me / Yeah, it's not a threat, it's a warnin'").
And out of nowhere, the Weeknd released a new really good six-song EP. My Dear Melancholy harkens back to the really sexy, sad music the Weeknd made before he decided he wanted to be a Pop Star. All of us who keep saying, "I miss the old the Weeknd from the first mixtape" finally have our day: This album is Starboy production value, with Trilogy-level drugged-up moodiness.
The Weeknd is always at his best when he's appealingly rakish, rather than on MDMA and desperately hunting for a booty call. "I hope you know this dick is still an option," he sings to an anonymous lover on "Wasted Times," and nobody is mad at that. Standout songs like "Privilege," in which he vows to drink the pain away, and the filthily post-breakup track "Hurt You" raise a few questions: When's the first music video, and yooooo, what did Selena do to you? 
And an Album We've Been Anticipating
I've never met a country song I actually liked aside from ones by Dolly Parton and the Dixie Chicks, but Nashville's Kacey Musgraves has got me listening to "Slow Burn" — the first track on the euphoric and optimistic Golden Hour — and now I really need someone to loan me a sunset, a truck, and a dirt road. I need to cruise, let my hair blow in the wind, stick a piece of wheat in my teeth, and find a big dog to be my companion while I moon over a lost big love who used to sit in the front seat, where the big dog now sits.
Musgraves — who is inspired by Sade and space and psychedelics — makes music in a world where Beyoncé performed at the CMA's and not everyone looked mad. Some people call it "pop-country" or "crossover country" or "country for people who don't want songs about red Solo cups," but it's really just country music that's inclusive and doesn't exist in a vacuum.
The new album is like a popcorn variety pack you get at Christmas. It's all countryish — small towns and waiting for the weekend and a distinct type of country-song love — but with different seasonings.
The title track has some Neil Young seasoning — a favorite. "Mother" is a dreamy LSD trip. (Really, she wrote the song on LSD.) And "High Horse," doused in disco, is a song-of-the-summer contender already. It will also go down in history as the song that revived dance-country after "Cotton Eyed Joe" scared us off of the genre.
What Is 'Acrimony' Even About?
A quick reminder to see Acrimony, which opens tonight. I actually cannot deduce what goes on in this movie from the trailer, but it looks insane — hopefully, another entry in the revered psycho-bitch genre. Taraji P. Henson stars as a jilted wife hell-bent on getting what she deserves from her cheating husband, who she supported while he was broke and trying to make world-changing technology. It appears that there is some sort of showdown on a yacht (the yacht he promised her!), and she wears great wigs. Is her husband actually cheating on her? Is she having a psychotic break? I cannot tell a damn thing from the trailer, but I'm looking forward to seeing how Taraji ranks on the Alex Forrest scale. Full report next week.