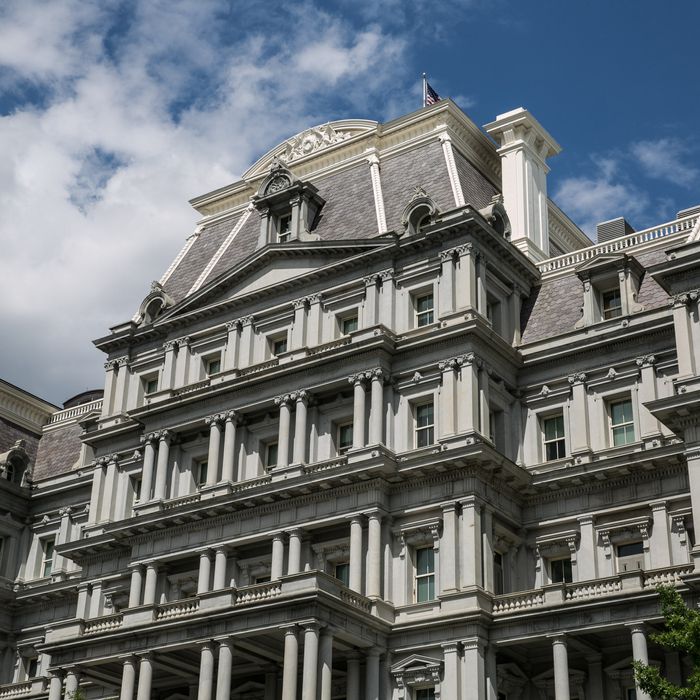 Eisenhower Office Building.
Photo: George Rose/Getty Images
In a White House marked by sex scandals, staff departures, dubious ethics, and occasional salads, it's comforting to know that West Wing staffers are reportedly focused on what really matters: icing each other.
For a refresher, "icing" is the scientific name for the act of surprising someone with a Smirnoff Ice and then forcing them to drink the entire bottle while on bended knee. The drinking game, which — let's face it — was probably a marketing ploy for a bad-tasting drink, was popularly known as "Bros Icing Bros" given that it was often bros who were, in fact, icing bros (although in reality, any person is able to partake in icing). The act had its heyday in 2010 and as all things do, eventually fizzled into oblivion. Except, it appears, with D.C. politicos.
According to a report by the Washington Post, a group of people who work in the White House office that selects political appointees, the Presidential Personnel Office, partook in some icing in January.
The staffers, whose job it is to recruit and vet thousands of political appointees, occasionally host happy hours in their offices (which are actually located in the Eisenhower Office Building) with wine, beer, and snacks for PPO employees and White House liaisons. Per the Post:
In January, they played a drinking game in the office called "Icing" to celebrate the deputy director's 30th birthday. Icing involves hiding a bottle of Smirnoff Ice, a flavored malt liquor, and demanding that the person who discovers it, in this case the deputy director, guzzle it.




The White House confirmed that PPO officials played the Icing game but said it and the happy hours are not unique to the PPO and are a way to network and let off steam.
Someone please send us video of this icing ASAP.