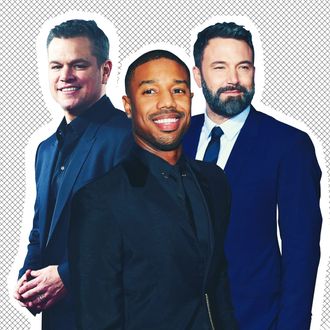 Matt Damon, Michael B. Jordan, Ben Affleck.
Photo: Getty Images
In her Oscar acceptance speech, Frances McDormand called upon Hollywood actors to add inclusion riders, a clause that requires racial and gender equality in movie productions, to their contracts. In the following weeks, more and more of Hollywood's elite have voiced their commitment to the practice. Below, an updated list of the actors and their companies who have agreed to add inclusion riders to their contracts.
Brie Larson
Larson, who had her own viral Oscars protest last year, tweeted soon after McDormand's speech that she was committed to the inclusion rider. Larson is one of the only high-profile actresses to publicly say she will demand an inclusion rider in her contract.
Michael B. Jordan
The Black Panther actor and orthodontic benefactor announced last week that his production company, Outlier Society, would formally adopt inclusion riders in all future projects.
Ben Affleck and Matt Damon
The famous BFFs and business partners have announced that their company, Pearl Street Films, will include an inclusion rider in all future projects. Their partner, Fanshen Cox DiGiovanni, made the announcement via Twitter last weekend, thanking Jordan for setting an example.