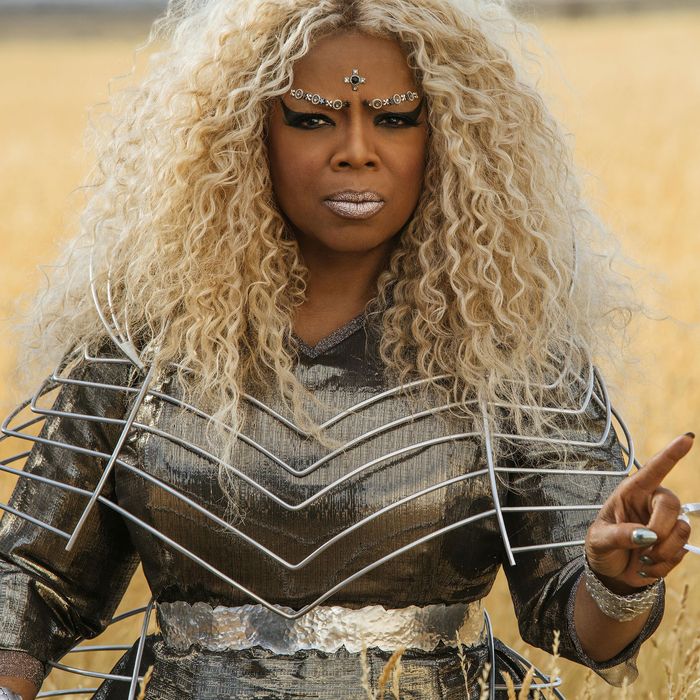 Oprah in
A Wrinkle in Time.
Photo: Atsushi Nishijima/Disney Enterprises, Inc.
Much of the film A Wrinkle in Time takes place in the untapped corners of our universe. In fact, three of the main characters — Mrs. Whatsit, Mrs. Who, and Mrs. Which, played by Reese Witherspoon, Mindy Kaling, and Oprah Winfrey, respectively — are celestial beings disguised as humans. Inspired by their mysterious backstories, the film's hair and makeup teams got creative. In the end, Oprah became a blonde, Mindy Kaling wore elaborate braids, and Reese Witherspoon transformed into a redhead.
The Cut talked to the movie's hair department head Kim Kimble, a hairstylist who frequently works with Beyoncé, to get a better understanding of A Wrinkle in Time's hair philosophy.
What was the creative process like in determining the movie's hairstyles?
It took a couple of months of prep to pull together images for our inspiration boards. The wigs took several weeks to make and we had over 50 on set. Each "Mrs." had five looks, but you only saw four in the movie. These women were beings from outer space, and so we were going for something that you've never seen before because they shouldn't look like your ordinary person.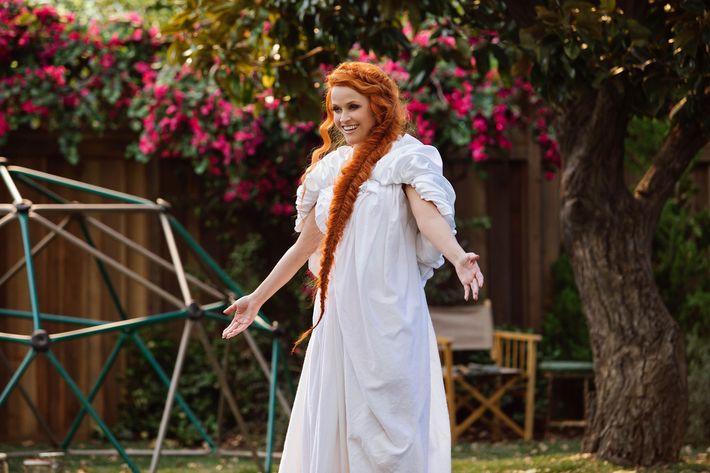 This is the first time I can recall seeing Oprah with blonde hair. Why did you decide to go with that color?
We wanted something different because she was coming from "the universe." The universe made me think of precious jewels, minerals, platinum, the stars, so that inspired the color. Even though her character was wise, I didn't want her to be gray. I wanted her to look very pretty, yet different. She's also 30 feet tall and a diva. So we did everything a little exaggerated: the braid, the texture, the shape of the hair.
Blonde was something Oprah was interested in. She had never done blonde before and the director [Ava DuVernay] wanted it too. I tested different colors on her; we tried red, we tried copper. I saw her skin illuminate when we put the blonde on her. We took pictures and the director approved it, and she approved it.
What about the hair for Mindy Kaling and Reese Witherspoon?
Mindy's character always repeats quotes from different famous people from around the world. Since she was very culturally aware, her hair was inspired by different cultures as well: African and Asian cultures. Although her [character's] hair was her natural color, I wanted to add color as well. But not hair color: string. She had one look with … I almost want to call them horns. It was all about texture, and it reminded me of certain Asian and African hairstyles. And then the bangs made it look super cute.
Reese was more fairytale: whimsical, a little earthy, and a little bit of fire within. That's why we went with the red hair. We did a lot of fishtail braids with her, too.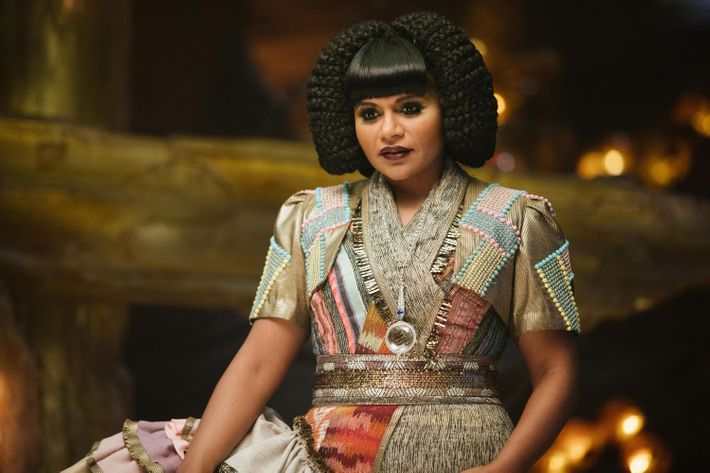 Were the wigs sweaty?
We constructed them to be very comfortable. That was something I was adamant about because they had to wear them all day.
There's a part in the movie where Meg (played by Storm Reid), who has naturally curly hair, is given the option to become an entirely different person, complete with a new wardrobe and straightened hair. All she has to do is join the bad guy. Looking at her hair, what message where you trying to convey with the straightened style?
It's something the director requested. There was a message in that, of course. Right now, natural, curly hair is making a big impact in the beauty industry, especially for women of color. The message in the beauty world is for you to love who you are.
Straight hair was supposed to represent what perfect looked like in Meg's mind. The straight hair was a struggle within — what Meg thought she was supposed to be — but then she came into herself as a young woman who accepted who she was. She said that she'd stay the same and rock her curly hair.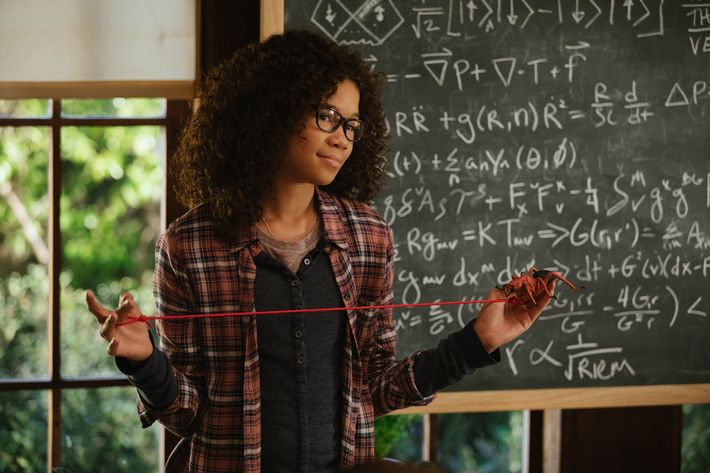 At one point Zach Galifianakis appears with a gorgeous braided man bun. How did that hairstyle come to be?
I said "Let's do a man bun!" It was made out of braids and we made it messy because he lives in a cave. I thought he looked very cool. He had the little ear cuffs, he had a man bun, he had a beard. He loved it. Before we started filming, we showed him inspirational pictures and when he saw his hairstyle, he was like: Yeeeeah.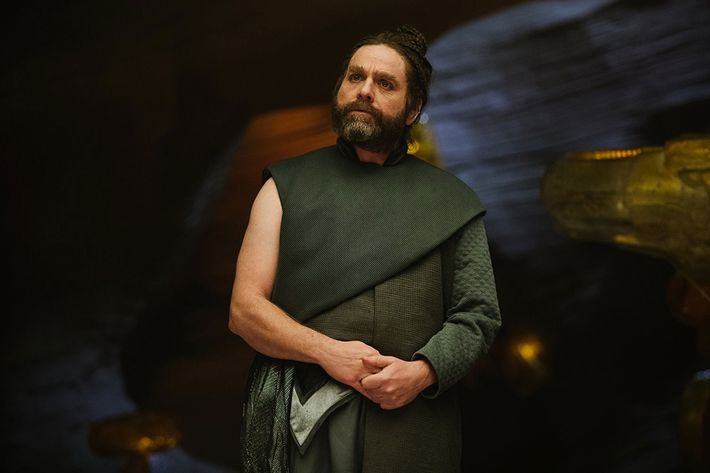 What was the hero hair product on set?
We had tons of hairspray. Aerogel spray. It's the best hair spray; the hair won't move after that. Curl products were also important on set. We used Kimble Bounce Back cream.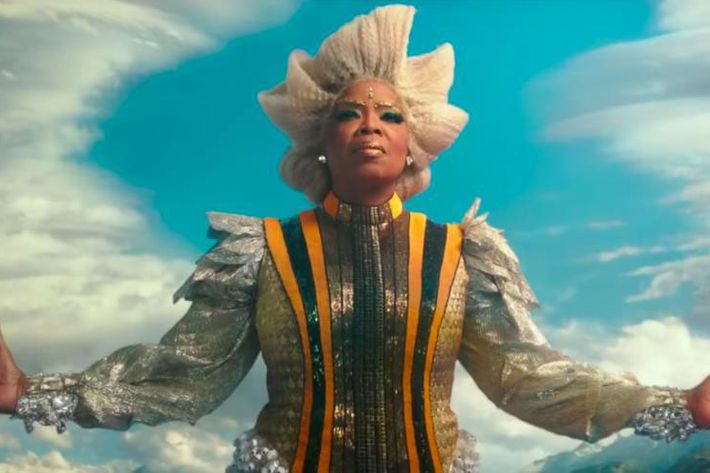 Which look are you most proud of?
What Oprah wore when they were on Uriel, the colorful planet. Her hair look liked a star, in a way. That was the most difficult one to figure out. We did the hair five times before we were all happy.
This interview has been edited and condensed.