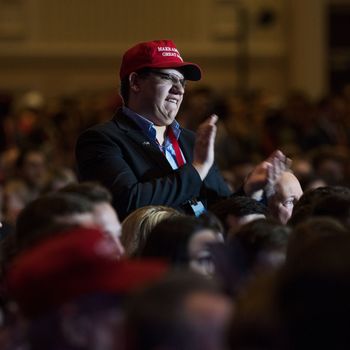 Young Trump supporter.
Photo: Tom Williams/CQ-Roll Call,Inc.
Turns out the real groups suffering under Donald Trump's administration aren't women, the working class, or other marginalized communities — it's young conservatives in Washington, whose dating lives have reportedly suffered since the 2016 presidential election.
In an ace new story from Washingtonian, a handful of GOP millenials willingly spoke about their love-life woes and complained about liberals' unwillingness to date across party lines. According to the report, many of the unpleasant meet-ups between conservatives and libs first blossomed on dating apps like Bumble or, "the Harvard of dating apps," the League.
"A lot of times you'll connect with someone [on an app] and they'll Google you, find out you worked for Trump's campaign, and then it's pretty much all downhill from there," a Trump Administration official said.
Those working in right-wing media also ranted about their belief that liberals aren't able to tell the difference between those who wear MAGA hats and Never Trump-ers. The Democrats quoted in the piece, though, asserted that they're aware of the political spectrum.
"If you're dating someone and they say 'I think we should have lower marginal tax rates,' that's different than dating someone who doesn't think a woman should have a right to terminate an unwanted pregnancy," a single woman at a progressive nonprofit told Washingtonian.
According to the report, though, young progressives don't enjoy themselves on dates with climate-change deniers, and young conservatives don't seem to like when their liberal dates get up and leave halfway through the evening — therefore, dating across party lines seems to make the average person miserable. Sounds like dating in just about every other city to us.