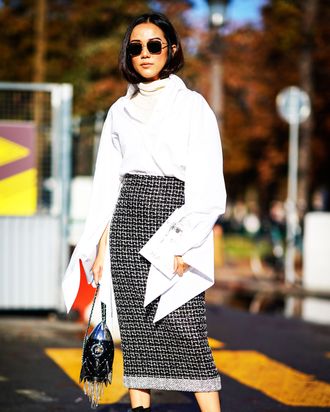 Yoyo Cao.
Photo: Edward Berthelot/Getty Images
An extremely tone-deaf T-shirt has set off one massive controversy in the world of opinionated, Instagram-loving fashion influencers.
At the center of the drama is Yoyo Cao, a Singapore-based fashion influencer who Instagrammed a photo of the first T-shirt her fashion label, Exhibit Store, has ever launched: a white shirt with the phrase "fuck what they say" and a gun motif in the upper left corner.
The image of a gun is particularly jarring right now, at a time when people across the world are demanding gun control in the aftermath of the horrific school shooting at Marjory Stoneman Douglas High School in Parkland, Florida. Those who came to Cao's defense claimed that she wasn't being insensitive because she lives in Singapore, and therefore, she might not be familiar with the America-based anti-gun-violence movement.
But those who defended her were up against a handful of high-profile opponents. One of her most well-known critics was fashion influencer Tina Craig, better known as Bag Snob, who was quick to attack — via comments, replies to comments, and even her Instagram story.
Below, screenshots from Bag Snob's Instagram story.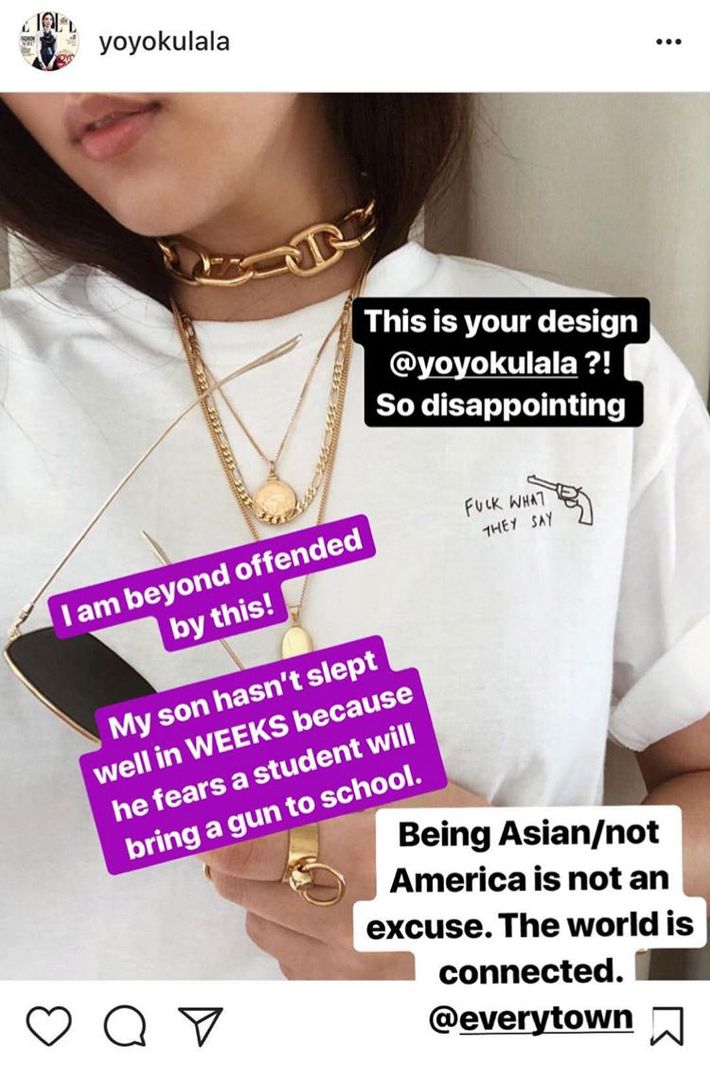 She included a photo of Alyssa Alhadeff, a 14-year-old victim of the Stoneman shooting.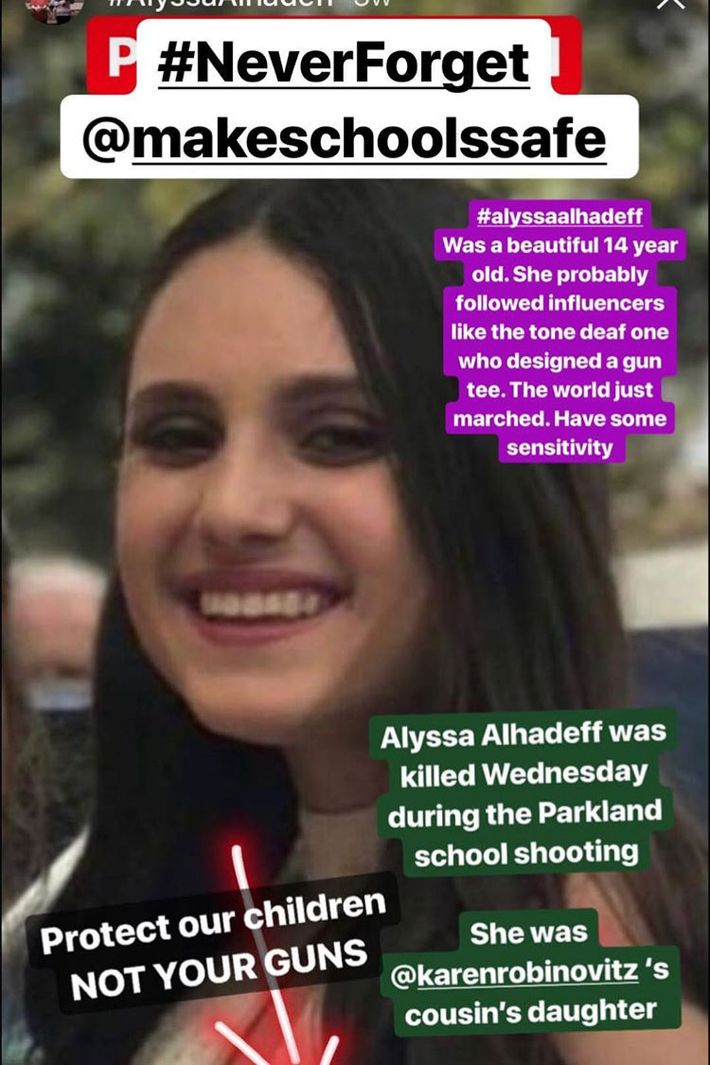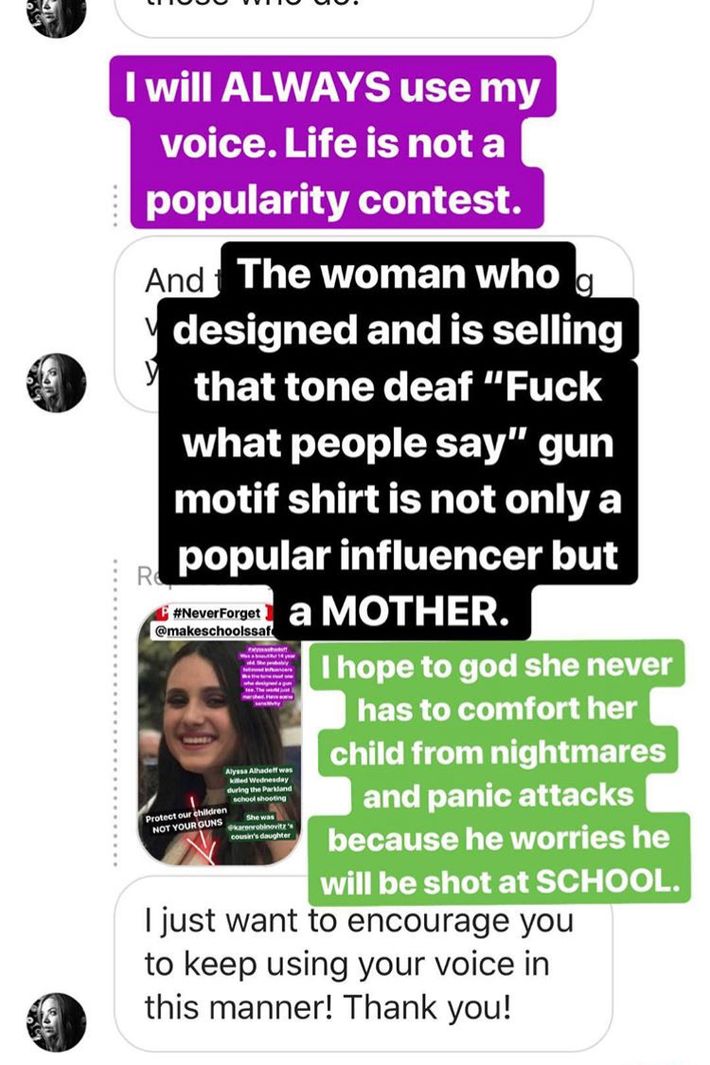 She also posted a photo of her young son to her story, claiming, "he's worried about being killed at school."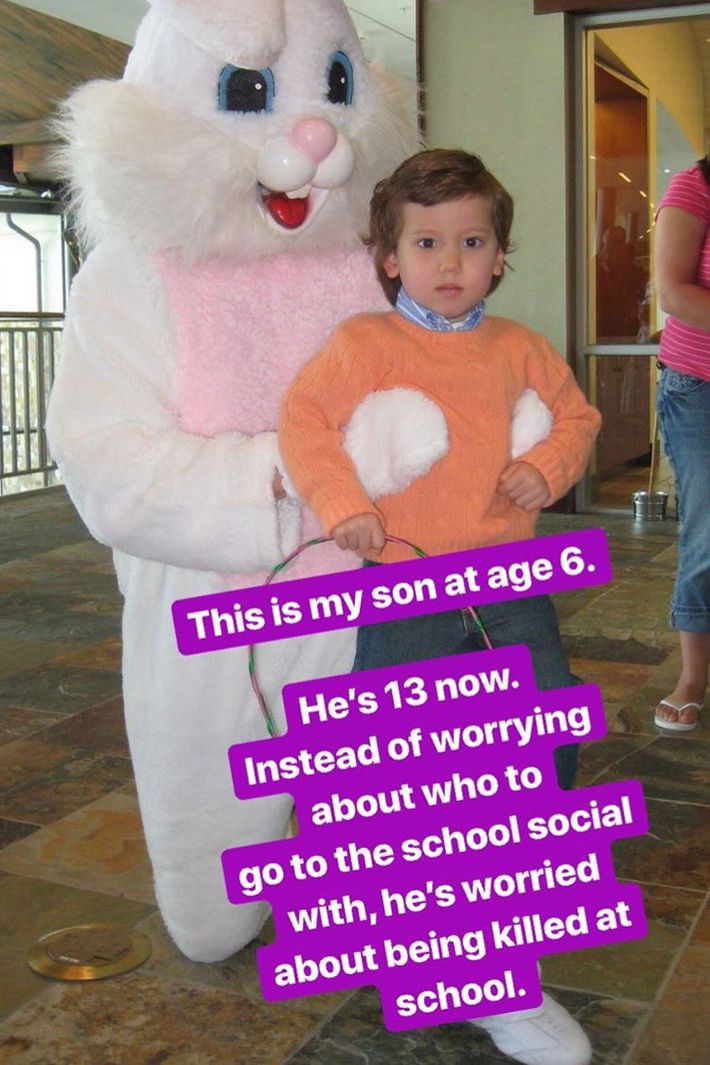 While Craig was one of Cao's most vocal critics, she was far from the only.
"This is really, really tone deaf. Please pay attention to what's going on around the world. Fashion doesn't exist in a vacuum," fashion blogger Nicolette Manson commented.
Street-style star Nasiba Adilova echoed the above sentiments. "This is so terrible and insensitive!" she wrote.
Even Housewife Lisa Rinna got involved at some point, because of course she did, and she didn't mince words. "You must be confused when it comes to this it is not fuck what they say. I'm hoping you don't know what the fuck you're doing and it's a big fat mistake," she wrote.
Despite the numerous attacks, Cao has not deleted the photo, apologized, or even responded at all — though she has continued to post to her Instagram story, without a single mention of the T-shirt.
Update, March 30, 2018, 7:32 a.m.: Cao has issued an apology on her Instagram story, writing, "an image on a T-shirt is not something to joke about. Promoting violence was never our intention."