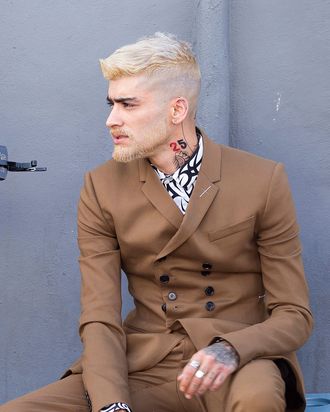 Zayn Malik.
Photo: Splash News
While Vogue wants you to believe that Gigi Hadid flaunted an "anti-revenge bod" and bought a new "It" bag after her breakup with Zayn Malik, we're more concerned about her moody ex-boyfriend, who seems to be projecting the complexities of his emotional highs and lows on social media.
The 22-year-old supermodel and the 25-year-old singer announced the "difficult decision" of their split after two years on March 13. However, they haven't been photographed together since mid-January, when they did date-night dressed exactly like characters from the Matrix. The last Instagram they posted together is also from January.
Hadid likes to remain low-key on Instagram, but Zayn seems to be putting it all on the table these days. We've been there: the "Look at me!" selfies, the dramatic filters, the questionable haircuts and maybe a tattoo (or two). It's easy to go overboard when you're going through a breakup. But most people don't have 27 million followers watching.
At this point, Zayn is posting a selfie a day — sometimes twice a day — each with a more layered filter. A deep dive into his Instagram seems to reveal where his head (and heart) are at. When someone seems to be spiraling on social media, real friends are the ones who ask: "Hey, are you okay?"
January 26: Meet Zayn 2.0
Zayn is a new man! Or so he says in this Instagram caption. Two days later, he goes to the Grammys alone. Rumors of new music are beginning to swirl.
January 29: The "Zoems" Begin
Rather than selfies, Zayn starts sharing poems — or "zoems," as he calls them. He shares about 20 over the course of a month. Topics range from clouds to fascism.
February 20: A Turn
After a month of poems, Zayn starts to share his music, beginning with artsy videos of piano keys. The lyrics he sings are mostly indecipherable, but that seems to be the point.
February 22: Zayn Looks Out at the Ocean
While on a getaway to some remote and extremely beautiful island, Zayn takes a moment to contemplate his white whale. (He does the same a few days later.)
February 23: More Songs
Zayn is still at the beach making music. In this particular "jam," he sings: "If I see you, don't walk me by." In a later Instagram, Zayn also sings about "being sad at the beach" and feeling "withdrawal" over a certain "baby." Hmmm.
"P.S. - Black squares are cool," Zayn adds of his framing choice. He starts dabbling with filters in these videos, but hasn't really settled on a favorite yet.
March 4: A Joke
Zayn makes a pun! Maybe he's okay after all?
This is really when we see Zayn's love of Photo booth–like filters take hold. One might describe their effect as "emotional infrared." Looking at a Zayn selfie today feels something like staring into the sun. His photo edges are burnt; his highlights blown out; and colors the inverse of reality. He oscillate between black-and-white (his original filter of choice), and exaggerated sepia, which he seems to have settled on post-breakup. Perhaps it's a signal that he's longing for the past. Or he just likes the way it makes him look: like a phoenix rising from the ashes of a bad angle.
March 9: We're Worried
Apparently, Zayn loves filters so much, he wants to see the world through them with color contact lenses, which make him look like a character from Avatar. No amount of neon can stop his tears from flowing, however. "You cry because you broke up with Gigi Hadid. Am I right?" says one commenter of this particular image. "Don't worry. I love you forever." We couldn't have said it better ourselves.
March 13: The Deluge
This is a really long day for Zayn, and we run the full gamut of his Instagram emotions and filters. At 10 a.m., he shares some impassioned wisdom with a heavy filter. At 1:43 p.m. — a sad selfie in black-and-white. A few hours later, another selfie. Then, at 3:10 p.m., he announces his breakup with Gigi Hadid on Twitter. By 6 p.m. Zayn is shirtless. He shares three photos of his abs — three! — in five different poses before calling it quits.
March 16: Le Rattail de Résistance
The placement of Zayn's latest tattoo — a thorny rose — seems unfortunate. It begs the question: Why? But no matter, Zayn can't see it back there.
March 19: Sad Fedora
Color contact lenses plus a fedora hat is not a combination we can say we've ever seen before. Zayn himself doesn't seem too enthusiastic about it, either. But this angle of selfie is definitely one we've seen before: Up close, with Zayn looking down at the lens. It gives the impression that any time he finds himself sitting alone somewhere, he opens his camera app just to say, "hello."
Now and Forever More
On Wednesday, Zayn revealed a new blonde look while on set for an upcoming music video, arguably completing the final chapter in his post-breakup saga. It's a look, for sure. But we support you, Zayn, and will always see you through rose-colored filters.