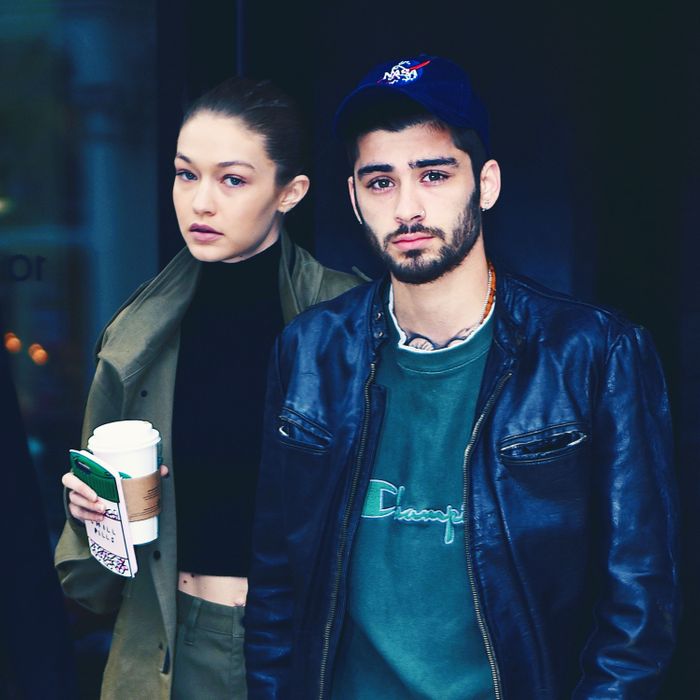 Gigi Hadid and Zayn Malik.
Photo: Robert Kamau/GC Images
Gigi Hadid and Zayn Malik are two people so wildly attractive it kind of hurts to look at them, like looking directly into the sun. For the past two years, the pair have been busy being extremely attractive together in music videos, and on magazine covers, and even matching Nutella jars, but now the two have broken up, oh no!
Zayn and Gigi confirmed the news in a pair of tweets on Tuesday:
The night before, a source told The Sun's Dan Wootton that, "They are no longer a couple but they do remain close and are supportive of each other. The reality is that they've grown apart, having been together for a long time. They have crazy work schedules that would put pressure on any relationship."
Earlier Tuesday, Zayn posted a heavily filtered selfie with the extremely loaded caption, "When Life throws you lemons, catch em so they don't hit you in the fucking face." Whoa.
As Elle notes, Zayn does not follow Gigi on Instagram, but she still follows him (he currently only follows 29 accounts, 15 of which are Zayn fan accounts.)
"This is definitely the end for now, but this isn't a bitter split and they both have respect for each other," the same source told Wooton. "It's a mutual decision so no one has completely ruled out a reunion in the future, but for now that's not where their heads are at."
Truly upsetting news. I guess we'll just have to go back to damaging our eyes the old-fashioned way, by staring directly into solar eclipses.