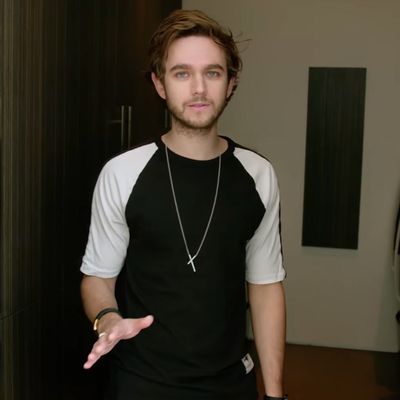 Full disclosure: When I woke up this morning, I did not know who Zedd was, or what a "Costco room" is. Now, thanks to Wikipedia and this video posted by Architectural Digest on Thursday, I know that Zedd is a Russian-German DJ and music producer whose real name is Anton Zaslavski, and that a Costco room is an absolutely essential part of any home.
During the tour of his 9,400-square-foot Beverly Hills home, Zedd shows off the modern mansion's various features, including a full-size Skittles vending machine, built-in hibachi grills, and a real tree that he says he's going to replace with a fake tree that has an iPhone charger "in case I ever want to charge my phone right here." Most crucially, however, he shows us his Costco room.
"This room is one of my favorite rooms in the house," Zedd says. "The goal for me was to stack everything up with anything I could ever use so I eventually don't have to leave the house."
Relatable. Haters will say the Costco room — which is a room slightly smaller than the other rooms, intended to store various nonperishable items — is just a "closet" or a "pantry." But the Costco room is so much more. It also has a fridge and a washer and dryer, and maybe a doomsday food kit we can't see, so really it's more of a pantry/laundry room/bomb shelter combo. You need a Costco room if you ever feel like being antisocial and don't want to run to the store for toilet paper, or if civilization as we know it collapses and everyone has to fend for themselves.
So how do regular people without 9,400-square-foot mansions incorporate a Costco room? You could get rid of your bedroom furniture and store your 300 rolls of paper towels and family-size jars of peanut butter there. Or you could fill up your bathroom with Costco stuff and ask to shower at your neighbor's place. It's up to you. All I (and Zedd) (and survivalists) know is that every home needs a Costco room.
Watch Zedd's tour of his house below: