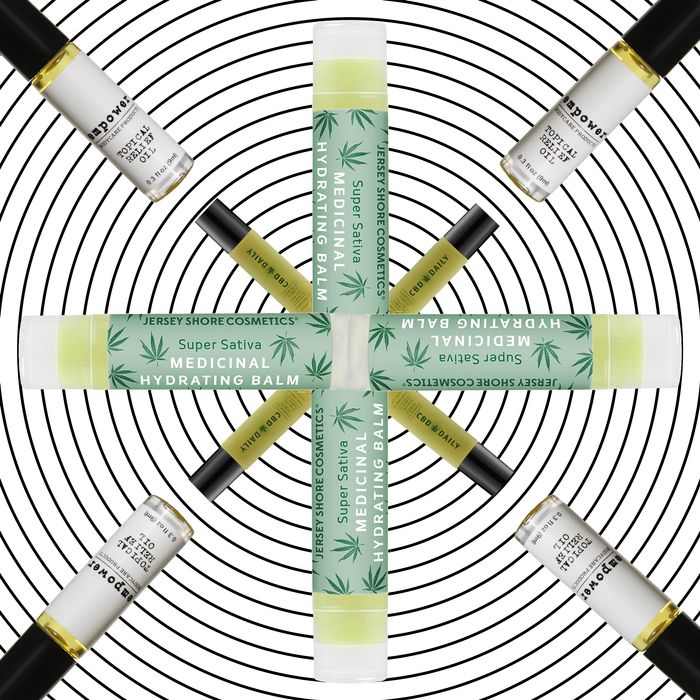 From burly UFC fighters to delicate A-list actresses, everyone seems to be riding high on the CBD wave. Derived from the cannabis seed and concentrated into a potent oil, CBD (cannabidoil) won't get your mind high like its sister THC, but it will produce some noticeable effects on your body.
As we move toward broader legalization of marijuana, CBD's near-universal legal status and anti-inflammatory properties have made it a buzzy ingredient in the beauty industry, popping up in everything from mascara to eye serums. Trending for its (mostly anecdotal, but hey) ability to aid the recovery of the body, especially our skin, CBD has become a full-blown phenomenon. Below are 12 products that are worth trying, if only for the Instagram-moment novelty.
With its minimalist packaging and simple promise to soothe, relax, and detox the skin, this is one of the first truly stylish CBD products to hit the market. KANA's sleeping mask is meant to be worn overnight to heal damaged skin (the potent lavender scent will help you relax, too). KANA founder Janice Buu says the mask contains "organic CBD infused with 28 other active botanicals, natural brightening agent, collagen booster (by 400 percent), and essential oil blends." Without leaving a sticky residue, the mask leaves the skin feeling sealed, in a comforting sort of way. After applying it three nights a week for a month, my skin was less red and inflamed than usual (which is a big deal, since I have sensitive skin and experiment with products regularly).
Lord Jones has already cornered the market on highly Instagrammable products with its sexy packaging and influencer backing. Based out of Los Angeles, where legalization is already a heady reality, the company offers an array of skin-care products and ingestibles that pack a powerful CBD punch (the famous edible gummies are, simply put, sublime).
The product Lord Jones is perhaps best known for, however, is also its most useful: the Pure CBD Pain & Wellness Formula Body Lotion. With 100 milligrams of CBD, the cream creates a cooling sensation upon application and promises to relax sore muscles and ease joint pain. And the scent — with notes of sage, mint, and green citrus — will make you feel like you're meditating in a desert at sunset (or at Coachella?). Summer tip: The lotion's anti-inflammatory benefits are said to help calm sunburns, too.
This line was founded by a mother who discovered CBD's benefits while looking for alternatives to harmful opioids following a serious car accident. It started with less sexy items but has quickly evolved into a female-targeted brand with black and pink packaging and a product range that includes a personal lubricant and massage oil. When you think about it, though, what makes more sense than combining cannabis and the bedroom? The water-based lube goes on and stays on smooth as expected, and the anti-inflammatory and muscle-relaxing benefits of CBD are an added bonus.
One of the flashier CBD products to hit the market is cult favorite Milk's new saucily named Kush Mascara. Launching today, the formula thickens lashes with the help of heart-shaped fibers that pull lashes together for a fuller effect. I usually go for length, but that route can leave you with dreaded spider lashes, and the fat, thick brush on the Kush Mascara was a welcome change. The oil-based CBD (as opposed to the industry standard, beeswax) used to adhere the mascara's fiber to lashes also went on smoother and creamier than most formulas. The formula is also in line with Milk's new vegan-only policy — a win all around.
Made with ultraconcentrated CBD and more than ten all-natural oils including basil, jojoba, lavender, and coconut, this travel-sized rollerball provides the benefit of CBD's muscle- and joint-relaxing abilities in the privacy of your own pocket. The serum's addictive menthol scent had me discreetly massaging it onto my temples, neck, and wrists more than the recommended three to five times per day.
In addition to the soothing benefits of CBD, this lip balm also contains 100 percent natural ingredients like coconut oil, cocoa butter, lavender essential oil, and vitamin E to keep your lips fully moisturized, with refreshing scents of menthol and rosemary for an added bonus. Just a few days with this balm made my normally dry winter lips feel smooth and velvety.
Imagine: You're engulfed in lavender-and-chamomile-scented steam as your muscles melt into blissful puddles and your body becomes weightless in your hot bath. If it sounds trippy, it's because it damn near is — or at least as trippy as a bath experience can be without actually getting you high. Like an epsom salt bath but better, these Netherlands-made CBD salts ("handmade under the waxing moon," no less) provide a heavenly muscle relaxation that lasts well beyond bathtime.
The Even-More-Relaxing Bath Salts
Empower creates actual THC-infused bath products that, while they may not get you high, will produce a stronger body effect than a CBD infusion would. While an actual weed bath is something everyone should try at least once in their lifetime, the brand's White Label line of products will do for those living in states where legalization is still but a dream. In addition to CBD, this soak counts pharmaceutical-grade epsom, Dead Sea, and pink Himalayan salts as ingredients. And the scent —  wintergreen, bergamot, and of course, lavender — is downright sinus-opening. The ultra-muscle-relaxing benefits apply here tenfold.
Since the scientific evidence on CBD's skin-care benefits is still technically out, it's hard to know whether the ingredient is the actual reason this serum works so well to smooth fine lines and tighten skin. Either way, after a few weeks of nightly use, my cheeks did look slightly tighter and smoother, and all without retinoids.
Serious beauty junkies don't mess around with things like eye serums, which is perhaps why CBD beauty companies have avoided them so far. But fear not: While this serum relies on the anti-inflammatory and skin soothing properties of CBD oil and a smattering of all-natural extracts, my fellow hard-core beauty fiends will take comfort in the use of more standard ingredients like hyaluronic acid and capric triglyceride. After a week, the formula reduced dark circles and puffiness at least as well as any product of similar pricing I've tried.
Like most pomades, this firm-hold styler from New York favorite (Malin + Goetz) works best on short-to-shoulder-length hair to create texture, volume, and shape. The science seems vague, but there's some evidence that CBD stimulates hair growth when applied to the scalp because of the omega fatty acids. Either way, my boyfriend loves this product's lightweight cream formula and non-shiny finish. Made with fatty acids, natural beeswax, cannabis extract, and soybean, this product would work for most hair types but would be best on thicker, coarser textures.
If you're just getting into the CBD game, start small and simple with Pacific Northwest–based company Wildflower's all-natural, artisan bar soap. Made with crowd-pleasing lavender and vanilla extracts, these bars create a foaming lather that doesn't leave skin oily but rather soft and supple. Lather up long enough and you may feel some of that famous muscle-relaxing CBD effect.
If you buy something through our links, New York may earn an affiliate commission.