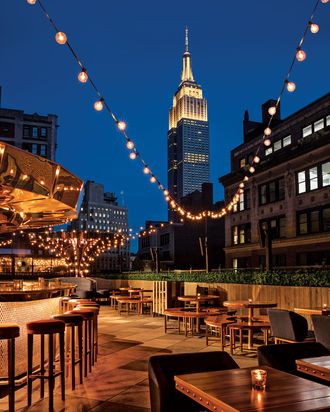 Magic Hour Rooftop Bar & Lounge.
Photo: Courtesy of Magic Hour Rooftop Bar & Lounge at the Moxy Times Square
Magic Hour Rooftop Bar & Lounge at the Moxy Times Square
Location: Midtown
Capacity: 375
The Marriott International's design-driven hospitality brand took a calculated risk when it opened this 612-unit hotel. It juxtaposes cramped, no-frills rooms with expansive, tricked-out communal spaces — because if you're making a reservation this close to Times Square, you'd probably rather party than sleep. To wit: Magic Hour, the Moxy's 10,000-square-foot rooftop lounge (the largest indoor-outdoor rooftop lounge in the city), bills itself as an "urban amusement park." Stage a ceremony on the more subdued east side, with its elegant garden-party fixtures and views of the Empire State Building, then let your hair down for the west side's rotating carousel seating area and mini-Putt-Putt course. Executive chef Jason Hall's menu — call it elevated state-fair fare — includes spiral fries, boozy cupcakes, and tiki punches for 15, served in disco balls. After one of those, even locals might consider checking into one of the $99 "crash pads." Price upon request. 485 Seventh Ave.; 212-268-0188.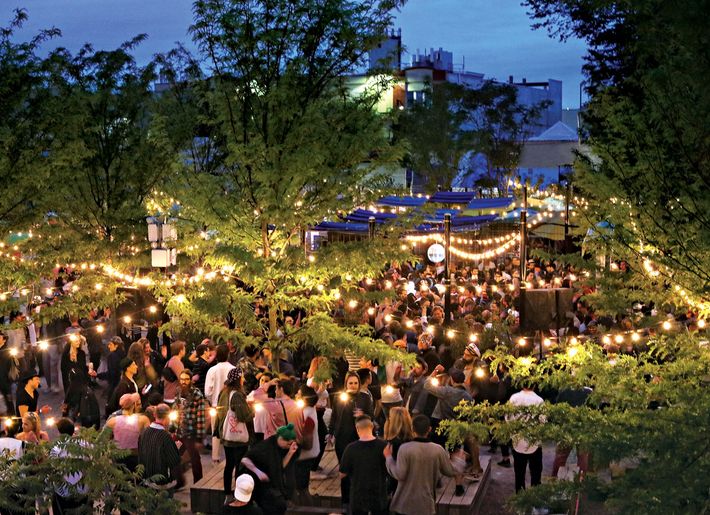 Nowadays
Location: Ridgewood
Capacity: 400 seated, 1,000 standing
This seasonal backyard space was opened in the summer of 2015 by the duo behind long-standing dance party Mister Saturday Night. Now Eamon Harkin and Justin Carter have expanded the operation with a converted cabinet factory named, appropriately, Indoors at Nowadays, which is open year-round. Either space can be reserved for private events, but when the weather gets warm, there's no beating the 16,000-square­foot park, with its ample greenery, string lights, and full bar. And of course, doing business with DJs has its perks: The venue offers an outdoor sound system, event lighting, a professional projector and screen, and a customizable dance floor. Food is outsourced to Brooklyn-based catering outfit Purslane; options include family-style strozzapreti and leg of lamb, as well as a summer pig roast. From $4,000. 56-06 Cooper Ave. 347-523-8535.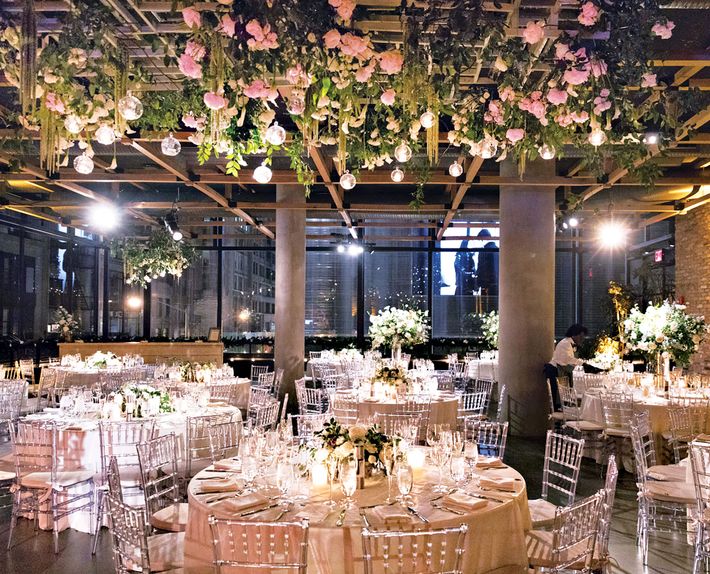 Second.
Location: Chelsea
Capacity: 700
Brides and grooms needn't worry about guests getting lost on the way to this newly remodeled, 9,000-square-foot event space in the same building as the Kimpton Hotel Eventi: The second-floor location is right there in the name. Stage your ceremony amid the red brick and wooden beams of the Great Room, then migrate to the terrace, which overlooks a private park and features a fully retractable roof, reclaimed-glass partitions, and a custom-built bar. Seafood-heavy passed canapés come courtesy of L'Amico chef Laurent Tourondel (try the tuna poke and sesame nori cones), and for nuptials worthy of the big screen, the venue also offers, well, a big screen: a 30-foot high-definition outdoor display, perfect for nostalgic slideshows, real-time dispatches from your photo booth, or a running Instagram feed — to really get that wedding hashtag trending. From $25,000 to $50,000. 849 Sixth Ave.; 646-600-7142.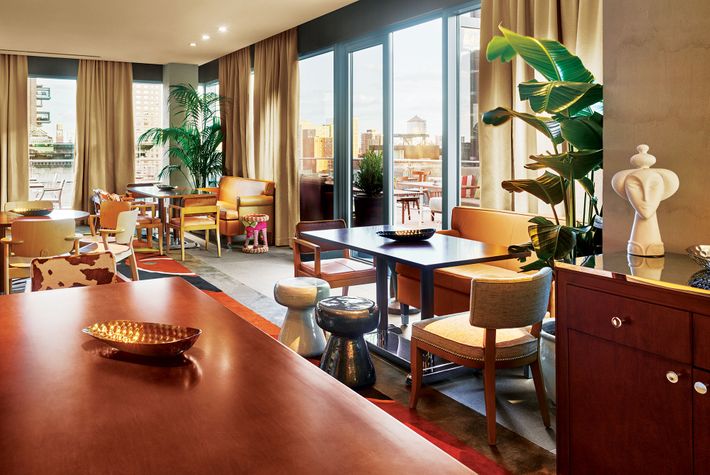 Mondrian Park Avenue
Location: Nomad
Capacity: 150
At this new luxury hotel, the 2,900-square-foot Fifteen Stories lounge has an outdoor terrace overlooking Park Avenue and 30th Street — ideal for open-air services and breezy cocktail hours. Head down to in-house restaurant Cleo for shared plates of chopped freekeh salad, spanakopita, and vegetable tagine, then return to the terrace for moonlit cocktails or crank up the dance party at Never Never, a downstairs speakeasy with overstuffed leather couches, ottomans, and a built-in DJ booth. You can, of course, bring your own traditional cake, but it might be overshadowed by Cleo's flourless chocolate version with candied nuts and licorice meringue. The hotel offers discounted block rates on its 189 rooms, as well as complimentary access to the neighboring Equinox — in case your out-of-town guests want to sneak in a workout somewhere between the rehearsal dinner and the morning-after brunch. From $3,500 for daytime events, from $20,000 for evening. 444 Park Ave. S.; 212-804-8880.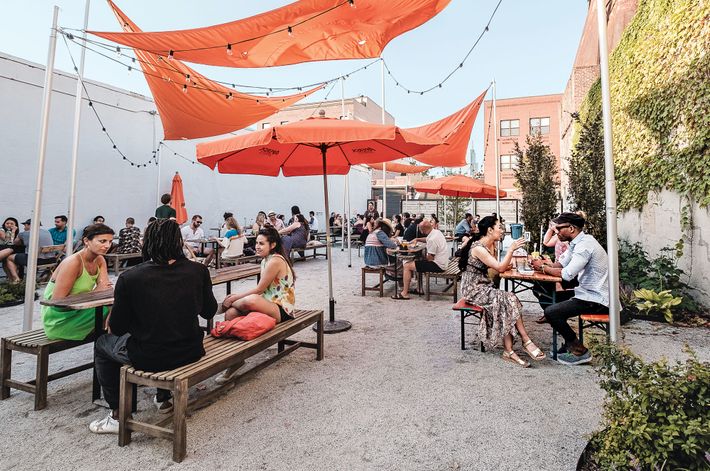 Parklife
Location: Gowanus
Capacity: 170
Littlefield owners Julie Kim and Scott Koshnoodi still host weddings at their tried-and-true Sackett Street event space. But for the ultimate low-key reception or change-of-scene after-party, try Parklife, their new spot around the corner. Once a printing warehouse, this 4,000-square-foot patio bar is casual perfection — white stucco walls, flowery murals, a trellis strung with lights, and giant orange shade sails. You can't rent the entire venue, but if you don't mind partying alongside other patrons, Kim and Koshnoodi are happy to reserve a bunch of tables for you. An outpost of Taqueria El Atoradero serves up $13 plates of nachos and $14 burritos (there's no reason your "something blue" can't be the freshly made blue-corn tortillas), and large parties can order margaritas by the pitcher. End the night with an It Was All a Dreamsicle — that's rum, passion-fruit cream, and orange juice, served in a big ol' pineapple ($13). From $6,000. 36 Degraw St.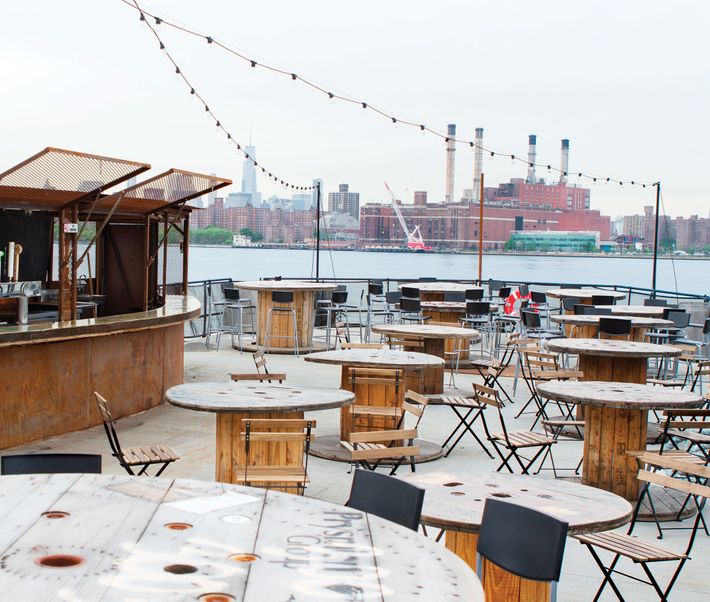 The Brooklyn Barge
Location: Greenpoint
Capacity: 600
Boat weddings aren't easy to come by in this city, but now you can set yours on a floating barge moored in the East River. Wash some Dramamine down with your first glass of Champagne and enjoy panoramic views that stretch from the Williamsburg Bridge to midtown. Exchange vows at sunset at the bow (sea-captain officiant not provided), then let your guests seat themselves at the mid-deck picnic tables for an appropriately unfussy, family-style dinner of hamburgers, hot dogs, tacos (fish, chipotle pork, vegan chorizo), and piña coladas on the rocks. And for guests who never find their sea legs, there's a satellite bar right off the barge. Open May to October; from $20,000 to $60,000 for full buyout,partial rentals also available. 3 Milton St.; 929-337-7212.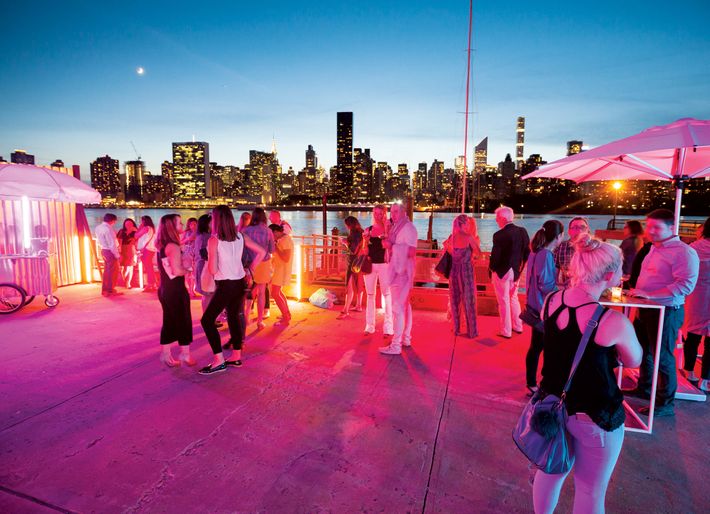 Sound River Studios
Location: Long Island City
Capacity: 350 seated, 500 standing
With its 30-foot ceilings, skylights, and brilliant white walls, this waterfront warehouse and gallery space makes for an ideal blank-canvas venue, but good luck keeping guests inside on a warm spring evening. A 1,300-square-foot terrace along the East River can be tented, dotted with umbrellas, or left gloriously open for dockside cocktails and unobstructed views of the midtown skyline. Sound River offers a long list of preferred vendors — from wedding planners like Events by Melissa McNeeley to food-and-beverage specialists like Fig & Pig Catering — and the bar space at adjacent Anable Basin Sailing Bar and Grill, which serves up kielbasa and bratwurst, can also be rented. For couples not content to depart by Town Car at night's end, there's always the Great Scott, an optional private yacht with service to Manhattan. From $8,000 to $12,000. 4-40 44th Dr.; 718-433-9288.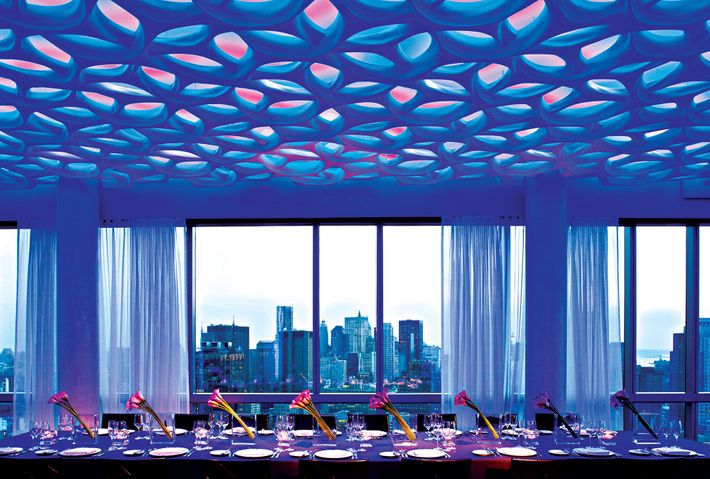 The Dominick
Location: Soho
Capacity: 400 indoors, 100 outdoors
The 46-story luxury hotel is no longer called the Trump SoHo, thanks to a buyout last December by the CIM Group. The views, however, remain intact. Gather your wedding party for a sparkling-wine toast before an open-air service on the third floor's 1,000-square-foot Spring Terrace and in the adjoining Hudson Room. (The enclosed top floor of the SoHi space is breathtaking too). On the morning of, you can hit the spa for a detoxifying Moroccan hammam (or get a classic aroma-infused massage if you're not into rhassoul clay or kessa mitts). As for the food, the Dominick is finalizing a new executive-chef partnership, but you can expect locally sourced surf-and-turf options and offerings from city-based purveyors like Murray's Cheese and Jacques Torres Chocolate. It's the classiest affair this side of Mar-a-Lago. From $348 per person. 246 Spring St.; 212-842-5500.
City Vineyard at Pier 26
Location: Tribeca
Capacity: 70 seated, 100 standing
This City Winery sister property gives the all-inclusive treatment — from a dedicated personal planner to locally produced reds, whites, and rosés. You can host a welcome reception in the rustic, oak-accented main dining room, then head to the roof deck for a ceremony overlooking the Hudson. Relocate to the wine garden, an outdoor patio space crawling with grapevines and partially covered by an awning, then opt for a seafood-centric seated dinner — sample menus feature seared tuna with braised cannellini beans, and day-boat scallops with hazelnuts and sunchokes — or a more casual buffet-style service if you prefer to leave room for a dance floor. Where there's that much wine, there's often dancing. From $250 per person, plus a 20 percent administrative fee. 233 West St.; 646-677-8350.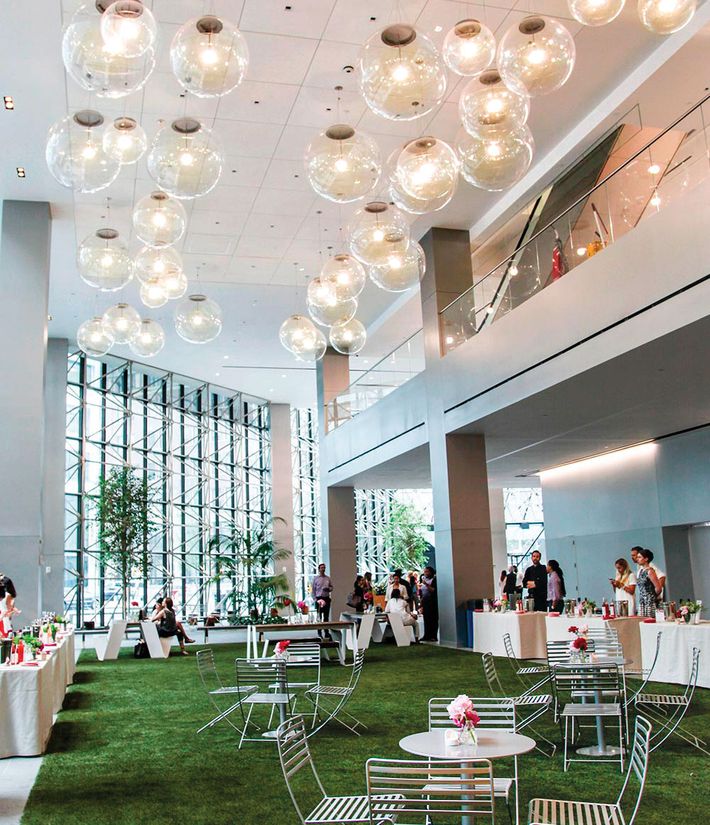 180 Maiden Lane
Location: Lower Manhattan
Capacity: 900
For couples who want the natural beauty of an outdoor wedding without the risk of allergy attacks or encounters with small woodland creatures, this 41-story glass-and-steel office tower's parklike atrium — dubbed the Maiden Lawn and Patio — is the temperature-controlled human terrarium of your dreams. Its 1,600 square feet of Astroturf is substantial enough to host an arena-football game (and a ten-piece band will fit easily on the built-in 20-foot stage), while the metal chairs, benches, and well-manicured greenery give it the feel of a miniature Bryant Park. Indulge in an upscale picnic vibe under the dimmable LED globe lights hanging from the 40-foot ceiling — the closest you'll get to stargazing in the city. In-house catering fro m the Maiden Lane Events team combines heavy hors d'oeuvre (Reuben bites, mini–chicken waffles) with plated entrées (chicken Marsala, New York strip). For further backyard ambience, you can tent the patio or step out into the night air — there's an adjacent honest-to-God outdoor area with built-in benches — and relax in the knowledge that the night won't end with the mother of the groom face-planting in a giant mudhole. From $1,500 to $30,000. 180 Maiden Ln.; 646-941-8814.
Mr. C Seaport
Location: Seaport District
Capacity: 100
Old-world Italian style meets the historic charm of the Seaport: This spring, hospitality magnates Maggio and Ignazio Cipriani will open a 66-room boutique hotel, a sister property to the ritzy Mr. C Beverly Hills. (The redbrick exterior suits the neighborhood's industrial look, while the guestrooms, with teak veneers and white linens, are decidedly more Euro.) Accommodate up to 100 guests in the lobby lounge, a dimly lit wood-paneled room with oversize windows, deep couches, and upholstered chairs, or, if your nuptials are more intimate, exchange vows on a panoramic balcony terrace in one of ten premium suites overlooking the East River and the Brooklyn Bridge. Then dine alfresco on the cobblestones of historic Peck Slip; signature dishes at Bellini, the in-house restaurant, include octopus with chickpea purée, polpettine with tomato and sweet peas, and a seafood mixed-grill platter. Opens April 15; price upon request. 33 Peck Slip.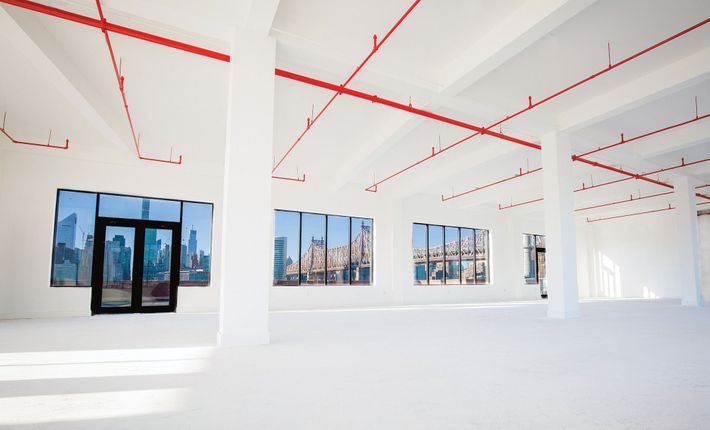 The Bordone LIC
Location: Long Island City
Capacity: 300 seated, 500 standing
In a business that defines itself with on-site amenities and all-inclusive bells and whistles, sometimes the best event space is just that: lots and lots of space. This soon-to-open Queens waterfront venue will appeal to couples who have already selected vendors and want to avoid unhappy contractual marriages to a slew of in-house florists, decorators, and caterers. Choose between two levels or go big and rent both—a light-drenched 5,000-square-foot third floor (with an additional 6,000 square feet of panoramic terrace) and a more intimate 2,000-square-foot fifth-floor area with Manhattan views and plenty of open sky. The white walls and the rooftop's neutral red brick open wide possibilities for your preassembled dream team, but don't be shy about asking for vendor suggestions, either. They know people. Side note: You are required to use their tent guy, so let your tent guy down easy. Opens in June; from $4,000 for peak season. 43-10 9th St.; 917-295-4609.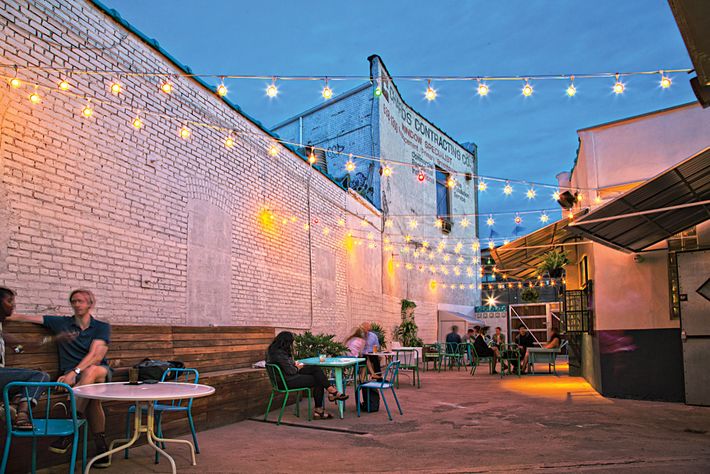 Diamond Reef
Location: Bed-Stuy
Capacity: 150
At this tiki-style Brooklyn bar, you'll find tropical-print wallpaper, wood paneling, and aquamarine stools and banquettes. The backyard is sparse — some white brick and twinkle lights — but it's also heated and sports a grill serving up skewered shrimp and blistered shishitos, mushrooms, and okra. Dessert is from Steve's Authentic Key Lime Pies in Red Hook. The caveat is, if you want to rent the space, you'll have to ask co-owner Dan Greenbaum (of LES cocktail hot spot Attaboy) nicely, and you'll have to be flexible, because he likes his weekend walk-in business. But those who can pull off a Wednesday-
night wedding are in for the kind of party that will encourage guests to skip work on Thursday: There's a slushie machine for frozen booze concoctions like the Penichillin—that's Scotch, lemon, honey, ginger … and more Scotch. From $11,500 for 50 people. 1057 Atlantic Ave.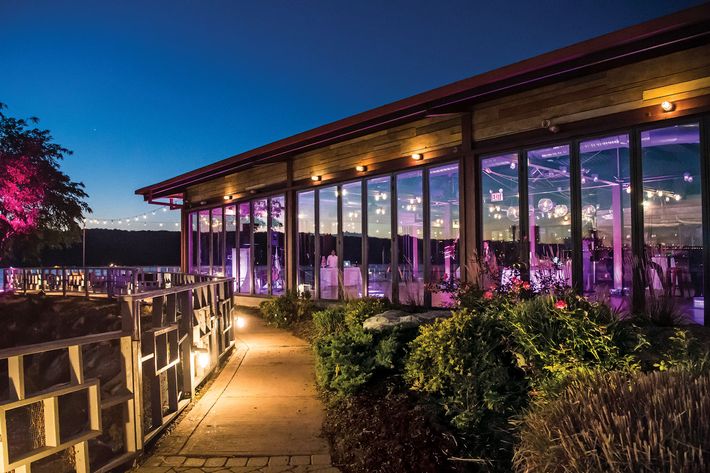 La Marina
Location: Inwood
Capacity: 600
Manhattan is an island — why shouldn't you be able to get married barefoot on a beach? This way-up-there Hudson River hangout just below the Cloisters offers three open-air spaces — a cabana-lined shore, an outdoor lounge with giant parasols and oversize banquettes, and a waterfront terrace with a canopied private deck — as well as a dining room with floor-to-ceiling windows and stunning views of the Palisades and the George Washington Bridge. Arrive by water taxi (or private boat, if you really want to make an entrance) and dine alfresco on fresh ceviche, seafood pasta, and spicy chicken lollipops, all from on-site chef Lucy Puca. Then raise a glass of Uptown Sangria or a dark and stormy, and rest assured that you were the only bride in the city who spent her big day shaking sand out of her train. Price upon request. 348 Dyckman St.; 212-567-6300.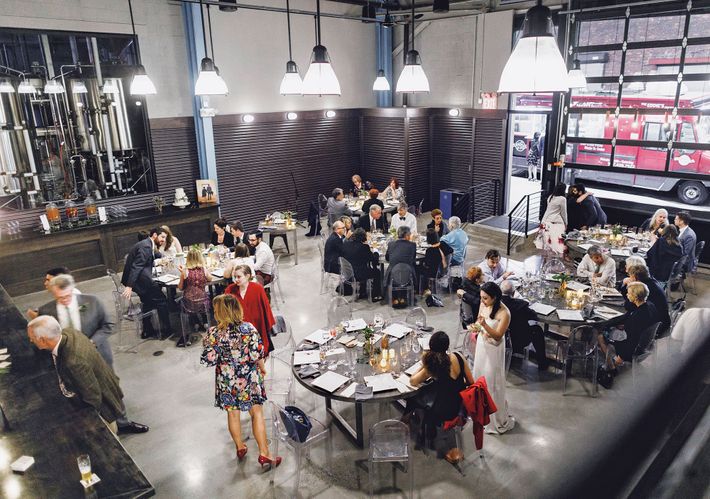 Five Boroughs Brewing Co.
Location: Sunset Park
Capacity: 150
For couples who dream of exchanging vows while surrounded by friends, family, and thousands of gallons of tasty craft beer, Brooklyn's newest brewery opened last August in a converted early-20th-century steel-tie factory. Fifteen-thousand square feet of space provides for plenty of unique photo ops (a towering stainless-steel fermenter kind of looks like a chuppah if you squint), but the cozier taproom is where you'll want to party. Cordon off a dance floor near the bar and pull up the front roll-gate for a sunny open-air experience. And while Five Boroughs has your signature cocktail covered (hint: It's beer), it doesn't cater, so consider renting food trucks from Red Hook Lobster Pound and Eddie's Pizza, which can be parked mere steps from your reception to give your loved ones some extra space to congregate. Taps are fully customizable, and according to one bride, the raspberry gose was refreshing and perfectly complemented her color scheme. From $3,500. 215 47th St. 718-355-8575.
Special thanks to Fallon Carter at Fallon Carter Events, Ann David at David Reinhard Events & Consulting, Danielle Elder at Classic Events, Sarah Glick at Brilliant Event Planning, Xochitl Gonzalez and Kait Rovnyak at AaB Creates, JoAnn Gregoli at Elegant Occasions by JoAnn Gregoli, Melissa McNeeley at Events by Melissa McNeeley, Roey Mizrahi at Roey Mizrahi Events, Amanda Savory at Bespoke Moments, and Jackie Travers at Busy Bride Planning + Consulting.
*This article appears in the summer 2018 issue of New York Weddings.