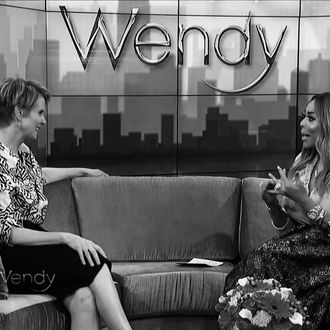 Cynthia Nixon and Wendy Williams.
On Wednesday morning, The Wendy Williams Show aired Cynthia Nixon's first nationally televised interview as a New York gubernatorial candidate. Host Wendy Williams and Nixon discussed everything from Sex and the City to gun control, the Stephon Clark shooting, and what New York could be doing better. (And yes, Nixon got a Shoe Cam close-up.)
Here are some key takeaways from the segment.
1. Nixon is both embracing Miranda Hobbes and clearly distancing herself from the character.
While any celebrity candidate runs the risk of being reduced to their roles, the reality is that Sex and the City was a major cultural phenomenon and it's inevitable that Nixon will continue to get asked about Miranda. Nixon addressed her HBO days head-on here, when Williams remarked that she no longer had her signature red hair.
"The red is long gone," she replied. "I'm sorry. It's a Miranda thing. I'm a blonde with a little help these days." Nixon went on to point to the similarities to her character, but not without also demarcating a firm difference. "She's a hard worker like me, she's a total career person like me," she said. "But quite a bit more dressed-up and upscale than me."
2. She's going hard on directly appealing to female voters — especially black women.
By choosing Williams's show — which has a massive viewership of women age 25 to 54 — for her first national TV interview of the campaign, Nixon is signaling that she's targeting female voters. (And remember, her first interview after announcing her run was with Glamour.) It's a keen strategy considering the party breakdown by gender, and doubly so considering that her opponent, Governor Andrew Cuomo, likes to play up his masculinity.
More specifically, Nixon is appealing to black women. As political scientist Christina Greer told Politico last month, "Her campaign team clearly understands the importance of black women and how they've been neglected by the Democratic Party writ large, not just by Andrew Cuomo, but at the state, local and national level." So when Williams asked her "How can black women help you become governor?" she was prepared.
"They are the cornerstone, they are the backbone of the Democratic Party and we need to let them lead," Nixon replied. "Look at what black women did in Alabama. Look at how they supported Hillary Clinton." She also directly pointed to how that's not currently happening in Albany, where New York senate minority leader Andrea Stewart-Cousins was recently excluded from talks about sexual harassment.
Nixon added, "Black women are going to stop showing up for the Democratic Party if the Democratic Party doesn't show up for them."
3. Nixon is all for legalizing weed.
As more states legalize marijuana, Cuomo has proposed launching a study to determine whether or not that's a good idea. Meanwhile, Nixon is already all in. While she reportedly told a private fundraiser that much last week, she reiterated it enthusiastically on TV.
"I am absolutely for the legalization of marijuana," she said. "Let's capture some of that revenue."