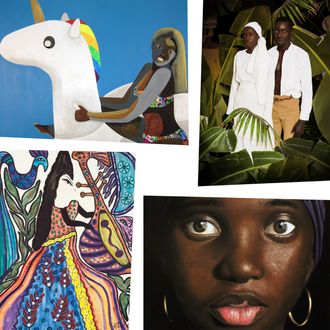 Photo: Babajide Olatunji/Derrick Adams/Courtesy of Vigo Gallery/Baya Jeune/Omar Victor Diop/Courtesy of Galerie MAGNIN-A
Art lovers around the world are traveling to New York this weekend for a slew of art fairs. Coinciding with the start of Frieze New York and Superfine! NYC, the fourth annual New York edition of the 1-54 Contemporary African Art Fair will open at Brooklyn Pioneer Works this Friday. Works from more than 45 artists will be showcased in 21 booths from international galleries until Sunday. Each gallery shares the common goal of promoting African artists including prominent names like Derrick Adams, and rising talents like Kudzanai-Violet Hwami and Lebohang Kganye. Ahead of the show, here are five pieces with interesting backstories to check out.
Derrick Adams: Floater No. 28 (Unicorn)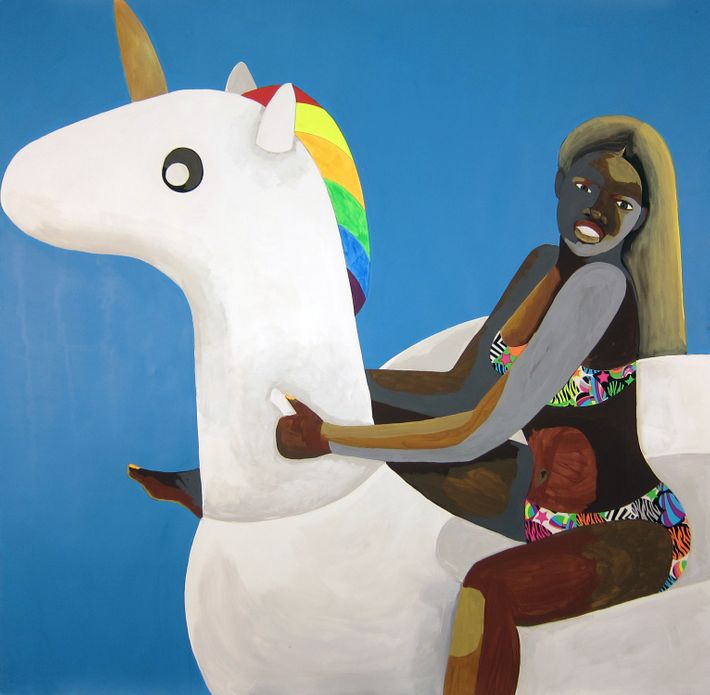 Adams is a New York–based multi-disciplinary artist exploring black experiences and the influence of popular culture on self-image and self-perception. His latest exhibition, currently on display at MAD Museum, illustrates civil rights during the Jim Crow era and all the many barriers keeping black Americans from achieving the American Dream at that time. Floater No. 28 (Unicorn) and more will be displayed in the Vigo Gallery's booth this weekend.
Babajide Olatunji: "Tribal Marks Series III," No. 21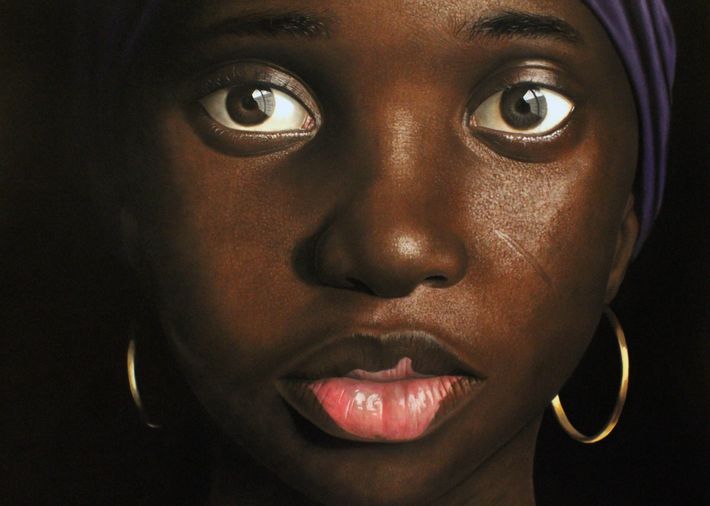 Olatunji is a 29-year-old Nigerian painter best known for his hyper-realistic portraits. His "Tribal Marks Series" of paintings depicts men and women — like the young girl pictured above — whose faces are marked from the scarification process, common among some Nigerian tribes. The above painting will be displayed in the TAFETA Gallery's booth this weekend.
Omar Victor Diop: Nanny et Quao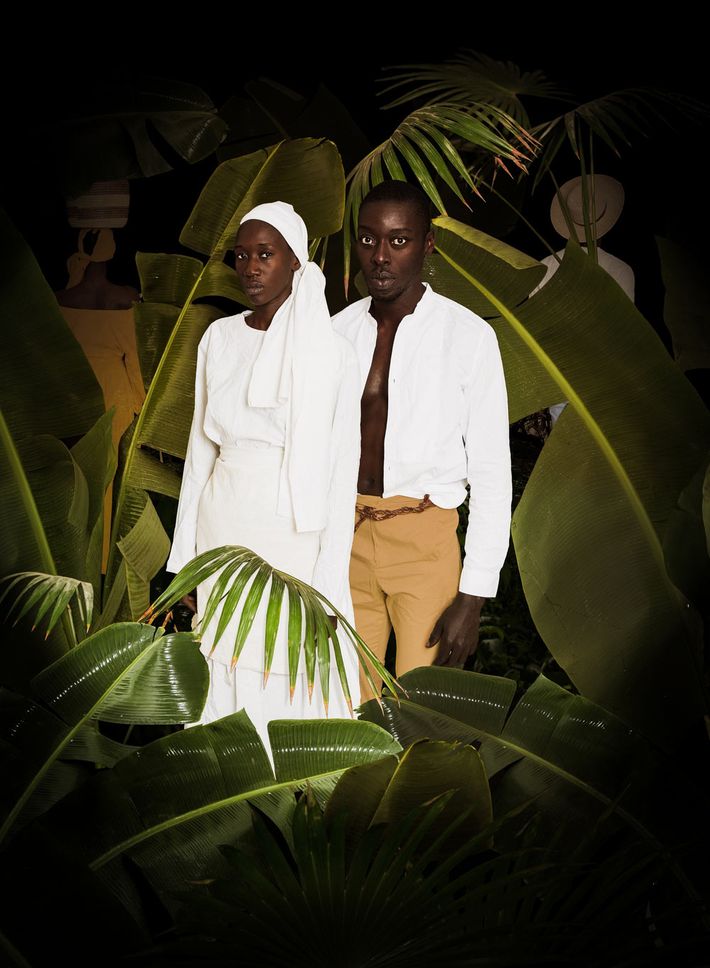 Diop is a Senegalese portrait and fashion photographer based in Dakar. His highly stylized, vibrant photographs depict modern African culture, but he is also known to make clear historical references. Nanny et Quao, Jamaîque, for example, is a reference to "Queen Nanny," an 18th-century woman from modern-day Ghana who escaped Jamaican plantations with her brother, Quao, and is now credited with having helped free hundreds of former slaves. Diop's work will be showcased alongside Malick Sidibé's photographs in Gallery MAGNIN-A's booth.
Baya Mahieddine : Jeune Musicienne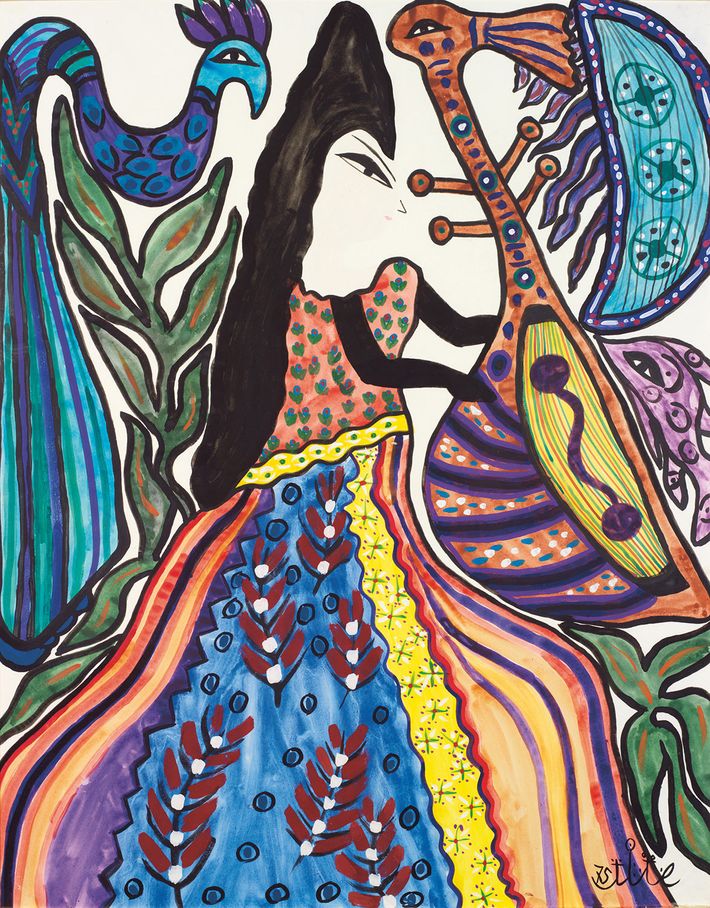 At just 16 years old, the self-taught Algerian artist Baya Mahieddine (1931–1988) earned praise from elite European art collectors for her colorful compositions and radical depictions of women, which influenced Matisse and Picasso. In March, a long overdue exhibition celebrating Mahieddine's groundbreaking work went on display at NYU's Grey Art Gallery. This weekend, her work will be showcased in the Elmarsa Gallery's booth.
Malick Sidibé: Un Yé-yé En Position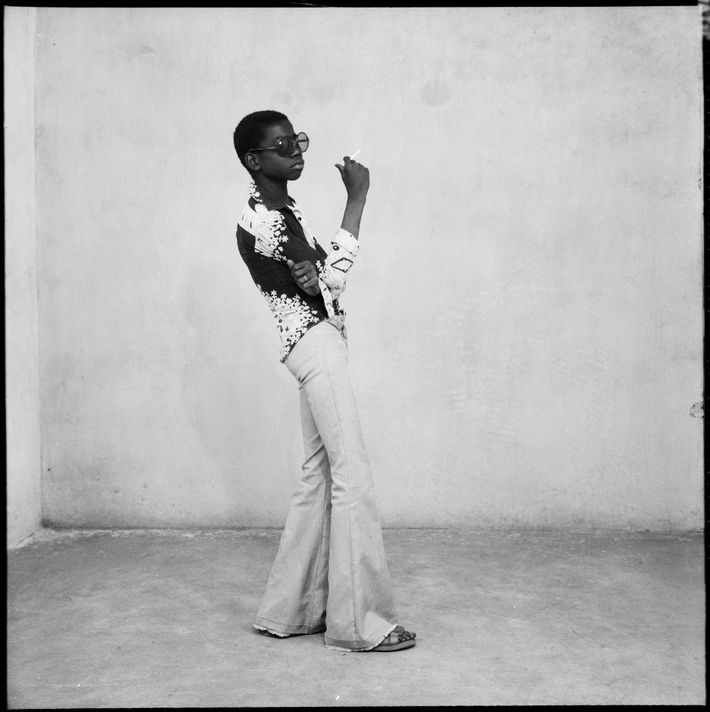 Sidibé is a renowned Malian photographer best known for his black-and-white depictions of nightlife and popular culture in his native Bamako during the '60s, '70s, and '80s. Last year, a major exhibition dedicated to the late artist's photography opened in Paris at the Cartier Foundation for Contemporary Art. On Sunday his photographs will be displayed in Gallery MAGNIN-A's booth.
These photographs and more will remain on display at 1-54 Contemporary African Art Fair from Friday, May 4 to Sunday, May 6 at Brooklyn Pioneer Works.