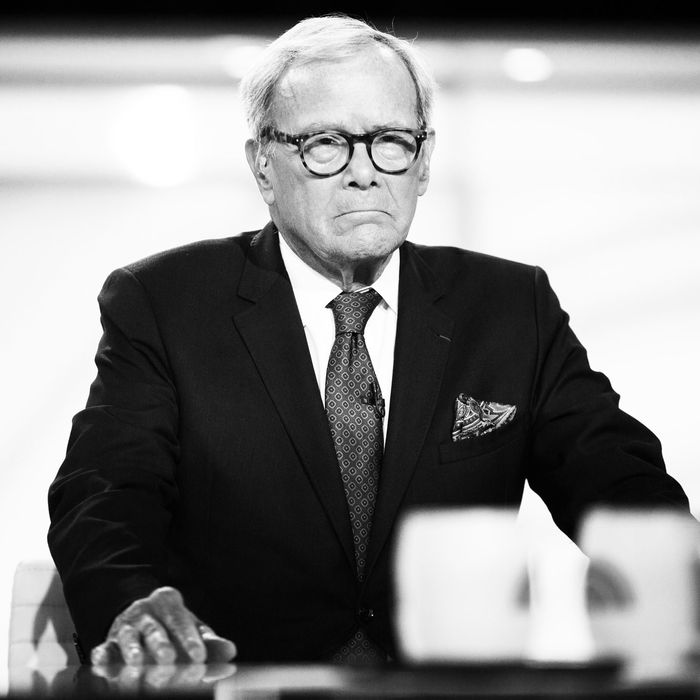 Tom Brokaw.
Photo: NBC/NBCU Photo Bank via Getty Images
More than 60 women in media, including Rachel Maddow and Andrea Mitchell, have signed a letter in support of veteran NBC anchor Tom Brokaw, just a day after two women accused him of sexual misconduct.
In the letter, which was first obtained by The Hollywood Reporter, Brokaw's former colleagues paint the accused anchor as "a man of tremendous decency and integrity" who has treated the 64 women with "fairness and respect." This collective statement comes as a response to a Washington Post report published last week, in which two of Brokaw's former female colleagues, including former NBC News anchor Linda Vester, accused him of touching them without their consent.
"Tom has treated each of us with fairness and respect," the letter reads. "He has given each of us opportunities for advancement and championed our successes throughout our careers. As we have advanced across industries — news, publishing, law, business and government — Tom has been a valued source of counsel and support. We know him to be a man of tremendous decency and integrity."
Following the report, Mika Brzezinski tweeted "add me to the list," bringing the number of Brokaw's female supporters in media up to 65. Brokaw has yet to publicly respond to the letter, but when he does, he'll hopefully leave out any language comparing the allegations against him to a "drive-by shooting."