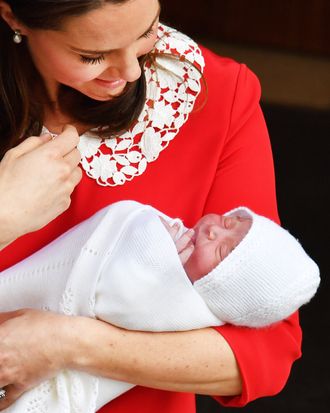 Little baby who?
Photo: WPA Pool/Getty Images
Have you heard the news? Kate Middleton has given birth to her third child, a bouncing baby boy of 8 lbs and 7 oz. "Oh boy, a boy!," as Miranda said, faking excitement after seeing her sonogram on season four, episode 15 of Sex and the City. Now, after being given a corporeal form, all the little prince needs is a name.
Front-runners for the enviable name slot include Albert and Arthur, allegedly. Hm. An interesting selection. Not saying those names are "good" or "bad" or "boring" — of course He is our prince and we will worship Him dutifully no matter what name He is given — but seven Cut staffers have generously donated their time to offer a few alternatives. Please peruse them at your leisure, @katemiddleton.
"When I heard Kate was going into labor this morning, I thought, They'll probably name the baby Philip or Arthur or something like that. But then I wondered, Why not Allie? Prince Allie of Cambridge. Hard to argue with that." —Allie Jones, Senior Writer
"I think the royal baby should be named Amanda, which means 'lovable' or 'worthy of love.' I think that's beautiful, for any gender!" —Amanda Arnold, Writer
"Years ago, a friend bought me a Kate Middleton wall calendar as a 'joke.' I hung up that wall calendar, looked at it every day, bought a new one as a 'joke' the next year, and then eventually learned how to use my phone calendar. For this reason, I feel particularly equipped to suggest a royal baby boy name, and I'd have to go with: Lisa. It's a lovely name that is pronounced like "lee-sa," is spelled Asil if you spell it backwards, and reminds me of the name Liam, a prince on E!'s scripted TV drama The Royals. This name would be a handsome choice for a baby boy." —Lisa Ryan, Senior Writer
"Sarah means princess in Hebrew, and it would be a beautiful way for the royal family to start breaking down gender roles while still adhering to the monarchy." —Sarah Spellings, Writer
"Aude means wise, which is an important quality in any ruler. Despite the fact that's technically a French girl name, I think it works perfectly for any gender. Not to knock the royal names, but come on: Kate, Harry, William, Elizabeth, Charles … like, wow, so boring. I think it's time we changed things up a bit. Though Prince Aude of Cambridge will have to explain that it's 'Aude like Ode to Joy' literally every time he meets someone, he'll find that it's a great natural icebreaker." —Aude White, Communications Manager, New York Magazine
"William and Kate need to mix it up with this baby. Naming their thick little prince Madeleine would show the world that Meghan Markle isn't the only creative one in the royal family, and it would be a beautiful nod to other famous Madeleines, like Madeleine Albright, Madeleing L'Engle, and Madeleine Stowe, that actress who plays the beautiful, mean matriarch on Revenge (an underrated show). Sweden also has a Princess Madeleine, so maybe this would give the two families something to talk about at yacht races, or foie gras tastings, or wherever it is rich people hang out. So, case closed. Long live Prince Madeleine." —Madeleine Aggeler, Writer
"I think the baby should be named Kelly." —Kelly Conaboy, Writer-at-Large
Thank you and good luck to Kate Middleton and Prince TK of Cambridge.