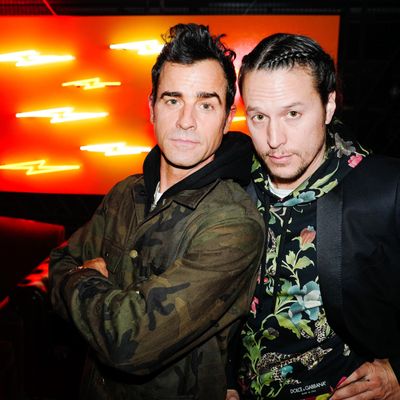 Justin Theroux and Cary Fukunaga.
Photo: David X Prutting/BFA/REX/Shutter/David X Prutting/BFA/REX/Shutter
Justin Theroux, who is edgy, just wants to live a life that's reflective of his values, which include but are not limited to, edginess.
According to the tabloids, one of the reasons that the walking six-pack and Jennifer Aniston split earlier this year is that the former didn't feel like himself with the Friends star in her Los Angeles home — he dearly missed his "arty, edgy" lifestyle in New York, which is fine, in the same way that Aniston is fine. Since their February break, Theroux has been "doing his thing," which includes shamelessly exuding edginess all over the Big Apple. For those aspiring to cop Theroux's super-hip lifestyle, here are some of his best tips, according to his day-to-day life.
Sit on Stoops, Look Cool
Theroux lives and loves the stoop life, where he can be seen hanging out with his friends who are obviously not as edgy as him, but are nonetheless chill — just the way the Leftovers star likes his friends. Below, he goes in for a cool-guy handshake-thing with Jonah Hill, who was pictured earlier this month smoking cigarettes with Ashley Olsen. Together, Theroux and Hill get a 9/10 for edginess — very nice.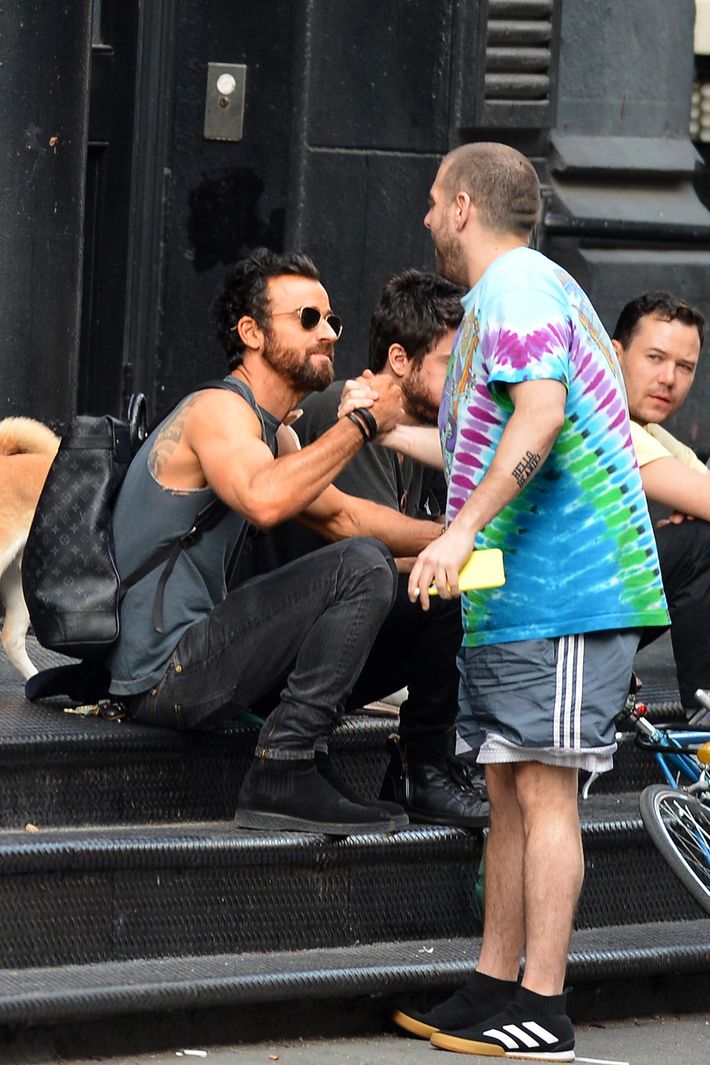 Bike Everywhere
According to Entertainment Tonight, Theroux "hated" taking cars when he was with Aniston, who reportedly wanted to take them "everywhere." Gross. The Leftovers star's preferred method of transportation has always been biking, which he reportedly does all year round. Just like dare devil Leonardo DiCaprio, Theroux opts out of wearing a helmet, which is, among being both irresponsible and dumb, objectively edgy.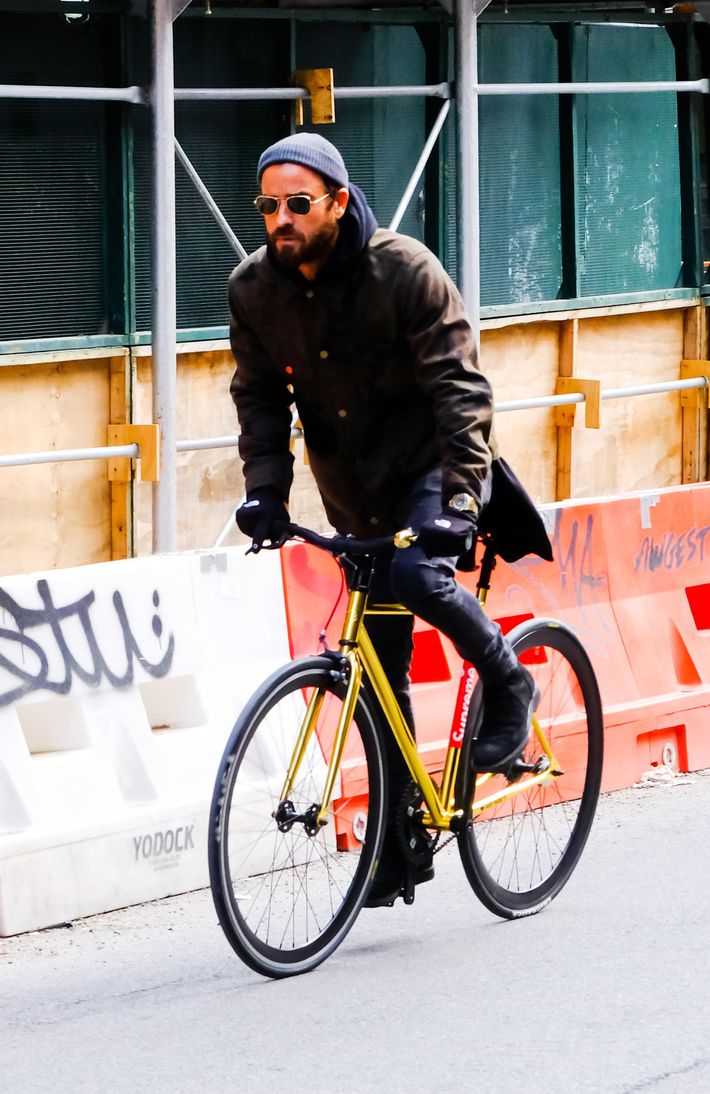 Be a Hypebeast
Theroux is a low-key hypebeast, but he's cool about it. While he's seen below wearing a jacket from the super-hip skatewear-brand-cum-cult-label Palace Skateboards, the 46-year-old's favorite brand has to be Supreme. He has a Supreme sticker on his bicycle, a Supreme hoodie with "illegal business controls America" printed on the back, and a Supreme hat for every season.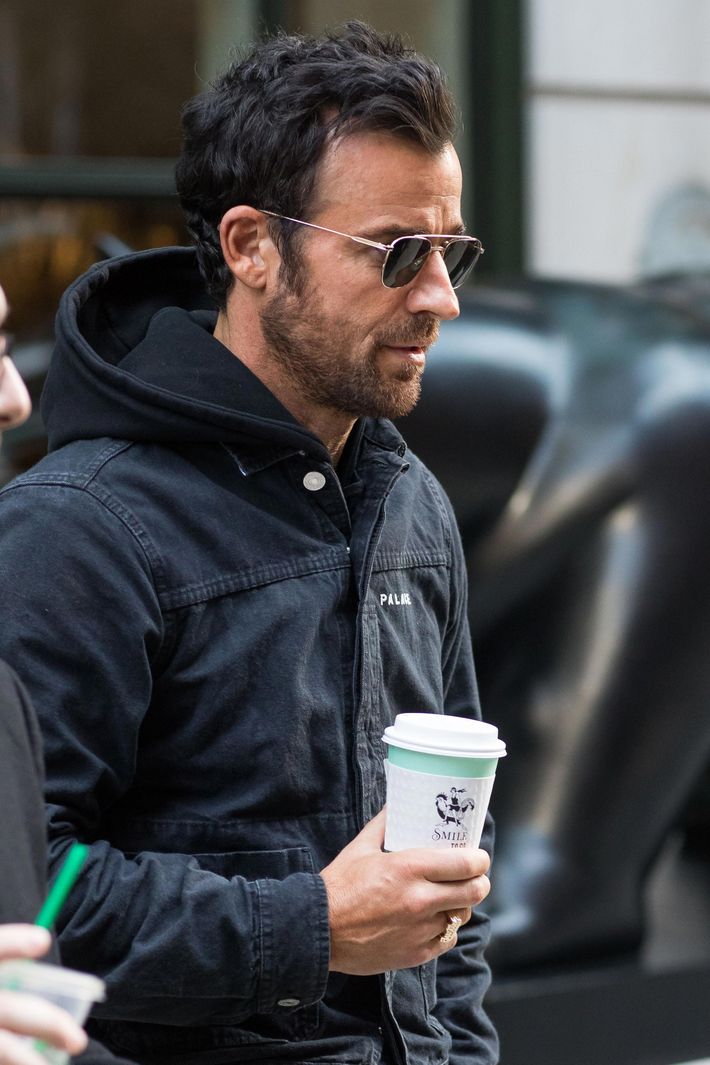 Hang Out With 'Arty' People
Identify the edgiest people in your area, and befriend them. One such person in New York City is artist, model, and verified cool-girl Petra Collins. (It was rumored earlier this year that Theroux and Collins were hooking up, but the former swears they're "just friends.")
Be a Little Soft
To avoid coming off as too edgy, it is very important to be in touch with your sensitive side. Theroux does this by snuggling puppies half the size of his biceps close to his face, and sometimes even kittens! To avoid coming off as too soft while he does this, Theroux makes sure he's wearing at least one item from Supreme.