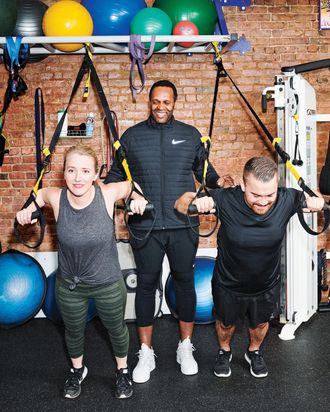 Jeff Marshall.
Photo: Kyle Dorosz
In our Ask the Experts series, New York Weddings gets tips and advice from professionals in disciplines from dress design to speechwriting.
Jeff Marshall
Owner of Get Fit With Jeff Personal Training
What's the benefit of training with your fiancé?
I don't notice this as much with same-sex couples, but with a man and a woman, you often see different levels of motivation — which can be a good thing, because it's the less motivated of the two who tends to step up their game, rather than the other way around. Typically, it's the woman who is like, "Look, there's a dress involved, and I want to do whatever I have to, as aggressively as I can." The men don't have that same factor of clothing that's showing off certain body parts, that "Oh, now that I'm wearing strapless, I better start sculpting my shoulders." But then the bride's sense of urgency sort of becomes contagious. Also, even if you have different fitness goals, you have the common goal of the timeline — you're working toward that same wedding date. So we can sit down together and map out a schedule (workouts are $150 an hour for couples), building in rest and recovery periods — which are important for avoiding burnout — and accounting for certain times when you'll be extra-busy doing wedding stuff.
Do you try to play partners against each other as an inspiration tactic?
No. Saying "Jane is really kicking butt" without mentioning Jack — in my experience, that never works. You don't want anyone to feel like the weak link. I just structure the session around the member of the couple that has the more intense energy — so the one who's up for going 60 minutes straight, as opposed to the one who likes to take breaks for small talk. The lazier one is naturally going to be like, "Okay, I see we're doing it this way." And he's more "on," because he has an audience.
Any favorite tandem-workout moves?
Instead of doing crunches solo, I'll have one person rise up with a medicine ball, then toss it to the other person while he lowers down. Crunches are less terrible when you think of them as teamwork.
Does the teamwork approach ever backfire?
Yeah, sometimes people's personalities can expand or contract based on their partner. I worked out this one couple where the bride was very forceful but physically small. When they did tandem exercises where the size difference mattered, she almost expected her fiancé to shrink himself to accommodate her. He was a passenger on this ride — quiet and just going along to get along, not really very eager to work. After the wedding, he started training with me by himself.
917-742-3227
"If there's one piece of motivation you and your fiancé can give each other, it's 'Start now.' If you wait until two months before the wedding, no amount of partner squats will make you look like you want."
*This article appears in the summer 2018 issue of New York Weddings.