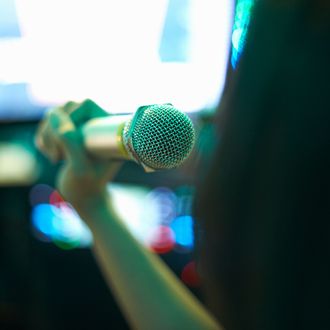 Photo: Peter Muller/Getty Images/Image Source
When I walked into the karaoke bar on a recent Saturday night, I was surprised to see a number of tables reserved. Most singers wore pieces of construction paper with their names and interests written on makeshift necklaces. Confused, my friend asked someone next to us what the deal was. Lo and behold, we'd just unintentionally crashed a karaoke singles mixer.
While it seems like a singles event at a karaoke joint is setting up daters for failure — after all, it isn't exactly an activity for the meek — the more I thought about it, the more ingenious the idea seemed. Where else can you get a read for someone's taste in music, their ability to work a crowd, and their taste for adventure? Where else do you get such a perfect, socially sanctioned excuse to show off a little?
"There have been a number of times where I've connected with a stranger over a karaoke song," says Justin Falcone, co-host of the 2016 podcast Karaoke Theory, which explored the intricacies, etiquette, and pop psychology of the singalong recreation. "I was at karaoke with a friend and someone was singing 'Total Eclipse of the Heart' and everyone was singing along doing the power fist. There was a woman next to me singing along … and our eyes met and we started singing together. We went to karaoke together for a while" after that.
It's no secret that music has the power to evoke an emotional response within us, but that's particularly true with the act of performing music — singing, dancing, and drumming — which releases feel-good endorphins in a way that passive listening doesn't. Karaoke, though, melds all the best chemical aspects of performing with the anxiety of stage fright. So why do we crowd into bars to sing familiar songs in front of strangers? And why does it feel so good?
A series of studies published in the Journal of Personality and Social Psychology in 2013 made the case that music is closely related to one of our most basic human desires: to feel connected to other people. And other studies suggest that it can be a powerful tool for doing so: Research published in the journal Royal Society Open Science in 2015, for example, found that strangers who sang in community choirs bonded quicker than those performing a less musical task, like creative writing or arts and crafts. Author Eiluned Pearce, a social and evolutionary neuroscience researcher from the University of Oxford, noted that having a common goal — in this case, learning the song and sounding good — likely contributed to the participants' ability to break the ice more easily; though her research didn't touch on the dynamics of karaoke, she surmised that organized singalong situations could similarly help people connect.
"What we've found is singing is really good at bonding people who don't know each other very well," Pearce says. "Right at the start [of our study], people who would sing together would become much closer after just two hours of singing together."
The setting helps, too. During his research for his book Karaoke Nights: An Ethnographic Rhapsody, Rob Drew, a professor of communication at Saginaw Valley State University, realized that the social context of karaoke was conducive to mingling: the bar atmosphere, recognizable songs, and various friend circles all allow for easy social cross-pollination. "People will sometimes branch off from their friends and become part of the local group," Drew says.
Over time, Drew noticed, karaoke's image had shifted from that of a schlocky activity laced with irony to a heartfelt event that permeated city nightlife. What used to be a guilty pleasure in the 1990s, he says, has now translated into an authentic interest driven by a love for music. Since song selection is virtually unlimited thanks to the internet, karaoke becomes a place where you can put your own spin on your favorite songs, to become a part of the art you love. "People are pretty open about [karaoke] and pretty proud about it," Drew says. "Often it's the people who like really good music by really good bands — those same people will enjoy going out and singing along with these hokey backing tracks. That reconciliation between 'hipster' culture and karaoke culture to me would've been a cultural divide 30 years ago."
Of course, song choice plays a large role in karaoke — you want to perform something you know well that will also resonate with the room. The emotional connection to these songs is what keeps people engaged, whether they're the one at the mic or not. Falcone, for instance, has observed that Alanis Morissette's "You Oughta Know" is a popular song choice that typically captures audience attention. "The experience of performing that song in particular is being able to be in a room with other people and to give voice to all these things," he says. "You can't say these things, but it's appropriate to sing it. When you're performing it and when you see everyone singing along with you, it facilitates an empathetic group experience."
It also presents a bit of suspended reality, says longtime Philadelphia karaoke host Sara Sherr. Whether singers are The Voice–ready or simply overcoming a fear of getting in front of an audience, karaoke can function as escapism, Sherr says. Especially in today's tumultuous world, she feels karaoke is a space to disconnect with the news and to let the endorphins flow.
And sometimes, that escapism can be empowering in its own way. For people who don't regularly get a chance to adequately express themselves, singing in front of strangers in a bar can be the next best thing. "There are certain people that don't get to be center stage or get to be the center of attention," Sherr says. "To express themselves in any sort of way is exciting for them … they get the mic, and they have a voice."