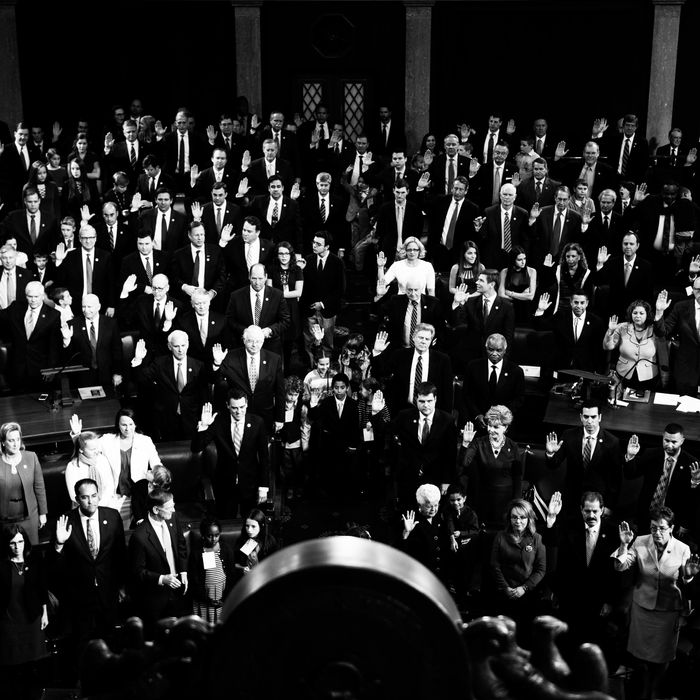 Photo: Bill Clark/CQ-Roll Call,Inc.
A record-breaking number of women have filed to run for seats in the U.S. House of Representatives, and the majority of them are registered as Democrats.
According to the AP, 309 women across the country have filed candidacy papers to run, beating out the previous record of 298 women in 2012. While the former number falls short of the 390 women who said they were planning on running in January 2018, the AP notes that candidates are still filing papers in over 25 states.
In 2017, women held a mere 19 percent of the seats in Congress — a number that was also, pathetically, record-breaking. While every woman's decision to run is motivated by a variety of factors, the AP notes that a large percentage of the women who filed cited their disgust with the politics of Donald Trump and the Republican-controlled Congress.
"After a lifetime of service and taking numerous oaths to support and defend the Constitution, when I saw that our democracy seemed to be under attack, I felt called upon to serve again and felt a responsibility to serve my country again," said Mikie Sherrill, a former Navy helicopter pilot, who's challenging Republican representative Rodney Frelinghuysen in New Jersey.
However, not all women who are running are registered Democrats. Tiffany Shedd, for example, is a Republican from Arizona who's running because she's frustrated with her current representative. While she acknowledges that she may not share political ideologies with the majority of women also running this year, she's inspired by the sheer number who've filed papers.
"I hope that we eventually live in a world where there's no articles written about that because it's no longer a thing," she told the AP.