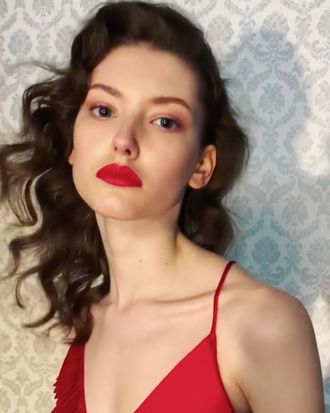 I was mindlessly scrolling through my Instagram feed in an elevator when I swiped down and went back up again — the social-media equivalent of a double-take. The reason was this arrestingly beautiful behind-the-scenes shot from a photo shoot posted by makeup artist Roy Liu. In it, a model (Allyson Chalmers) poses for the camera, a light breeze ruffling her wavy hair. Light red eye shadow defines her eyes, her skin clean but slightly dewy, and I was mesmerized by her perfect-looking red mouth.
Liu filled in Chalmers's lips with a lush red shade, that's an eye-catching mix of red, blue, and pink — balanced so it doesn't skew too much of either color. I immediately commented to ask Liu, an up-and-coming makeup artist who hails from Taiwan, what it was. "It's Smashbox Cosmetics in Bing," he said. Real cherries, as anyone who has ever dove into a pint of Ben and Jerry's Cherry Garcia knows, are more of a dark red, almost purple-maroon. This shade looks like it was named and inspired by those cherry-print T-shirts, dresses, and sneakers that I've been seeing everywhere.
I haven't tried it yet but Ulta reviewers rate it 4 1/2 stars out of 5 and rave about the rich color-payoff, its longevity, smoothness, and evenness. I can't wait to try it and if not inspire double-takes, at least make it look like I'm onto the trendiest fruit of 2018 (sorry, watermelon).