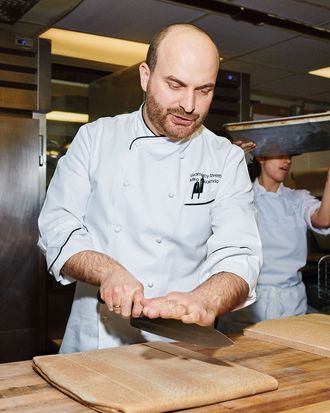 Miro Uskokovic.
Photo: Kyle Dorosz
In our Ask the Experts series, New York Weddings gets tips and advice from professionals in disciplines from dress design to speechwriting.
Miro Uskokovic
Pastry chef at Gramercy Tavern
You've become known for your gluten-free and less sugary desserts. What's one of your favorite "healthier" cakes for weddings?
We do a take on a southern-style coconut cake, except it's friendly for pretty much all allergies. It's gluten-free, dairy-free, nut-free, and very low in sugar. It's made of coconut dacquoise, which is like an egg white, basically. It's layered with coconut custard, which is just coconut milk, starch, and coconut oil. We frost it with meringue: just egg whites and cane sugar. It's not friendly for vegans, of course, because of the eggs, but we also do a vegan chocolate cake.
Is it a challenge to use white-sugar alternatives in a wedding cake?
I'm not going to lie to you; it's very difficult. You can't just simply substitute white sugar with maple sugar, and bleached, processed flour with organic, natural flour, and expect to have the same results. People want their cake to look fluffy and tall, but you have to understand that the texture will be a little different. Obviously, we will make sure the cake looks beautiful, but we go with simple aesthetics. I'm not into sugar sculpturing and sugar flowers. Yes, fondant creates a nice, smooth surface, but it's nothing but processed ingredients. I hate the taste of it. I also avoid red-velvet cake; I don't like to use food coloring. Vanilla is the most requested flavor, then chocolate, then carrot cake. We use buttercream for the outside, from the best local eggs and butter; there are so many designs you can do with buttercream. For the décor, we'll use chocolate and fresh, organic flowers.
What's the tasting process like?
You know, it's surprising — most people don't even request a tasting. I'd say only about 10 percent of the couples do. They're more concerned with how it looks than how it tastes. Which is unfortunate — I mean, I know it's your wedding, and you want the cake to be beautiful, but you also want it to be edible, right?
What's the price range?
If the cake is eaten in-house, you don't really pay more than $350. Off-site, it's more like an average of $1,500 because of all the packaging and transportation; that's a pretty typical cost for a New York wedding. We did one for a hundred-person wedding that was $2,000 because of all the specialty ingredients. But the wedding cakes we do at Gramercy are usually on the smaller side, serving 25 to 30 people and costing about $350. The smaller cakes can still be dramatic: We use tall white milk-glass cake stands, which add height, and fresh flowers give the whole thing more volume.
Any fun tips for creative things to do with leftover cake, aside from just freezing it for after the honeymoon?
The most creative thing you can do is serve it the day after the wedding as breakfast in bed, with Champagne! You shouldn't freeze it and save it for your first anniversary; no food should be frozen for a full year. Just eat it and then ask someone to make you a small version of your wedding cake. I hear there are bakeries that specialize in doing that.
212-477-0777; gramercytavern.com.
"It's better not to advertise to your guests that the cake is gluten-free. Usually, when you say 'low' or 'free of' something, people think it's lacking in flavor. Let the cake speak for itself."
*This article appears in the summer 2018 issue of New York Weddings.