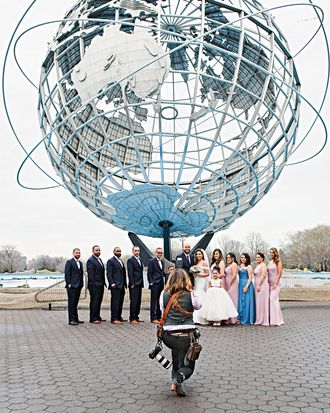 Blaga Ditrow.
Photo: Kyle Dorosz
In our Ask the Experts series, New York Weddings gets tips and advice from professionals in disciplines from dress design to speechwriting.
Blaga Ditrow
Owner of Lush Life Film
What led you to become a wedding videographer?
My father was a movie director back in Bulgaria, where I'm from, and my passion has always been movies. Before I launched my business five years ago, I had done some cinematography, and I realized how wedding videos could be like small feature films. I approach the whole wedding day cinematically and edit as close to the way I would an actual movie.
Has your film-industry experience helped you in your wedding videography?
Yes. I actually just worked as the director of photography for an upcoming Amazon TV show, and in those kinds of scenarios, you learn how to make quick decisions, which is so crucial at a wedding — like how to swiftly change lenses to get a better angle during the vows, or how to build more light if the lighting changes on the dance floor during the first dance.
Has the explosion of video on social media affected your job at all?
I think it's highlighted how much wedding videography is its own art — it's meant to be memorable, something you can go back and watch again and again, the opposite of a Snapchat story. A wedding video has a narrative — parts that make you laugh, cry, a climax, and multiple perspectives: I'll include a funny joke that was told at one of the friends' tables, or a quiet moment between the couple right before they walk into the reception. I capture scenes and shape them into a story. The result is that the video feels so personal that even if someone wasn't there that day, after watching it they'll feel like they were. And that, to me, justifies the expense — my packages start at about $2,150 for six hours, which is pretty standard in New York.
What should couples ask when shopping for a videographer?
Actually, more than social media, drones are what have changed the wedding-video game; now you can get these additional aerial views. So you should ask if that's an option, along with the other specifics their package includes, like how many cameras they'll bring (my starting package includes two). Then, once you have chosen a videographer, don't be afraid to tell him or her what you want more of, like if you want more candids versus staged moments, or vice versa, or interviews with guests. And then just let go and trust them to do their job.
How does rain affect a wedding video?
My first clients were two women who were getting married in Dumbo, on the grass under a bridge, with just about 15 people. It started pouring, so we ended up running back to their hotel room, and they got married there instead! I was able to film almost the whole thing, in between covering up my equipment, and you felt that excitement in the video. I had another couple where it rained the entire day, right up until the ceremony began. But the bride commented that she just knew it was going to rain that day because it rained when they met, during their first date, even when her groom proposed. So I played off of that: The video opened with just rain and the sound of it, because that was as much a part of their story as the celebration itself.
347-233-7224; lushlifefilm.com
"Wedding venues love to add mood lighting, but I like to ask them not to do that — those high contrasts are bad for video. It's better just to capture whatever natural light the venue has."
*This article appears in the summer 2018 issue of New York Weddings.