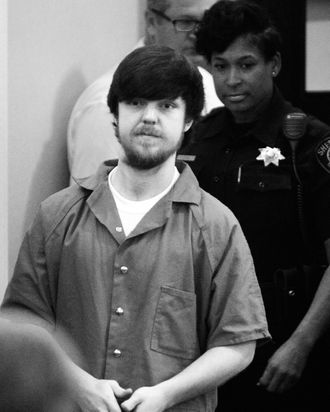 Ethan Couch at a 2016 court hearing.
Photo: Max Faulkner/TNS via Getty Images
Before Martin Shkreli inspired widespread public disdain, there was Ethan Couch: the teenager who killed multiple people in a drunk driving accident and claimed he was suffering from "affluenza." Today, Couch, now 20, has been released from jail after serving a two-year sentence for violating probation.
In 2013, Couch, then 16, crashed into a broken-down SUV at the side of the road and killed the driver and three other people who stopped to help her. He had a blood alcohol content of three times the legal limit at the time. As Jonah Shepp wrote in Daily Intelligencer, an expert witness at his trial offered an, uh, unusual defense:
His defense made headlines when a psychologist testified that Couch suffered from "affluenza" — a condition resulting from having too much money and a dysfunctional relationship with his parents. This debilitating fictional illness left the defendant unable to feel responsibility for his actions.
It worked — in 2014, Couch ended up being sentenced to just ten years' probation, as well as mandatory rehab. But shortly afterwards, Couch was investigated for violating his parole (a video posted to Twitter claimed to show him playing beer pong), prompting him and his mother to flee to Mexico. He was extradited to Texas and, in 2016, sentenced to two years in jail for violating his parole.
Meanwhile, his mother Tonya was re-arrested last week for violating the conditions of her bond after she failed a urine test — so it sounds like this condition is hereditary.