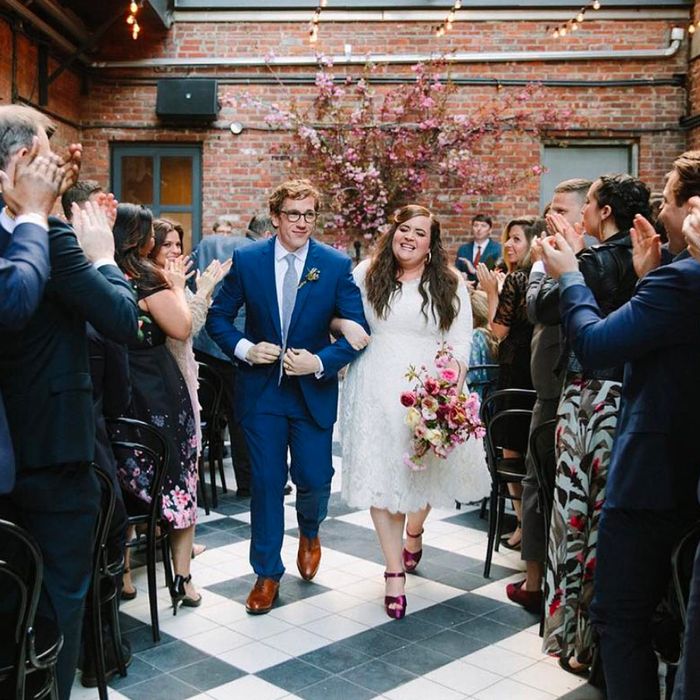 The happy couple.
Photo: aidybryant/Instagram
Finally, a ray of sparkly sunshine in the hailstorm of garbage that is our current news cycle: Saturday Night Live cast member and aspirational best friend Aidy Bryant got married this weekend to her long-term boyfriend, comedy writer Conner O'Malley.
On Monday, the comedian posted a picture on Instagram of her and O'Malley walking down the aisle at the Wythe Hotel in Williamsburg, Brooklyn. Bryant wore a tea-length wedding dress and satin purple Prada heels. Per People, Bryant's SNL co-stars Michael Che, Kate McKinnon, and Mike O'Brien were in attendance for the "sweet ceremony."
Bryant announced her engagement a year ago, during an appearance on Late Night With Seth Meyers, telling Meyers:
We've been together a long time; we've been together almost nine years. So, a lot of the shimmer and shine has faded and we're just living every damn day as best we can. We've seen each other through a lot. Like, he used to work as a full-blown garbage man — not a joke, just a garbage man. I used to sweep up hair in a barber shop. I mean, we've, like, been through it.
Congratulations to the happy couple, and also to the rest of us who were reminded, ever so briefly, of what it feels like to read some good news.