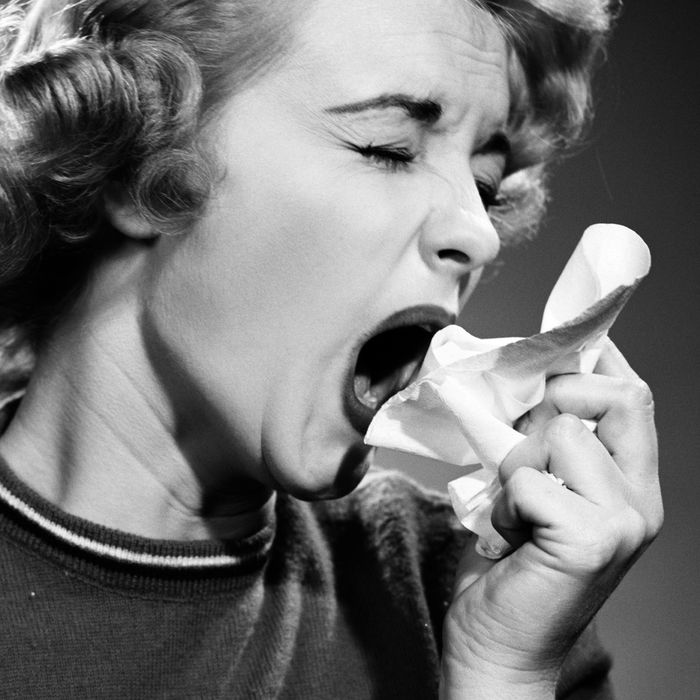 Photo: H. Armstrong Roberts/ClassicStock/Getty Images
We're finally on the other side of winter and the year's horrific flu strain. Congratulations, but hold your applause! We've now arrived at allergy season.
Even with the perfect cocktail of medications, allergy season is a drag. Allergy sufferers can experience dry, itchy eyes, nasal congestion, and annoying sneezing episodes. Fortunately, when antihistamines fall short, a range of tools — from Neti pots to all-purpose balms — can help you look and feel better. Below, the Cut presents your complete allergy season arsenal.
A Cheap Way to Breathe Better
Photo: NightAndDayImages/Getty Images
First of all, you're going to want a Neti Pot to keep those nasal passages clear. "Allergists love Neti Pots, and their cousin, the NeilMed sinus rinse kit," says Dr. Ronald Saff, a fellow at the American Academy of Allergy Asthma and Immunology at the Allergy and Asthma Diagnostic Treatment Center. "Just like washing our armpits in the shower, the Neti Pots and salt water sinus rinse kits help cleanse much of the 'gunk' from our nose and sinuses. This is a very effective way to wash the pollens and air pollutants out of our nasal airway."
A Fancy Way to Breathe Better
An air purifier will filter out pollen, as well as any dog or cat dander you might have floating around. Keep it in your bedroom, since, according to Dr. Saff, that's where the average person spends most of their time. Change the filters frequently per the manufacturer's instructions, but don't expect the purifier to help with other allergens like dust mites. "The dust mite allergens are very heavy, and don't get sucked into the air purifier," Dr. Saff says.
Drops for Red, Itchy Eyes
Kathleen Hou, the Cut's beauty director, has raved about these eye drops for years because of their cooling, soothing, red-eye-healing properties. She was tipped off by makeup artist and entrepreneur Troy Surratt, who was tipped off by beauty legend Kevyn Aucoin — so it's safe to say they have a respectable beauty-world following.
If your eyes are especially sensitive, though, you might want to try preservative-free drops. Longtime Clear Eyes spokeswoman Vanessa Williams likes these the most.
A Cream for Your Under-Eye Area
No one knows how to categorize Clinique's tinted dark circle corrector, but everyone agrees that it's great. The cream's caffeine content and cooling tip deflates puffy eyes, and its slight tint masks dark circles without looking like an actual mask. Even skin-care expert Paula Begoun, who hates eye creams, approves of this one.
Or Try a Really Powerful Concealer
Photo: Kevyn Aucoin
If a slight tint just isn't going to work for you, Kevyn Aucoin's concealer might be a better option. It's actually a pigment, so you only need a pinprick to cover the entirety of the under-eye area. You can use it all over your face too — just mix a small amount with your favorite moisturizer.
A Redness Eraser for the Rest of Your Face
Yves Saint Laurent Beauty took their famed Touche Eclat "Radiance Perfecting Pin" and added color neutralizers. The green pen offsets redness and dries to a slightly creamy finish. You can wear it under foundation, or you can wear it on its own and buff out the green with a BeautyBlender.
And a Balm to Protect Your Nose
I never understood the mania surrounding all-purpose balms until I tried Lano's 101 Ointment. If you're constantly face-deep in Kleenex, dab a pea-sized amount on the tip of your nose to protect your skin. I've found that it prevents flakiness without clogging pores.
If you buy something through our links, New York may earn an affiliate commission.