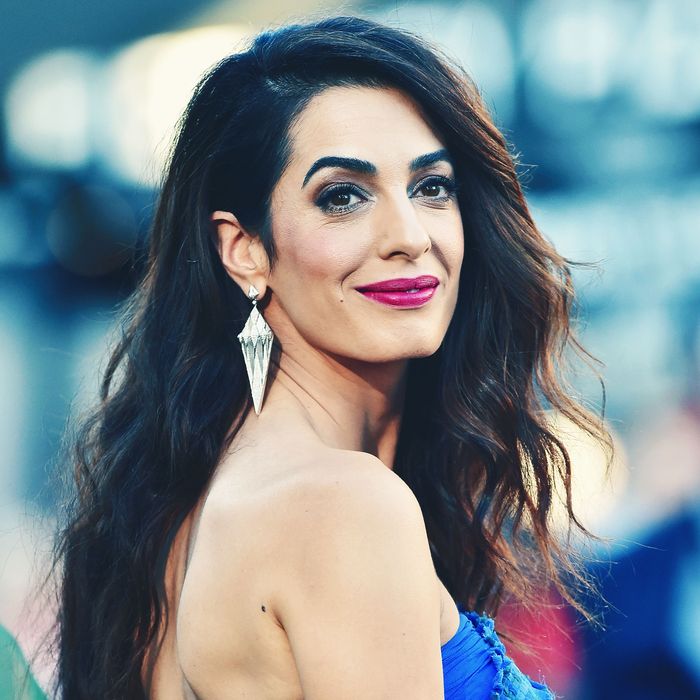 Amal Clooney.
Photo: Axelle/Bauer-Griffin/FilmMagic
Internationally acclaimed barrister Amal Clooney finally landed the cover of American Vogue. In the accompanying profile, Vogue attempted to give equal airtime to Amal's widely beloved sense of style, her year-old twins, and her high-profile international human-rights cases.
Annie Leibovitz shot Clooney, who is co-chairing the Catholicism-themed Met Gala next month, at her British estate, Aberlash House. The result is a wide-ranging profile touching on everything from her work representing young refugees to the way she seduced George Clooney via email. Read the full article here, and check out the best moments below.
Her twins's first words were "mama." Amal told Vogue that George was "very careful to ensure that 'Mama' was the first word."
Amal is a self-defined party animal. When talking about her college days at Oxford, Amal said that it was important for her to maintain a work/life balance. When she studied, it was in a "effortless" way and she loved going to Oxford because it "was much more international. There were boys there!"
Her own mother corroborated her party-girl status, saying, "Amal partied hard and worked hard."
George knows his wife is much cooler than he is. The article repeatedly quotes him gushing about his wife and her career.
"She's the professional, and I'm the amateur," says George, who's done a share of humanitarian work on his own. "I get to see someone at the absolute top of their game doing their job better than anybody I've ever seen."
George decided to propose after seeing Amal interact with giraffes. Apparently, if you're trying to land one of the world's most notorious bachelors, the trick is to befriend some really tall animals. Explains Clooney:
"If you know anything about my crazy life, you know that I'd pretty much committed to the idea of never marrying again," he says. (He was married to the actress Talia Balsam for a few years in his late 20s and early 30s.) "But I started dating Amal, and I immediately knew that something was very different." When they went with friends on a safari trip in Africa (giraffes), George had one of those epiphanies that arrive in the interstices of a life.




"Some giraffes walked up to her," he recalls. "They just came out of the blue. I took a picture of her, and she was smiling. I said to my buddy Ben, 'You know, I think I should ask her to marry me.' And Ben said, 'I think that's a good idea.' "
Amal stress-eats sour candy. Who knew that a woman working on a book called The Right to a Fair Trial in International Law would be so relatable! Amal is co-writing the book with a colleague, who is set to come to their estate in England for a "writing intensive." Apparently, during these sessions, "Clooney stress-nibbles unholy amounts of sour candy." What counts as "unholy" is not specified; those are Vogue's words, not Amal's.
She's an outspoken supporter of the #MeToo movement. Amal is all here for men being a bit more scared in the workplace. "We're in a situation where a predator feels less safe and a professional woman feels more safe, and that's where we need to be."
George and Amal kept their romance going via email. In the early phases of their relationship, George wrote "her repeated notes in the voice of his dog Einstein, who claimed to be trapped in various places and in need of legal rescue." It's not the worst e-flirting we've ever heard of.