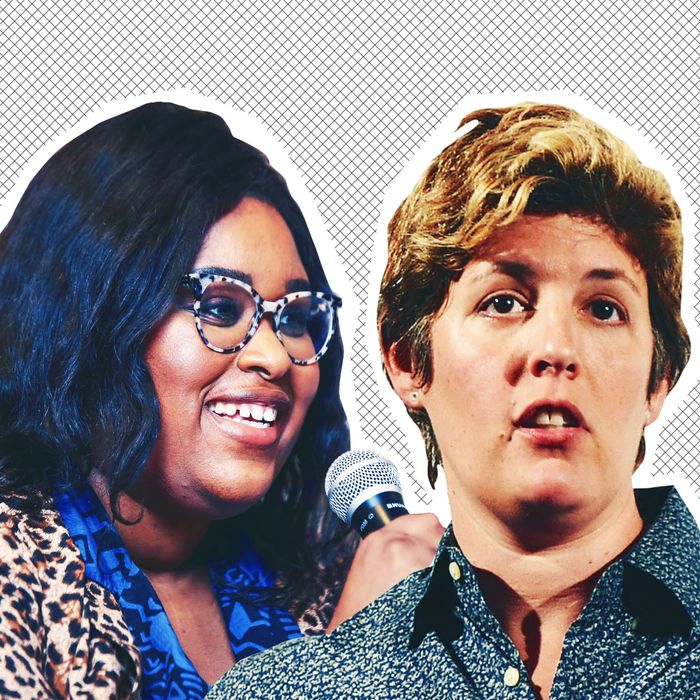 Aminatou Sow and Sally Kohn.
Photo: Angela Pham/BFA/REX/Shutterstock/ Joshua Blanchard/Getty Images
In the beginning of political commentator Sally Kohn's book The Opposite of Hate, she clearly states the book's mission statement: "I want to understand how hate infects our entire society. And I want to know how we can fight back."
To answer her question, Kohn interviews a fairly predictable group of sources (Trump supporters and white supremacists), and she quotes the written theories of people like Hannah Arendt and bell hooks. But her inclusion of one source has elicited controversy. In an early chapter about Twitter trolls, Kohn attributes an explosive phrase to Call Your Girlfriend podcast host Aminatou Sow, who accuses her of not only misquoting her, but failing to handle this scandal as should an alleged expert on hate.
The excerpt reads:
My friend writer Aminatou Sow has cautioned that there's a compounding unfairness, even oppression, in expecting the most marginalized among us to take the high road. "Why is it black women are always asked to do the work," Aminatou chides one day as we're in a cab and I'm telling her about my book. "Once you're provoked, the rules of engagement change," she adds, "and I can fucking kill you and I'm justified in doing that" — metaphorically speaking.
The anecdote dates back to an evening in July 2017, when the two shared a car back to Brooklyn after going to the same event. In the car, the two discussed Kohn's book, but what happened next is murkier. According to Sow, Kohn never conveyed that their discussion could make it into the pages of her book, nor was she ostensibly taking notes on a notepad or a phone. "I have no recollection of telling Sally those exact words but I do remember her discussing her book or her work in passing," she told the Cut." Kohn says she had Sow's "explicit consent" to be quoted, and that she "contemporaneously took notes, in keeping with every journalistic standards."
According to emails seen by the Cut, the dispute began in mid-March, when Kohn mentioned in a group email — on which Sow was included — that she had quoted Sow in her book. Perplexed, Sow responded, "wait you quote me?!," which prompted Kohn to send her a photo of the book. Sow vocalized her concerns — that not only does she have no recollection of saying these words, but that there was no fact-checking involved in this book. While Kohn apologized for any hurt or frustration she may have caused, she said that Sow's alleged quote is "one of the most profound in the book and provides an important moral anchor throughout the book."
"I showed her that I quoted her because I thought it was an important quote," Kohn told the Cut. "She's checking me on my privilege in a really important way."
But Sow can already imagine how the quote could be misrepresented or taken out of context, especially on the internet.
"It is just shocking to me that knowing what the subject matter was, it was not treated with more care," Sow said. "If you quote somebody and say they're the moral authority, wouldn't you send them a galley? If I was your friend, you would probably want to protect me more."
In a later email, Sow asked Kohn if she could speak to her editors about removing her name, but was told that it was too late to make changes to the first print edition. When Sow continued to ask Kohn to show her notes from the rideshare, Kohn stopped responding and representatives at Algonquin Books stepped in.
As of today, Sow's name has been removed from the Google Books and Kindle versions, and Kohn has publicly apologized on her Twitter. At Sow's request, Algonquin has also made a $500 donation to Radical Monarchs, an Oakland-based organization that seeks to empower girls of color, "on behalf of Aminatou Sow from Sally Kohn and Algonquin Books." (Sow did not give a specific a dollar amount when asking for a donation to be made.) Kohn also told Sow that her name would be removed from future print editions.
"When I say that I think the world of Amina, her writing, her voice, her activism, her leadership, I mean it," Kohn told the Cut. "When I say I'm sorry, I really mean it."
But at the end of the day, Sow's name still appears in the physical copies of the book's first printing. While she described the past few weeks as "hurtful," she also found the whole experience to be eye-opening — how easy it was for her name to be printed next to words she doesn't claim as her own, and how "nonplussed" she thought Kohn seemed. Could a person of color get away with this? Sow wonders.
"How can someone who professes to have deep expertise on how to dismantle systems of hate really not understand what she did wrong, or can articulate the different standards and assumptions about anger and confrontation from women of color?" she asked. "The nature of the quote is something she should have been more careful about. It is explosive."
Update, 6:30 p.m.: Kohn released an official statement, which includes her alleged notes from the car ride with Sow, after this controversy received media attention. Her full statement is below: