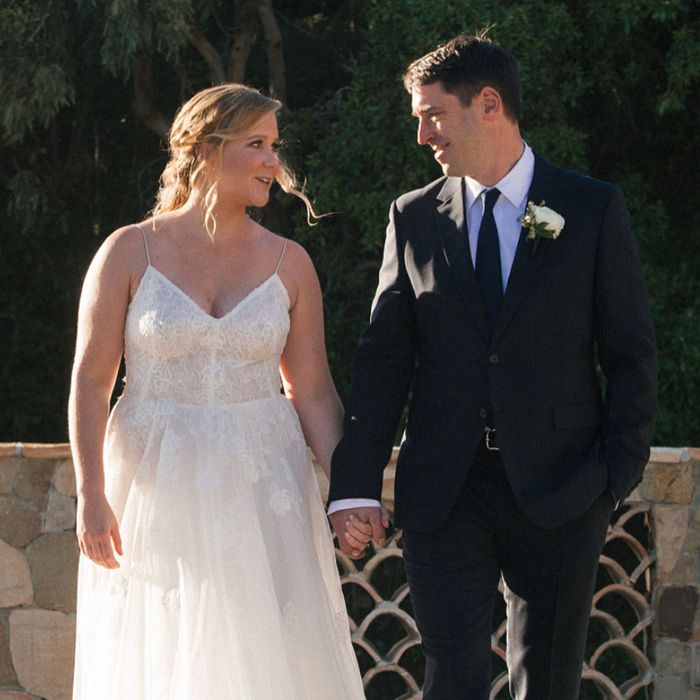 Amy Schumer and Chris Fischer.
Photo: Instagram/Amy Schumer
Amy Schumer married chef Chris Fischer in a surprise, last-minute ceremony in Malibu, California, in February — and it sounds like his proposal was just as unexpected.
During a Tuesday appearance on the Howard Stern Show, the 36-year-old comedian opened up about the surprising proposal. As she tells it, Schumer was in bed — asleep — one night wearing ear plugs and a nighttime face mask, when Fischer woke her up to pop the question.
The chef, who is the brother of Schumer's longtime assistant, then told the I Feel Pretty and Trainwreck star, "I got you something," and presented her with an engagement ring. When Stern asked whether Schumer would have rather Fischer did the traditional move of getting down on one knee, she said no and that she was happy with the ring.
The actress also revealed that she and Fischer only spent about three or four days planning their nuptials. She ended up texting her close family and friends with the impromptu message, "I'm getting married on Tuesday. Hope you can come."
The guest list, of course, included Jennifer Lawrence, who made a toast at the reception. "She was great and she made a really sweet toast … We just joke around so much, but to hear her say, 'You're the matriarch now and it's a role you'll be really good at, and I know you love fiercely,'" Schumer said of Lawrence. "And then she also said, 'I wish for you patience, which you don't have.' She kind of also roasted me, but it was really sweet."
Listen to more of Schumer's interview here.