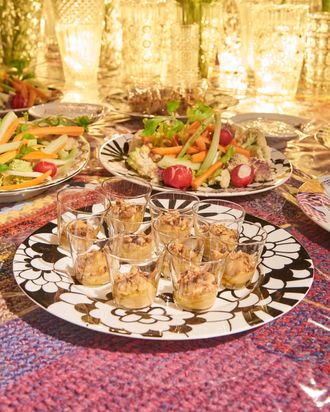 A spread at Angela Missoni's Milan Fashion Week fall/winter 2018 dinner party.
Photo: Courtesy of Missoni/©2018, Christian Michele Michelsanti
Twice a year after the Missoni runway show, creative director Angela Missoni hosts an intimate dinner party for fashion editors and influencers in Milan. It's a favorite event of the season, where guests can relax in warmly lit rooms and an outdoor garden, talk, and enjoy the best of Italy, which starts with the menu.
Two recipes from the designer's party appear below with thoughts from her son, Francesco Maccapani, who collected the family's most precious recipes in The Missoni Family Cookbook. Published this week by Assouline, the cookbook chronicles the Missoni family's culinary traditions in 240 pages of recipes, family photos, and illustrations. Find inspiration for throwing your own stylish dinner party below. Maccapani recommends a spring vegetable stew and veal meatballs with cherry tomatoes.
Vignarola: Artichoke, pea, fava bean, and romaine stew
"You can only make it during that transitional moment between spring and summer. It's the only time you'll find the four basic ingredients at their freshest." —Francesco Maccapani Missoni
Serves 8
8 Riviera artichokes
Freshly squeezed juice of 1 lemon
2 heads romaine lettuce
2 Tbsp extra-virgin olive oil
8 spring onions, peeled
5 lb fresh peas, shelled
3–6 leaves each fresh marjoram, sage, and mint
1 sprig thyme
2 ½ lb fresh fava beans, shelled
Sea salt
1. Peel off and discard the tough outer leaves of the artichokes. Chop off and discard the stems and the pointy tops of the heads. Quarter the hearts lengthwise and place them in a large bowl filled with water and the lemon juice.
2. Halve each head of lettuce lengthwise, then cut each half into quarters lengthwise.
3. In a very large pot over medium heat, warm the extra-virgin olive oil. Add the
onions and stir vigorously for 1 minute. Add the peas, the drained artichoke
hearts, marjoram, sage, mint, and thyme and cook for 5 minutes. Add the fava
beans and lettuce, cover, and cook for 8–10 minutes, or until tender. Season with
sea salt. The vegetables will release their moisture and make for a very flavorful
side dish. Remove from the heat and serve hot.
Polpettine con Aceto Balsamico e Pomodorini: Veal meatballs with balsamic vinegar and cherry tomatoes
"We've taught almost all of our recipes to the cook who plans our big events; We have taken some recipes from him [in turn], including [this one]. The dish is perfect for any party and aperitif. It is preferable to prepare them the day before and let them rest for one night." —Francesco Maccapani Missoni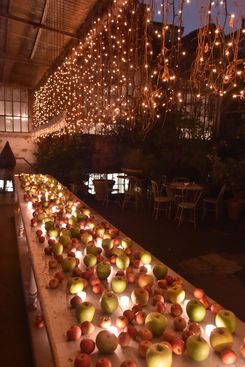 Serves 6–8
2 ¼ lb fresh cherry tomatoes, halved and seeded
2 cups extra-virgin olive oil, plus more for drizzling
1 cup balsamic vinegar
3 ⅓ lb veal round, cut into 1-inch cubes
5–6 slices uncured ham
1 ½ oz Parmigiano-Reggiano
½ cup bread crumbs
Sea salt and freshly ground black pepper
1. Place the cherry tomatoes in a large serving bowl, dress them with a generous
drizzle of the extra-virgin olive oil, and season with sea salt and black pepper.
Add the balsamic vinegar and stir well to combine.
2. In a food processor fitted with the "S" blade, pulse the veal a few times to grind it. Add the ham and Parmigiano-Reggiano and pulse until well combined (do not
overmix). Form the mixture into 1-inch meatballs.
3. Pour the bread crumbs onto a wide plate and coat the meatballs with them on all sides.
4. Preheat the oven on the broiler setting.
5. In a wide pan over medium-high heat, warm the 2 cups of extra-virgin olive oil for 4–5 minutes, or until it reaches 300°F. Panfry the meatballs, rolling them in the
pan so they cook through evenly, about 2 minutes. Remove from the heat.
6. Transfer the meatballs to a baking sheet and broil for 5–6 minutes, or until golden. Remove from the oven.
7. Transfer the meatballs to the bowl containing the cherry tomatoes and stir well
to combine. Serve.