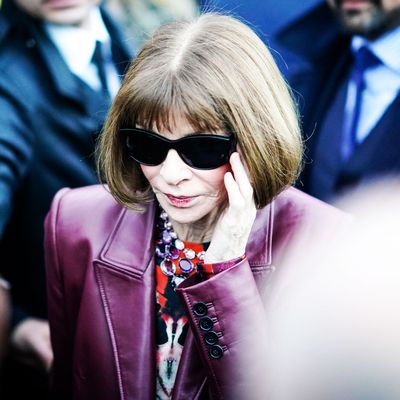 Anna Wintour.
Photo: Edward Berthelot/Getty Images
Rumors are swirling that Anna Wintour, whose influence in the fashion and publishing worlds cannot be overstated, could be on her way out at Condé Nast. According to a Vogue representative, though, Wintour isn't going anywhere.
"There's zero truth to the story," the spokesperson told the Cut. Earlier today, Condé Nast also denied that Wintour was leaving the company.
The source of the rumor is a report published on "Page Six" titled, "Is Anna Wintour Out at Vogue?" The publication reportedly spoke to a number of sources who said Wintour is going to exit her role this summer after her daughter's wedding in July. The report also speculated who would replace Wintour were she to leave Vogue, who might be encouraging her to exit, as well as what other opportunities might the 68-year-old want to pursue.
And understandably, the "Page Six" story, published early Monday evening, has already generated quite a bit of buzz on social media. Wintour has served as Vogue's editor-in-chief since 1988, and in 2013, she was given oversight over all of Condé Nast's publications when she was named the media company's artistic director. A Vogue — and a Condé Nast — without Wintour is not easy to imagine.
But according to both the Vogue representative and a Condé Nast corporate spokesperson who spoke to "Page Six" earlier, Vogue is not losing its iconic EIC — at least not yet.
"We emphatically deny these rumors," the spokesperson told "Page Six."