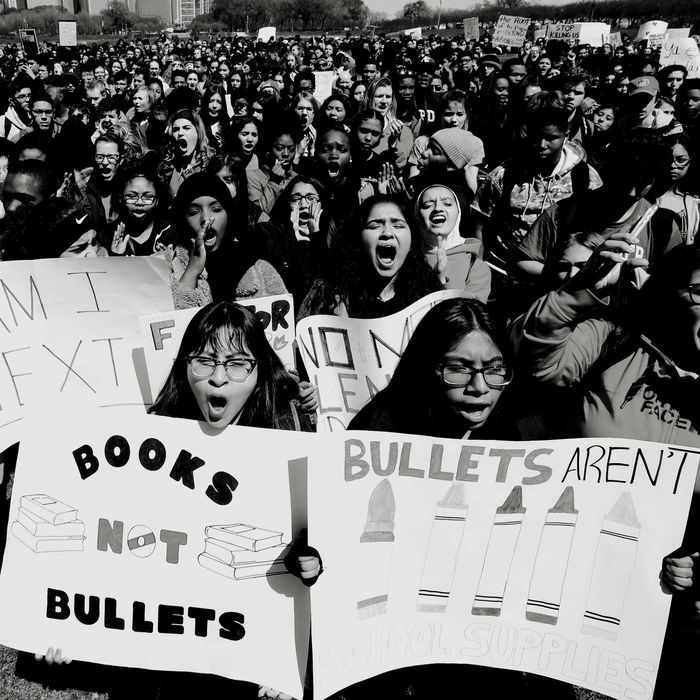 Students walking out in Chicago.
Photo: Jim Young/Getty Images
In March, exactly one month after 17 people were killed in a horrific school shooting in Florida, students across the U.S. walked out of class during National Walkout Day in protest. The second walkout protest was held on Friday — the 19th anniversary of the Columbine High School shooting in which 13 people were murdered. "We're protesting congressional, state, and local failures to take action to prevent gun violence," the event's official website reads. "America is the only country in the world where so many people are killed by guns, and yet our leaders do nothing about it."
The same morning, there was a shooting at Forest High School in Ocala, Florida, in which a student sustained a gunshot wound to the ankle. But despite that terse reminder of the horrors of gun violence, students still banded together in more than 2,000 events to stand up for school safety and call for an end to guns on campus. Here are some of the most powerful moments.
Empty chairs representing the lives lost at Columbine:
Students flooded their school's football field:
Some even spelled out "SOS":
Those who couldn't participate because of the Friday shooting in Ocala still protested from their classrooms:
Many students laid on the ground for "die-ins":
Some used their walkout time to help people register to vote:
Students ensured their voices were heard:
Protesters used their voices to fight the National Rifle Association:
Many wore orange in solidarity, including students at Marjory Stoneman Douglas High School:
People also gathered at the White House in protest:
Some banded together in large groups: