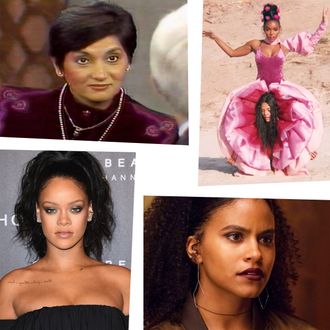 Photo: Netflix/Janelle Monáe/Getty/FX
What's Good is a weekly column collecting TV, music, movies, and miscellaneous cultural ephemera worthy of your time. Why? Because we like it. Check back Fridays at lunchtime for your guide to what is good.
I talk about this a lot, but when Atlanta focuses on Van, the show's voice of reason and lone female lead, it rides such a different wavelength — one that is manageable and a little bit closer to the reality we all inhabit. After the extreme WTF-ness genius of last week's episode, "Teddy Perkins," we needed last night's episode to give us a second to breathe and process a murder-suicide by focusing on something we all can understand: Drake!
The Amy Seimetz directed "Champagne Papi" episode follows Van (played by the Cut's favorite grounding force Zazie Beetz) and her girls on New Year's Eve. Since her friend is sending sexy pictures to Drake's tour barber they have a guaranteed in to his NYE mansion party, so fueled by shots, a Freakum dress and an the ire of seeing an Instagram of Earn with another girl, she's ready to hit Drake's party and live her best life and maybe replace Earn with Aubrey. Okay! By the power of a Fenty lipstick, if anyone could do it, Van could.
I loved this episode because it's basically a half-hour live version of "Tag Yourself." Who would you be at Drake's "Thot-a-thon" (ostensibly, the Drake of this episode is pre-"Nice For What" era Drake. Spring '18 Drake is not about thot-a-tons). Would you be the girl crying in the shuttle to to the party because she's "just so happy" that she's about to meet Drake. Would you be Nadine who takes a weed gummy and freaks out and tries to call the cops because she's dying? Would you be Van, and shirk your babysitter duties and find yourself sneaking around Drake's house trying on his clothes, dousing yourself in his cologne and talking to his grandfather? Or would you be the friend who ditches almost immediately to go to T-Pain's party?
Even though this episode is lower-key than last week's, Donald Glover makes sure it's got the same weird DNA as the rest of the series. Naturally it's not just a normal party — everything's just a little bit off, and a little bit hilarious, and a little bit poignant, and a lot unexpected (we never hear a Drake song, for example, just a piano version of "Passionfruit" and Van humming "Hotline Bling"). The stakes are unexpectedly raised as Van navigates the labyrinth of Drake's house and again later, during a poolside conversation she has with Darius (LaKeith Stanfield) toward the end of the episode.
Over 27 or so minutes, the episode raises and answers a lot of questions: Is Drake at the party taking pictures with the "bevy of beauties" posting pics with him on Instagram? How are we going to get home? Do you have a phone charger? What is reality? Do we exist? (Listen. Those gummies were strong.) Is Drake Mexican? And leaves one lingering: Was this all part of the "Nice For What" roll-out?
Sheela Is the Best Villain on TV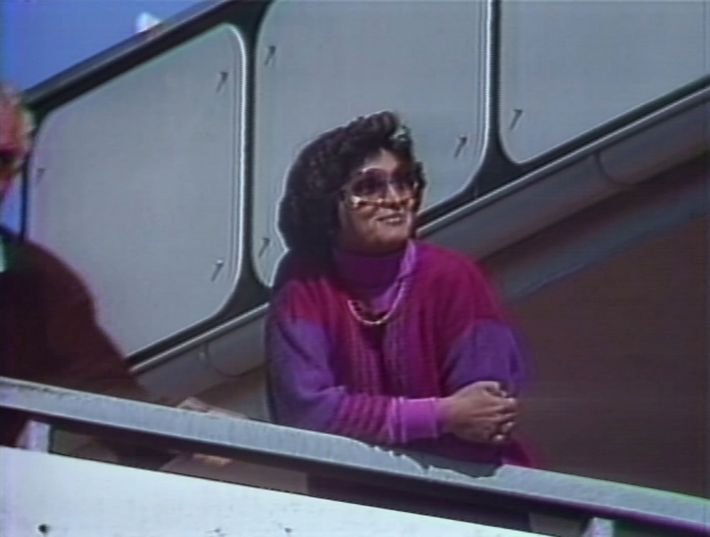 For all who have finally finished watching the best cult show Wild, Wild Country, I think we can all agree on the following: yes, Rajneeshee-chic is the look for spring. And yes, Ma Anand Sheela is an icon — a problem because she wasn't afraid to poison her perceived enemies (don't make me condone that please) — but an icon nonetheless. Sheela is Bhagwan's personal secretary and his right-hand man. Eventually, it's revealed that she's one of the most powerful, if not the most powerful person in the organization. She's fearless, ruthless, sharp-tongued. In interviews she is as terrifying, as she is charming. She is "not afraid of your fucking guillotine." (Please. Tattoo it on me.) She could kill you — really, the poison — in order to protect her power and her position. She's like the best character from a soap opera. I am obsessed with her.
First of all, of all the Rajnee-Chic, she was perhaps the best dressed. She wears head-to-toe hot pink, like the bold woman she is. The next time I have an important meeting, I will wear a red suit like this, and be all the more effectively intimidating for it.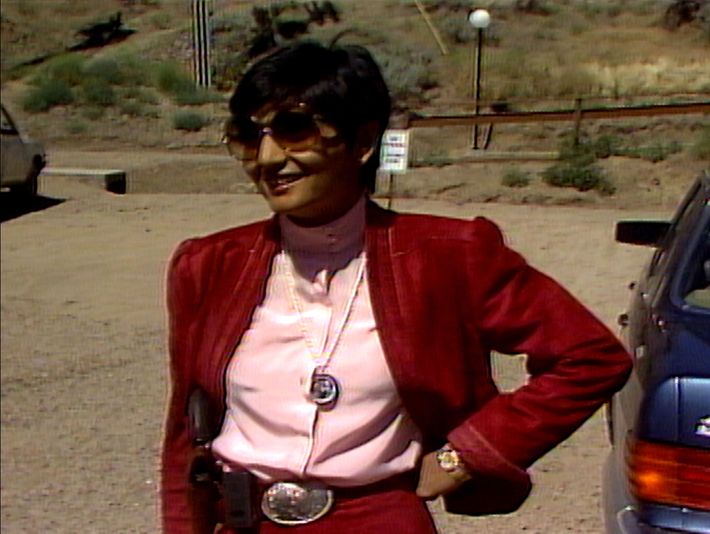 Early in the docu-series, it's clear that Sheela is the true brains of the operation, responsible for taking a vision and turning it into a global brand with a 65,000 acre self-sustaining city within Wasco County. As the cult gained power, so did she. And her entire arc is a captivating, also scary, portrait of someone who wields that power, to the max. It's also why she's so admirable: a woman who isn't afraid to own all of her power, and looks great in bold colors.
After watching the whole thing, I'm convinced Cardi wrote "She Bad" for Sheela. I hope she's listening to that song out there, in the forest outside of Zurich where she's currently in exile for her laundry list of heinous crimes.
It's Finally Warm and It's Time for Some Fucktracks:
Thank the lord! The temperature is rising and naturally so are all the libidos. This weekend, instead of just listening to Nicki Minaj's new songs on repeat (or this new Young Thug song, "Anybody" that also features Nicki Minaj or that glorious Janelle Monáe song about vaginas), it's imperative that you only listen to a carefully curated playlist of fucktracks and nothing else. We're about to enter the "Horny Time," it's important to get in the right mindset.
What makes a good fucktrack you ask? And I'm so glad you did because it's all I ever want to talk about. A fucktrack is a song that makes you feel both like you wanna smash and/or fills you with the confidence to feel like the most smash-able person in the world, even if you don't wanna smash. It's not a song you want to play during sex, per se, just a song that fills you with sexy energy. For example, here are two songs that are making me wind around in my chair in a fashion that's inappropriate for corporate settings.
And of course, the fucktrack instruction manual: