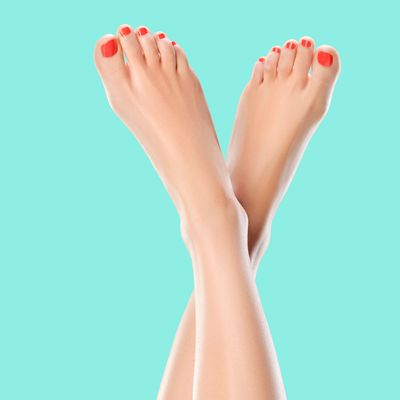 Photo: Marc Vuillermoz/Getty Images/Onoky
Let's skip any niceties here: this is an article about rough feet. I'm not opposed to dry, rough feet in a general sense — that's what closed-toe shoes are for — but when summer arrives I normally panic and think: oh no, my feet! So for the past three years I've participated in a very important intermediary between the end of winter and mid-spring: I'm talking about Baby Foot season.
Baby Foot is a powerful exfoliating foot peel. It dissolves dead skin cells to reveal soft heels and toes, and it smooths feet better than any pumice stone, foot file, or even the highly effective Ped Egg. Baby Foot season is the period shortly before the first full week of sandal-appropriate weather arrives, and in New York, that period is now.
This season I invented is strategic. In what can only be described as a pair of plastic socks, the Baby Foot peel is packed with potent exfoliants like lactic and glycolic acid. You're meant to wrap your bare feet in these socks for one hour, and then rinse the sock-acids from your feet. It's painless and completely safe. For a week your feet will look the same, and then suddenly, without warning, your feet will start to shed skin-flakes the size of potato chips — and won't stop for another week.
Are you starting to understand the need for a Baby Foot season? If you start too late in the season, you'll be forced to cover up your feet for an entire week (the shedding is really bad). While you may be fine with wearing loafers an entire week straight in July, I am not. Of course you can't use Baby Foot too early in the season, either. In that scenario, how will you be able to show off your ridiculously smooth feet? At home in March? Where's the point in that?
No, now is the time to try Baby Foot. In two short weeks we will arrive at May, and if you use Baby Foot today, your smooth feet will have arrived by then, too.
If you buy something through our links, New York may earn an affiliate commission.