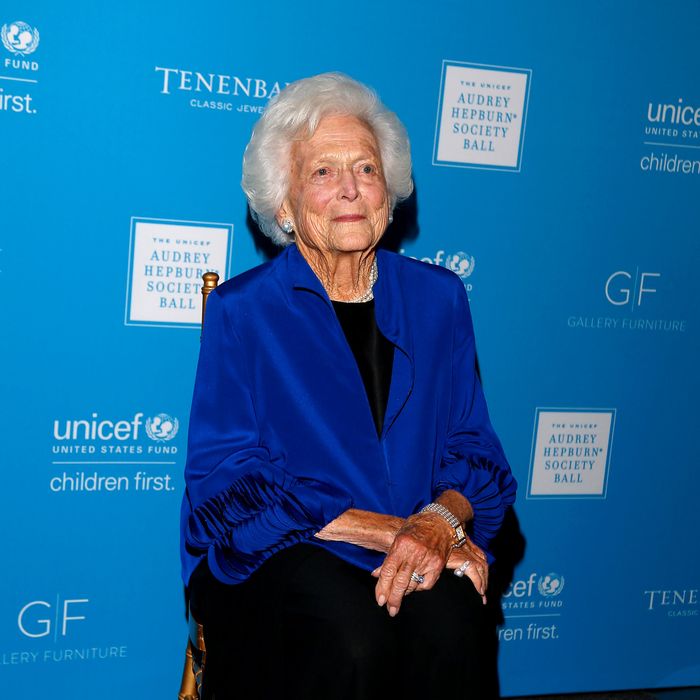 Barbara Bush.
Photo: Bob Levey/Getty Images for U.S. Fund for U
Barbara Bush, the wife of former president George H.W. Bush and mother of former president George W. Bush, died on Tuesday, at the age of 92. She had recently been hospitalized for health problems, and her family announced on Sunday that she had declined to seek additional medical treatment.
Former president George W. Bush wrote in a Tuesday night statement: "My dear mother has passed on at age 92. Laura, Barbara, Jenna, and I are sad, but our souls are settled because we know hers was. Barbara Bush was a fabulous First Lady and a woman unlike any other who brought levity, love, and literacy to millions. To us, she was so much more. Mom kept us on our toes and kept us laughing until the end. I'm a lucky man that Barbara Bush was my mother. Our family will miss her dearly, and we thank you all for your prayers and good wishes."
President Donald Trump also issued a statement on Tuesday night:
The late former First Lady had been battling Chronic Obstructive Pulmonary Disease and congestive heart failure for much of the last year, according to CNN.
Bush, who was born in New York but spent much of her adult life in Texas, was only the second woman in U.S. history (after Abigail Adams) to have both a husband and son serve as president. She had six children — including another son Jeb, who previously served as the governor of Florida and unsuccessfully sought the Republican nomination in the 2016 presidential election. Bush spent much of her time in the White House advocating for literacy and early childhood education.