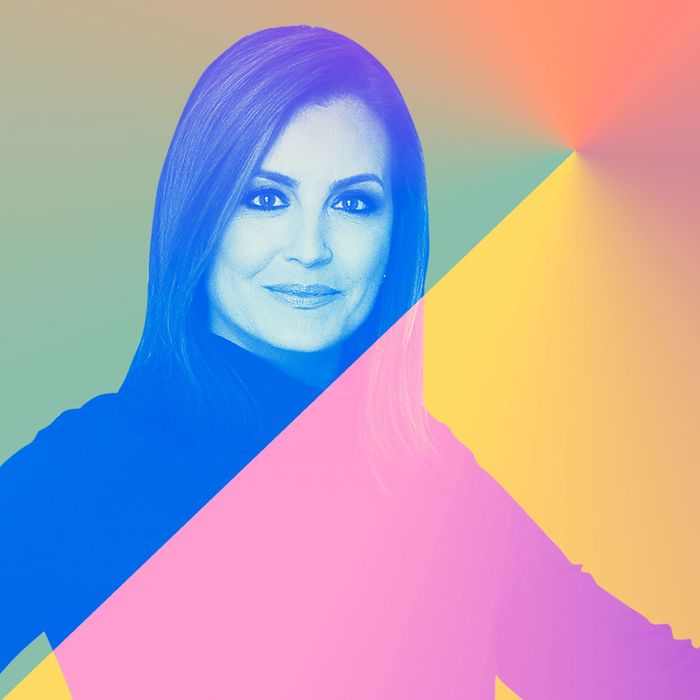 Photo-Illustration: Stevie Remsberg
Barbara Calcagni, president of NARS Cosmetics, didn't name her boat Orgasm. She could have, as it's one of the brand's best-selling products of all time. But Calcagni went with Dolce Vita, another popular blush (and lipstick) shade, for personal reasons.
"I just love the name," says Calcagni, who was named president of NARS Cosmetics in 2015. "Dolce vita is definitely the spirit of how I feel when we're out on the water."
Born in Switzerland and raised in New York, Calcagni originally had her sights set on the fashion industry. She attended F.I.T. in the hopes of graduating to the executive training program at Bloomingdale's, but an undergrad stint at a Macy's Lancôme counter changed all that.
"I didn't know how to sell or apply makeup, and I'm sure the older women I was trying to sell anti-aging serums to were like, 'What does this 19-year-old know?'" she remembers. "Nevertheless, I just fell in love with beauty."
Calcagni's beauty career began in the fragrance sector, where she worked on blockbusters like Escada, Elizabeth Taylor's Passion, Chloé, and Lagerfeld. In 1994, she landed at Calvin Klein, smack dab in the middle of the Grunge movement.
"It was such an exciting time. CK One had just launched, and that's where I first experienced the magic of working with a founder so intensely," she remembers. "Calvin was thoroughly involved. He reviewed everything, discussed launch strategy with us. The privilege of working with such a big name was incredible. I stayed nine years."
Four years at Victoria's Secret followed, until another founder came calling in 2008 — this time, a French makeup artist and photographer.
"Francois embodies the truest definition of what it means to be a creative visionary," she says of Nars, for whom the honorific "Makeup God" is not regarded as hyperbole. "He has shown me what it takes to have a strong point of view, and protect that point of view at all costs."
In a dark gray Balenciaga shift with an intricately draped neckline and slingbacks ("I'm either in a high heel or a sneaker"), Calcagni is impeccably dressed. Her wrist, ring, and ears adorned with Van Cleef & Arpels signature Alhambra clover design, to which she admits a healthy weakness.
"I even wore Van Cleef earrings for the triathlon," she laughs. "Tiny ones, though. They're my good luck charm. But my team still teased me about it. Then again, everyone on Team Nars wore red lipstick that day, and it stayed on through everything. We got a lot of attention."
She's referring to the LAVAMAN, a triathlon in Hawaii that Team Nars has participated in for seven years, raising money for the Leukemia & Lymphoma Society.
"We hit the million-dollar mark this year," Calcagni says proudly. "The first year, most of us donated money to one NARS employee, a survivor, who participated. This year, 34 of us did the race. I'd never competed in anything before this!"
When she's not out on the water, Calcagni is on her road bike on weekends and even manages to get her dose of the great outdoors in her commute: driving from her home on Long Island to the office in her BMW convertible — preferably with the top down.
"I love that feeling of freedom, but  it's been a little too cold to drive in the open air this year," she shrugs. "But I'm keeping a close eye on the weather."
Calcagni sat down with the Cut to share her favorite letter in the alphabet, her passion for all things Italian, and why she hasn't worn a suit in 15 years.
Scent of choice:
Narciso by Narciso Rodriguez. It's my signature scent.
Suit you'd wear to an interview or big meeting:
I'd wear a dress. I haven't worn a suit since I was at Calvin Klein. I think it's because I lived in suits when I was there, so I couldn't wait to break free!
Toothpaste:
Tom's of Maine Fennel. I'm allergic to mint.
Ice cream flavor:
Chocolate chip.
Bagel flavor:
Everything.
Go-to spice:
Since I cook mostly Italian food, I don't necessarily rely on a spice, but the flavor trilogy: onion, garlic, and carrots.
What is always in your fridge?
Sweet potatoes, in every color — white, yellow, orange, and purple.
Name you wish you had as a child:
Not sure if I actually wished I had it, but I've always liked the name Nicole. I love names with the letter "l" in them. It's a beautiful sound. My kids are Daniela and Carlo. My maiden name was Lins, so that's probably where that comes from.
What phrase or word are you known for saying?
"I can't make this stuff up."
What drives you crazy?
The sound of nail clippers.
What is a lost art?
Face-to-face social engagement.
What is always on your desk?
White orchids — I love being surrounded by the beauty of flowers.
What should Pantone's color of 2018 have been?
Red, as in NARS Dragon Girl Red — it's a fierce, powerful, playful, richly pigmented hue that exudes confidence.
What song is currently in your head right now, and are you happy about it?
"Feel this Moment" Pitbull with Christina Aguilera. I'm the one at the gym who sings out loud on the treadmill.
What are you working on mastering?
Mindfulness and meditation.
What do you excel at?
Balancing all aspects of my life and truly enjoying it all. I am grateful for all that I have.
What do you splurge on?
Experiences.
What is your weakness?
Swiss chocolate.
What do you wish you had invented?
Amazon.
Favorite spot in the entire world:
Anywhere in Italy — on the Mediterranean, Lake Como, or skiing in Cervinia.
What app do you rely on most?
Equinox fitness and Waze.
Favorite Instagram?
@netaporter, @coveteur, @thelovemagazine.
What product in your domain is misunderstood and should be a best seller?
Smudge Proof Eye Shadow Base, 100 percent. This product is a game changer. It keeps your shadow from fading and the color looking fresh and vibrant all day long. Best of all, it never creases.
What do you foresee as the top beauty trends in 2018? Brands, especially in our industry, are focusing on what the customer-purchasing journey looks like and how they can tailor it not only to build equity among consumers, but also to remain relevant in the space. When thinking about a product launch, we want to excite the consumer through disruptive global influencer events, drive her to view NARS content that resonates with her and experience the product immediately through innovative virtual-reality try-ons and augmented-reality experiences.
If you won the Power Ball tomorrow, what are the first five things you would do, after, of course, giving most of it to charity?
Dedicate time to causes I am passionate about, travel for months at a time, buy homes for my two children, and count my blessings as I have everything I need.