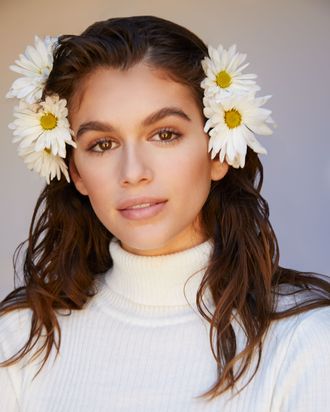 Kaia Gerber.
Photo: Courtesy of Marc Jacobs
Few perfumes smell so clearly like Teen Spirit than Daisy by Marc Jacobs. The scent and its iconic daisy-printed bottle have been a staple since 2007. But now, the brand is reviving the fragrance for Gen-Z, and putting Gen-Z model Kaia Gerber at the center of the campaign. The new perfume, Daisy Love, smells like cloudberry, daisies, and driftwood. It's currently available at Macy's.
Gerber has been the face of Daisy for a year now, and recently shot the new video for Daisy Love. The campaign shows three models, including Gerber, frolicking around on a beach wearing daisy chains (thematic) and white dresses.
"I grew up on the beach and was always in the ocean, so I felt really in my natural habitat," Gerber said of the shoot. Go behind-the-scenes in the clip below.