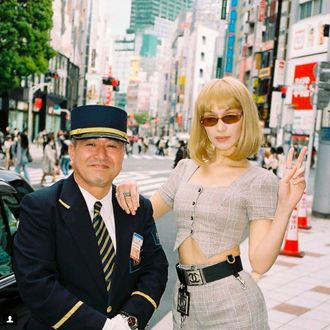 Bella Hadid.
Photo: rebekkaharajuku/Instagram
American supermodel Bella Hadid has spent the first weeks of April on a grand #SponCon tour of Asia, starting in Shanghai, China, with Dior Beauty, and ending in Tokyo, Japan, where she took a few days off to do tourist things before getting back to work with TAG Heuer on Monday. Not coincidentally, she is also the cover star of Vogue Japan's new May issue.
Hadid's travels seem to have changed her. Over the weekend, Hadid posted a photo of herself in front of her Dior makeup campaign wearing a blonde wig with the caption, "Rebekka Harajuku at your service." (Harajuku is a district in Shibuya, Tokyo.) Soon thereafter, an Instagram account of the same name featuring photos of Hadid in a blonde wig also surfaced.
It's unclear whether or not Hadid is the creator of @RebekkaHarajuku, but she did endorse the account in her Stories, making us think that it is, in fact, her "finsta," or fake Instagram, as the kids say. Rebekka Harajuku can be seen eating out with friends, shopping, and even "wondering where her Juul charger is," as one caption reads.
Creating a social media alter ego is a very Matrix thing to do — and in keeping with the antics of other "virtual" influencers like Lil Miquela. But it could also be read as a problematic move to adopt a persona from another culture. Don't forget that Hadid's sister, Gigi, was called out for "mocking Asian people" while visiting China last year.
After only a few days in existence, Rebekka Harajuku has gained 15,000 followers. Most don't seem to mind her posing with chopsticks and holding up peace signs. What do you think?