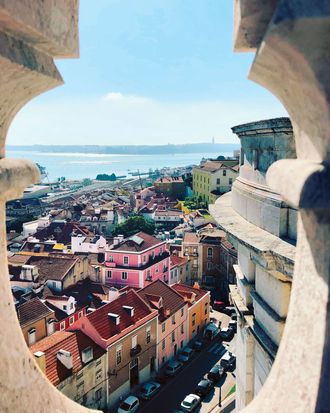 View from atop the National Pantheon, Lisbon, Portugal.
Photo: Marvin Orellana/New York Magazine
For newlyweds who are exhausted from wedding planning, consider an all-inclusive honeymoon package designed by world-class tour operators. There's a relaxing romp through the Greek islands, a sustainability-minded tour of Mexico, an adventure to Australia's Aboriginal homeland, and much more ahead.
The Hellenic Getaway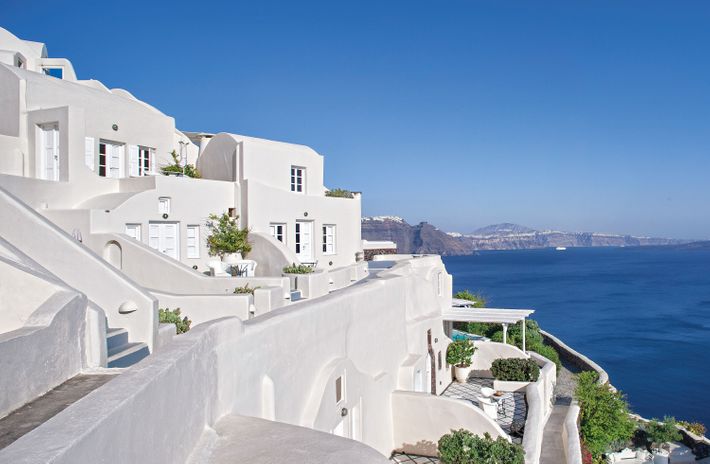 Does your vision of postnuptial bliss involve sparkling azure water and layer cakes of whitewashed Cycladic houses? The customizable TrueRepose package from TrueTrips is an eight-night romp through Athens, Naxos, and Santorini. The excursion begins and ends in the capital, where you'll see the Acropolis from your room at the 144-year-old Hotel Grande Bretagne. On day two, you'll ferry to Naxos, for three nights in the 860-square-foot honeymoon villa at the Naxian Collection in Stelida. Pry yourself away from the in-room whirlpool and fireplace to explore ancient ruins like Portara (a.k.a. the Temple of Apollo), windsurf at Agios Georgios beach, and sun yourself along the secluded Aliko waterfront. The package also includes a private wine-and-cheese sail aboard a luxury catamaran, before you're whisked off to Santorini. The rest of your Aegean holiday can be spent among volcanic hot springs, family-run tavernas, and local vintners—or you might just refuse to leave the plunge pool in your room at Canaves Oia Suites. From $6,479 per person; truetrips.com.
The Alaskan Escapde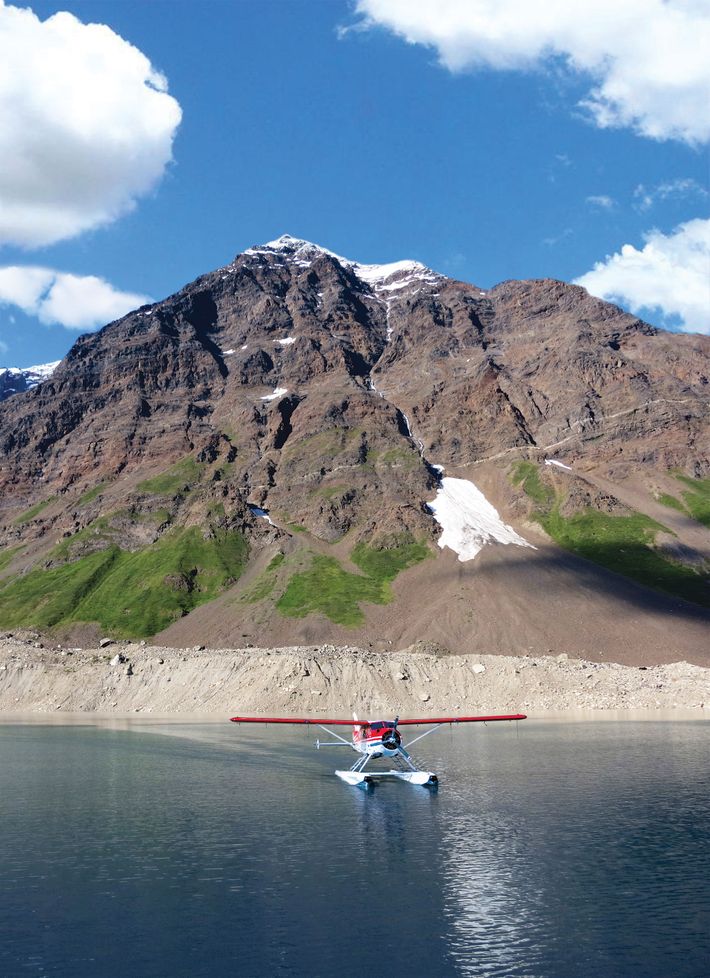 For newlyweds who want to get really far away from it all, there's the high-altitude wilderness. The eight-night Ultimate Alaska Multisport package from veteran outfitter Alaska Alpine Adventures, which moves through Prince William Sound, the Chugach Mountains, and Denali National Park and Preserve, is geared toward outdoorsy types who can handle up to ten miles of hiking per day and scaling vertical glacier ice in the Matanuska-Susitna Valley. Highlights of the guided expedition include sea kayaking amid icebergs in Shoup Bay (keep your eyes peeled for black-legged kittiwakes in the protected rookery), driving the scenic Seward Highway, and sweeping above the alpine tundra and past Mount McKinley via floatplane. (If you visit in summer, it's the best time of year to also spot wild animals like grizzly bears, moose, caribou, and wolves.) The trip begins and ends in Anchorage, and accommodations include a mix of cozy lodges and rugged backcountry campsites. From $3,995 per person (minimum of four guests), from $7,190 per person for a private charter; alaskaalpineadventures.com.
The Alterna-Safari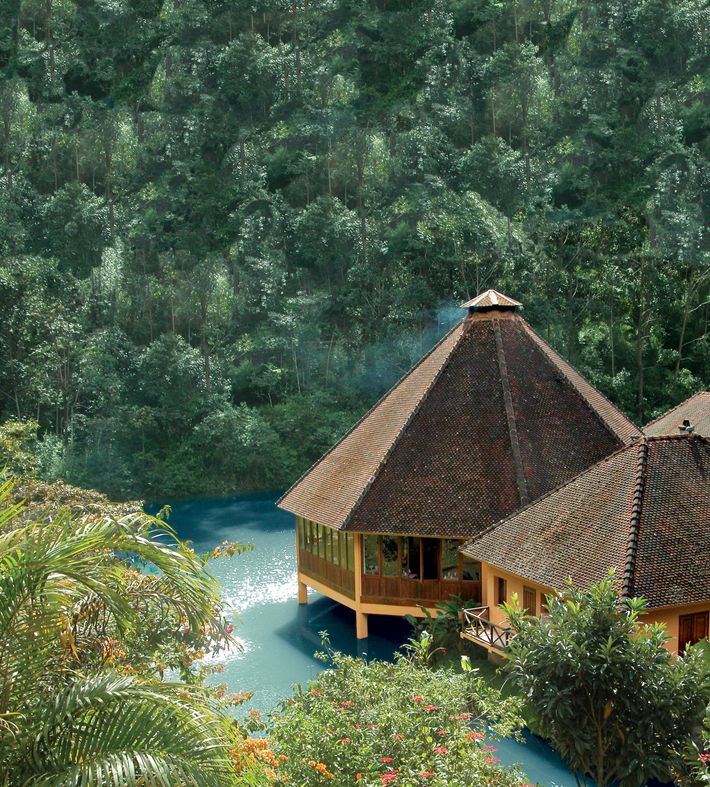 Everything you think you know about African safaris — Land Rovers, telephoto lenses longer than your arm — is not what you get from Audley Travel. The agency's fully customizable 12-night Hidden Madagascar Honeymoon begins in the capital, Antananarivo (a.k.a. Tana), where you'll overnight at the cheerful Relais des Plateaux before embarking on a four-hour drive to Vakôna Forest Lodge. This is your base for exploring the rainforests of Andasibe-Mantadia National Park, home to wee mouse lemurs, blue-striped Parson's chameleons, and rare orchids. Cross a narrow waterway by canoe, and you'll land on Lemur Island, a sanctuary for four lemur species. Back at Vakôna Lodge, sunset strolls are popular, as is horseback riding or a steam session in a beautifully tiled hammam. Return to Tana for a hot minute, then you're off again, on a two-hour charter flight to the 1,853-acre Anjajavy Private Nature Reserve. Check into your rosewood villa and explore the reserve by foot: It's home to hundreds of medicinal-plant species, and the manicured lawns often attract, yes, more lemurs (playful common brown ones and Coquerel's sifakas). Guests partake in high tea, picnic on empty beaches, and snorkel around Moramba Bay in search of coral pinnacles and baobab trees. On the weekend, hop a catamaran or 4x4 to the nearby fishing village of Anjajavy, where a local market sets up shop under a giant mango tree. From $6,145 per person; audleytravel.com.
The Hands-on Oaxacan Experience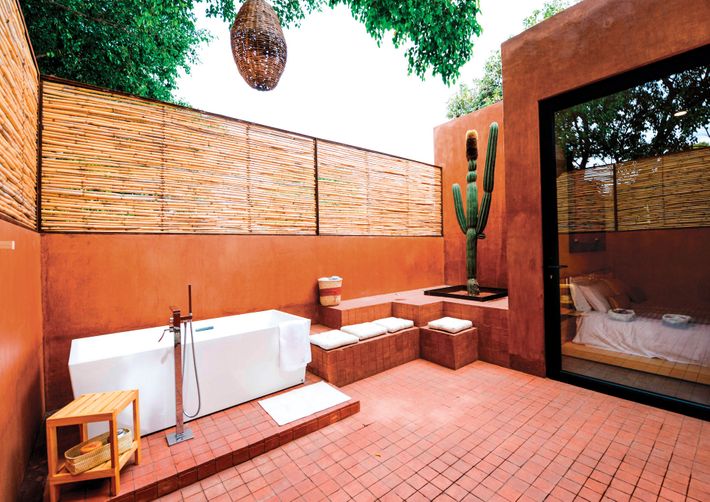 Thread Caravan's four-night escape south of the border is ideal for honeymooners squeezed on time or budget. The Mezcal + Mole package from this sustainability-minded tour agency takes guests into the hillside towns surrounding Oaxaca, Mexico, for quality time with local chefs, agave farmers, and artisans. There's much taste testing to be done: In the village of Teotitlán del Valle, learn how to make a traditional 12-ingredient mole and a cactus salad with a Zapotec cook. Tour an agave farm in Santa Catarina Minas to see how mezcal is made, from first harvest to final distillation, and sample the goods along the way. Dive deep on cacao, combing three city markets and sipping chocolatey drinks like tejate. Get an immersive lesson in the origins and history of maíz, or heirloom corn, and take a tortilla-making class at Enrique Olvera's restaurant Criollo. Although it's a lot of knowledge-dropping for five days—you can also stop by a weaving co-op to discover the ins and outs of natural dyeing and handmade textiles—the trip leaves free time for shopping and museum hopping, plus soaking at Hierve el Agua, a mountainside mineral spring with a natural infinity pool. Hotel accommodations vary, but Casa Carmen, a four-room sanctuary designed by Mexican artist Amador Montes, is the go-to for honeymooners. $1,500 per person; threadcaravan.com.
The Aboriginal Immersion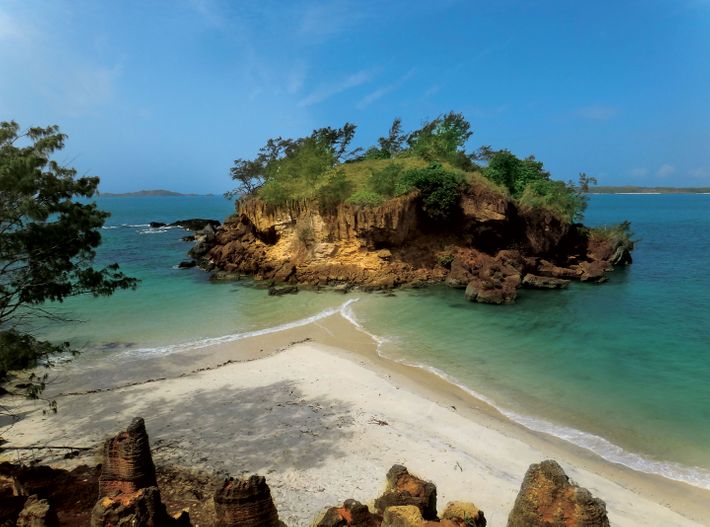 For you rough-and-tumble types, Venture North Australia's five-night East Arnhem Land Safari takes guests on guided tours through Oz's hard-to-access Aboriginal homeland. First you fly into Darwin, capital of the Northern Territory, then travel overland in four-wheel-drive vehicles to East Arnhem Land, home of the world's oldest extant culture. This "cultural safari" grants travelers a rare opportunity to engage with members of the remote Jawoyn and Yolngu communities. Activities may include spearfishing for stingrays and gathering "sugar bag" (native honey), history walks around the community billabong, lessons in spear-making and didgeridoo carving, and ceremonial singing and dancing around the campfire. Visits to the Godinymayin Yijard Rivers Arts & Culture Centre in Katherine East and the Buku-Larrnggay Mulka Centre in Yirrkala reveal collections of indigenous works, such as colorful bark paintings and intricate pandanus weavings. Be prepared to sleep in dome tents at the bush camps, and don't forget your bathing suits — you can swim in local watering holes and hot springs before catching the return flight to Darwin. From $4,023 per person (with six guests), from $10,860 per person for a private charter; due to weather restrictions, tours run between May and October only; venturenorth.com.au.
The Ancient Jaunt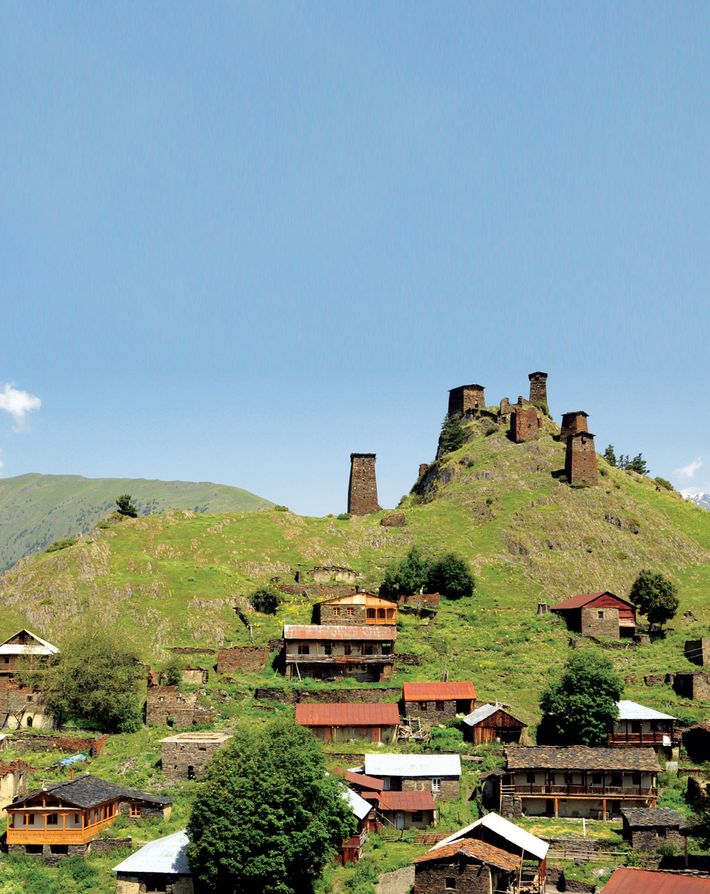 Wild Frontiers has been running trips to Georgia, Armenia, and Azerbaijan since adventurer Jonny Bealby founded the company 16 years ago. With its two-week Across the Caucasus package, travelers retrace the well-worn footpaths of Eurasian traders, Christian crusaders, and Ottoman royalty. The tour begins in Baku, the capital of Azerbaijan, with a walk through the historic walled city; a visit to Yanar Dag, a natural-gas fire eternally ablaze on the Absheron Peninsula; and stops at numerous UNESCO World Heritage sites, including the rock petroglyphs in the Gobustan settlement and the 15th-century Palace of the Shirvanshahs. Cross the border into Georgia, and you'll drink in the ambience—among other things—at the family-run vineyards in Kakheti, enjoy a drive through the high Caucasus Mountains, and relax your weary bones in a steamy sulfur bath in Tbilisi. The last country on the itinerary is Armenia, where you'll visit such sites as Tatev Monastery, accessible via the world's longest aerial tramway. The trip wraps up in the Armenian capital, Yerevan, with stops at a turquoise-and-gold-domed Shia mosque, a Urartian hilltop fortress, and a distillery that reportedly made one of Winston Churchill's favorite brandies. Honeymooners sleep in a mix of hotels and guesthouses—not always the most romantic setups but unforgettable nonetheless. From $4,047 per person traveling in a small group; customization is an additional $700 per person, including upgraded hotels; wildfrontierstravel.com.
The Portuguese Fantasy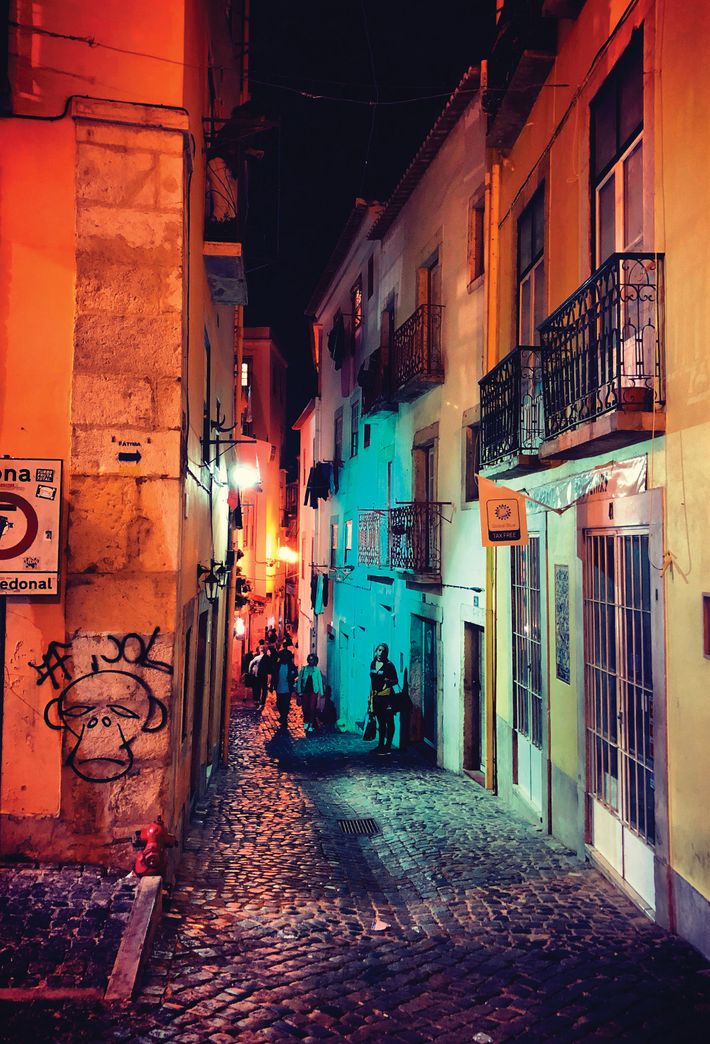 Black-sand beaches, snaking cobblestone streets, intimate tapas spots, and glittering ocean views are the defining features of Intrepid Travel's new nine-night Azores and Mainland Portugal package. The trip begins in Porto, a romantic town dotted with arched bridges and Baroque cathedrals, and ends in charming São Miguel, the largest island in the autonomous Azores archipelago. You'll get around by ferry, train, bus, and plane, except when traveling on foot makes the most sense—as when you hike 10.5 miles to the summit of Pico do Pedro, the tallest peak in Portugal. Otherwise, there is port to drink (in Porto), pottery to purchase (Lagoa), monasteries to ogle (Lisbon), volcanoes to scale (Capelinhos on Faial Island), and whales to watch (Pico Island). Other highly Instagrammable moments include a live fado performance in Lisbon's Bairro Alto and a visit to a pineapple plantation at Fajã de Baixo on São Miguel. From $3,180 per person traveling in a small group, from $4,975 per person for a private charter; intrepidtravel.com.
The Philippine Island-Hop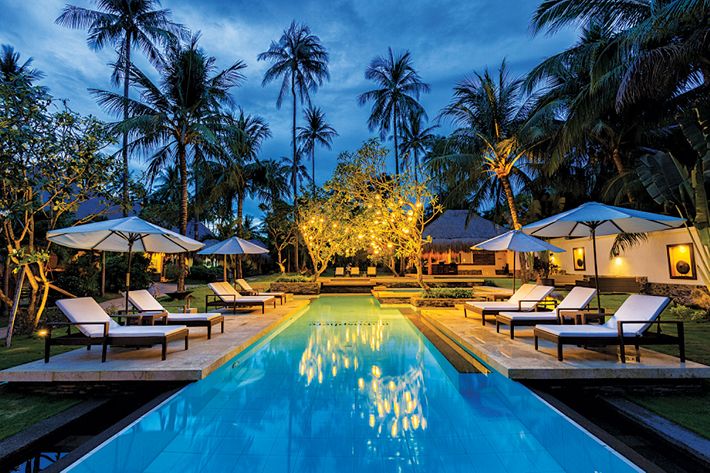 With more than 7,000 islands, the Philippines easily overwhelms first-time visitors. That's where Remote Lands steps in, building bespoke itineraries for intrepid couples. With its 11-night Central Philippines package, you fly into the capital of Manila, drop your bags at the swanky 497-room Peninsula, and spend your first days exploring 16th-century Roman Catholic basilicas, European art at the Casa Manila museum in Intramuros, and the shopping thoroughfares of Quiapo. From there, you'll fly to Bohol and check into a thatched-roof villa at Eskaya Beach Resort & Spa, perched on the white sand of Panglao Island. The full-on Bohol immersion covers a tarsier sanctuary, a butterfly conservation center, an 82-foot-high hanging bridge, and the infinitely photogenic Chocolate Hills—more than 1,200 limestone humps blanketed in brown grass and stretching as far as the eye can see. Back on Panglao, you'll have time to swim, snorkel, sunbathe, or hop a ferry to Siquijor, which earned its nickname, Island of Fire, thanks to the thousands of fireflies that light up the sky after dusk, a sight you'll behold from a cottage at Coco Grove Beach Resort. Other must-sees include a 400-year-old balete tree in Lazi and enchanting Cambugahay Falls. Another day and a boat ride later, you'll pass through Dumaguete, capital of Negros Oriental, then continue to Atmosphere Resorts & Spa, a 26-room hotel on an old coconut plantation in Dauin. Here, you'll observe sea-turtle hatchlings, snorkel around Apo Island, and relax in hot springs at Mt. Talinis geothermal reserve, before heading home through Dumaguete and Manila. From $4,400 per person; remotelands.com.
The Cuban Throwback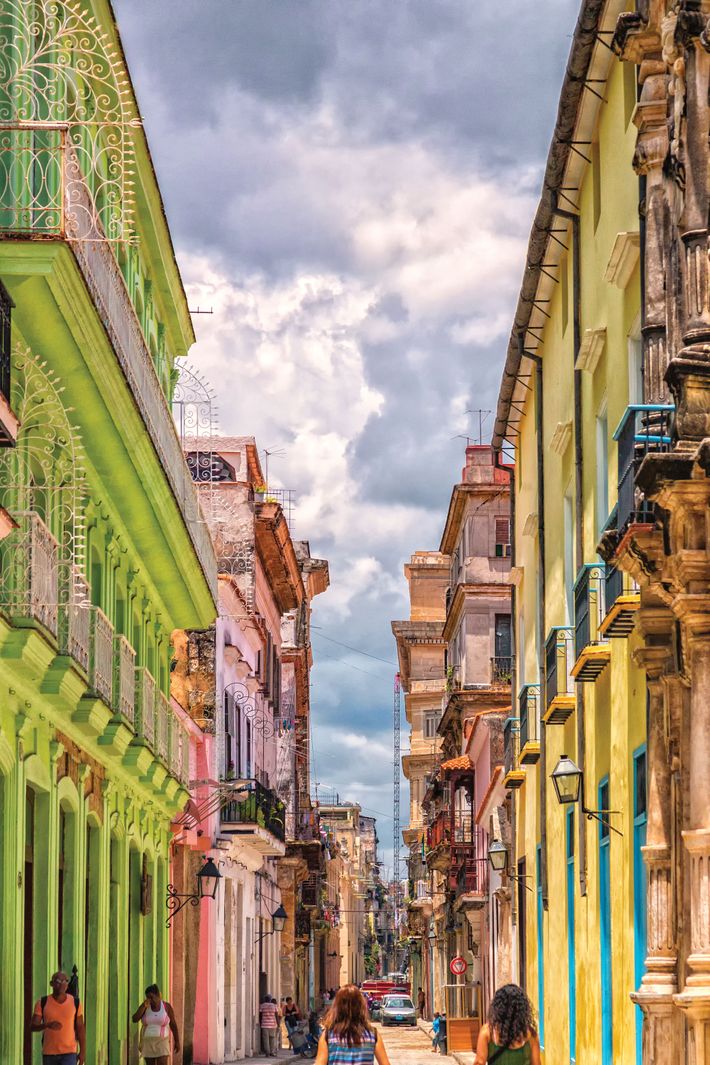 Although the political situation with Trump remains uncertain, down-for-anything honeymooners might feel unable to resist the five-night Vintage Cuba itinerary sponsored by InsightCuba, an agency licensed to book personal travel in the country. The trip breezes through Santa Clara, Remedios, Caibarién, and Havana, rewinding the clock each step of the way. Guests tour a 19th-century printing press; hitch a ride on an antique steam train; learn about the carnival-like Parrandas, the biggest street party of the year, at the Museo de las Parrandas Remedianas; and pop by a salon turned museum kitted out with antique hairdressing equipment. You can see a memorial to Che Guevara, Ernest Hemingway's house, and the seaside village that inspired The Old Man and the Sea. Meals are shared in private, family-run paladars and feature recipes handed down from generations of cooks. The whole experience is designed to be educational, right down to the Ph.D. who presents a lecture on social equality. And when you catch a concert of traditional Cuban music — played on centuries-old instruments and accompanied by gyrating "alegría de vivir" dancers — you may also lose yourself in the rhythm. From $4,195 per person traveling in a small group, price upon request for private tours; insightcuba.com.
The Mongolian Whirlwind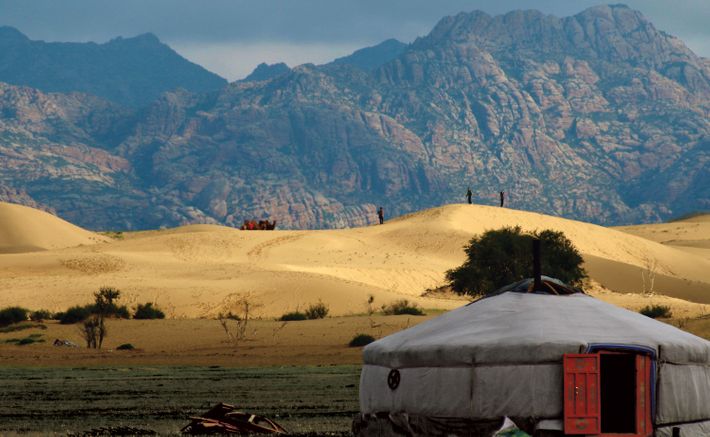 With its "humanitarian geotourism adventures," GER to GER Mongolia puts your tourism dollars directly toward the local economy. The nine-night Karakorum to White Lake package departs from the capital of Ulaanbaatar and takes travelers on a tour of the Mongolian countryside's rolling pastures, sweeping sand dunes, and open steppes. Staying with nomadic families is key to the experience, as are the often rustic accommodations in traditional gers, or yurts. Some host families breed camels and will take you on rides through Khögnö Khan Uul Nature Reserve or to a roadside ovoo, a rock pile believed to radiate blessed energy. Guests also tour Karakorum, the ancient capital of the Mongol empire, hike the dormant Khorgo volcano, submerge their bodies in mineral-rich waters at Tsenkher hot springs, and trek through Chuluut River Canyon to see a sacred tree. Trips are fully customizable and may be upgraded with luxury hotels in Ulaanbaatar, photographers-for-hire, and swank transportation via Mercedes or Land Cruiser. From $995 per person; gertoger.org.
The Latin Extravaganza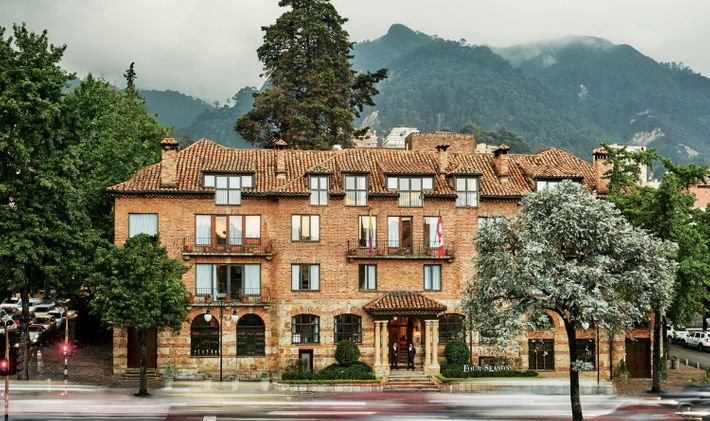 Perhaps you'd rather skip the wedding altogether and put that money (and then some) toward a Four Seasons Private Jet Experience? The solid-gold hospitality company has introduced a new Latin Escape package for February 2019, making now the ideal time to book. The 15-night itinerary kicks off in Miami, then bounces to Costa Rica, Buenos Aires, Bogotá, and the Galápagos Islands before circling back to Florida. Couples travel onboard a customized Four Seasons aircraft with 52 flatbed leather seats. A dedicated concierge team takes care of everything, from meals to land excursions. High points of the trip include dinner at the Villa Casa Casuarina, a sumptuous mansion in South Beach that once belonged to Gianni Versace; zip-lining past howler monkeys on Costa Rica's Papagayo Peninsula; private salsa lessons in Bogotá; a behind-the-scenes tour of Teatro Colón in Buenos Aires; and kayaking among sea lions, manta rays, and blue-footed boobies in the Galápagos. All accommodations are at Four Seasons hotels and resorts or aboard the privately chartered Silver Galápagos cruise ship. From $98,000 per person; fourseasons.com.
The Tour de Israel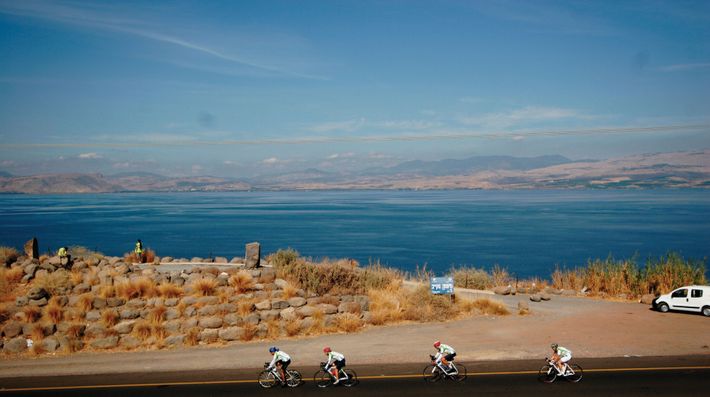 For the eight-night King David Bike Tour of Israel, offered by the Dan Hotels company, ride-or-die sweethearts are outfitted with fully equipped hybrid bikes (Trek 7.3 FX or similar), matched with an experienced guide, and trailed by a support van. You set your own pace, hitting between 15 and 50 miles daily. The trip starts off easy with a three-hour bike tour of Tel Aviv, and the ensuing days bring a mix of cycling, walking, and bus hauls to the Horn of Carmel and Caesarea, a Mediterranean coastal town and former capital of Judea. Next stops en route to Galilee: the sacred tomb of Rabbi Shimon bar Yochai, the UNESCO-recognized city of Acre, and the Mount of Beatitudes. In Ginosar, take a fishing boat across the lake to Ein Gev for a seafood lunch and a ride out to the Yardenit, where you can get baptized in the Jordan River. Final points include the scenic overlook at Mt. Gilboa, swimming and picnicking in Gan HaShlosha National Park, and two days in Jerusalem (the Western Wall, Church of the Holy Sepulchre, Valley of the Cross, etc.). All accommodations are through Dan Hotels, and upgrades to road bikes are available for an additional cost. From $2,785 per person; danhotels.com.
*This article appears in the summer 2018 issue of New York Weddings.