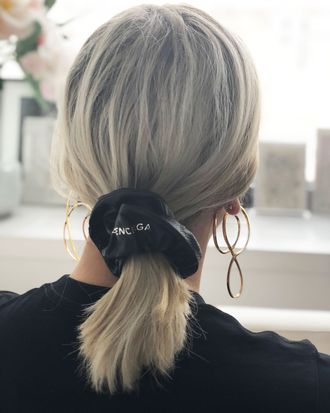 What do Ruth Bader Ginsburg, Balenciaga, and Mansur Gavriel all have in common? Among their many respective accomplishments, they have brought back the much-maligned scrunchie. Once derided as the sweatpants (not even leggings) of hair ties, the cushy hair accessory is back. Ginsburg talked to the WSJ about shopping internationally for favorites, Gavriel first showed them on the spring 2018 runway, and Balenciaga, the arbiter of the ugly-cool aesthetic, produced one for sale. Then, the Cut started seeing them in the wild —first, there were three of them in line at Jay-Z and Beyoncé's favorite pizza place in Brooklyn, and they flooded Instagram, appearing on the pages of Bella Hadid as well as celebrity and editorial hairstylists Justine Marjan and Allen Thomas Wood.
Although the essence of the scrunchie hasn't changed much from what you remember in your teens, its materials have. Mansur's are made of fine "Italian textile." Balenciaga's are cut from lambskin. Slip™ and Donni's are made from slippery silk. The Cut found some of the bougiest, fanciest scrunchies available and took them for a test run — here's what we found out when we tried them out, again.
Madeleine Aggeler, Staff Writer
Wearing this scrunchie was a bittersweet experience. On the one hand, it made me feel and look amazing, but on the other, it made me realize how empty my life was before the scrunchie.
In the dark, pre-scrunchie days, I mostly used hair clips, because I have fine hair that's easily damaged by regular hair ties. The clips were fine, but my hair fell out of them a lot and they're not that cute. This scrunchie looked great and it was made out of silk, so it was like a silk pillowcase-to-go holding my hair securely without breaking it. Plus, when I used it to pull my hair up into a a high ponytail, the scrunchie made my ponytail so bouncy, I could easily smack people in the mouth with it when they walked to close to me. Any hair accessory that doubles as a weapon is a winner in my book.
In short, I am a Scrunchie Girl now, and I am never going back.
Ruth Spencer, Senior Editor
I am once again 100 percent pro scrunchie. The last time I wore one I was a dorky preteen, but now, at 32 years old, I'm ready to make them a staple in my wardrobe. This rust/cream combo I chose today was a revelation! It kept my ponytail snug. It didn't leave a crease. It looked good!
But most importantly, it kept me from playing with my hair all day. When I'm at work, I cycle through putting it up, taking it down, and then putting it up again all day. My hair elastics get loose, or I tie my bun too tight and get a headache. Scrunchies are the perfect solution. Pulling a ponytail into a scrunchie twist is very satisfying. It doesn't hurt, it just feels snug. And once it's locked in there, it doesn't budge. Plus, they're pretty — like soft jewelry for your head. I'm ready.
Kathleen Hou, Beauty Director, and Allison P. Davis, Senior Writer
Look, I've been trying to tell everyone here that scrunchies were the better hair-tie alternative for months. They all laughed at me and everyone who agreed to participate in this story did so ironically. But after I sent them home with some fancy scrunchies that didn't come in a three-pack from Costco, they were all Slacking me privately to let them keep them. Do you want a tough-ass hair tie that rudely yanks out precious strands of hair with an audible snap every time you adjust your pony? Or do you want a pillowy-soft scrunchie that bear-hugs your hair, securely, snugly, and lovingly? For me, it's a no-brainer. — Kathleen Hou
Well, a lot of people laughed at me when they first saw me wearing this scrunchie, so that was weird. But once I adjusted the height of my ponytail, I felt great and cool. Plus, girl, mine was red fur. I kept rubbing it to my face like it was my pet ferret. This was so much better than the Goody scrunchies I used to wear. It's like my hair got upgraded like Beyoncé upgraded Jay-Z. Would I do it again? Yeah, dur. — Allison P. Davis
Ashley Weatherford, Senior Beauty Editor
I wear a plain black elastic almost every day – either in my hair or on my wrist (with the latter much to the dismay of Senior Market Editor Diana Tsui, who does not consider them to be an accessory). Hair ties are a part of my uniform, so I was a little nervous to change it up with a poufy scrunchie. Thankfully, my nervousness was unwarranted. As soon as I wrapped this around my hair I transformed into a person who was absolutely adorable. The scrunchie's floppy bunny-ear-like attachments jazzed up my boring ponytail, and its velvet texture felt glamorous. I felt young and alive. I looked like a chic cheerleader, or a character on Saved by the Bell. I loved this scrunchie so much that I seriously did not want to give it back. For the record, I'm sorry to say there was a terrible accident and the scrunchie is nowhere to be found!
Emilia Petrarca, Fashion News Writer
My hair is extremely fun to play with, which becomes an issue when I need two hands to type up a story. I call scrunchies my "deadline scrunchies," because they help me focus. I usually wear them in private, though, because my hair is short and looks kind of insane when it's up. Although scrunchies make more sense for my hair than a rubber alternative, I'm still traumatized from that time in elementary school when one got stuck in my curls and I had to go to the nurse to get it cut out. I cried, a lot.
Anna Silman, Senior Culture Writer
I really feel like my best self in this scrunchie. With my whole wardrobe trending so '90s lately — ugly sneakers, mom jeans, tiny sunglasses— re-embracing scrunchies feels like the logical next step. When I'm wearing one, I feel like I've done something fun and fancy to my hair. I think I look simultaneously cute and sophisticated; I love this mossy green color and the soft material, and I especially love the little bow, which makes me feel like a fancy Victorian schoolgirl on her way to Sunday mass. Plus, I get a nice little surprise whenever I catch the back of my head in a mirror: business in the front, party in the back!
I would definitely buy this one as a starter scrunchie for my new collection if it was less than $25, which feels like the maximum amount of money I am prepared to invest in a hair accessory at this point in my life. (Kathleen didn't tell me what this cost and I'm afraid to know. It's less than $25, right?)
Daise Bedolla, Associate Social-Media Editor
While I have dreams of being a girl who stylishly walks to the farmers market on the weekends to buy fresh flowers with my perfectly undone hair in a scrunchie, I realized after actually wearing one that I am not one of those girls. While the scrunchie was comfortable to wear, though difficult to maintain a high ponytail, it made me feel like I was emulating Michelle Tanner from Full House. I felt more like a kindergartener than an adult.
Diana Tsui, Senior Market Editor
Scrunchies seemed seemed dated and silly, like the perfect finishing touch if I was dressing up as an underage Chinese gymnast for Halloween. Despite its resurgence among big-time designers, I still wasn't sold on its appeal. But I decided to try this Balenciaga one out of curiosity. I figured if Demna deemed it cool, it would probably be everywhere within the year (look at ugly sneakers as proof!).
Balenciaga's scrunchie is called the "Chou Chou" bracelet, which makes it sound much more attractive. Made from leather, it's stiff and holds its shape so it flares dramatically against my white-blonde hair. It's surprisingly cool, especially in black, and nothing like the spangly scrunchies that I hated growing up. I would wear scrunchies again, but only if they were by Balenciaga.
Emily Sundberg, Instagram Editor
I loved this white scrunchie! It was definitely very summery because of the material. I usually throw my hair up in a messy bun with a regular black hair tie, but the color and texture aspect of scrunchies are a great use of an accessory without looking like too much. I could absolutely see myself pairing it with a crisp white button-up, cut-off shorts, and a messy bun over the summer. If it ever gets warm.
If you buy something through our links, New York may earn an affiliate commission.