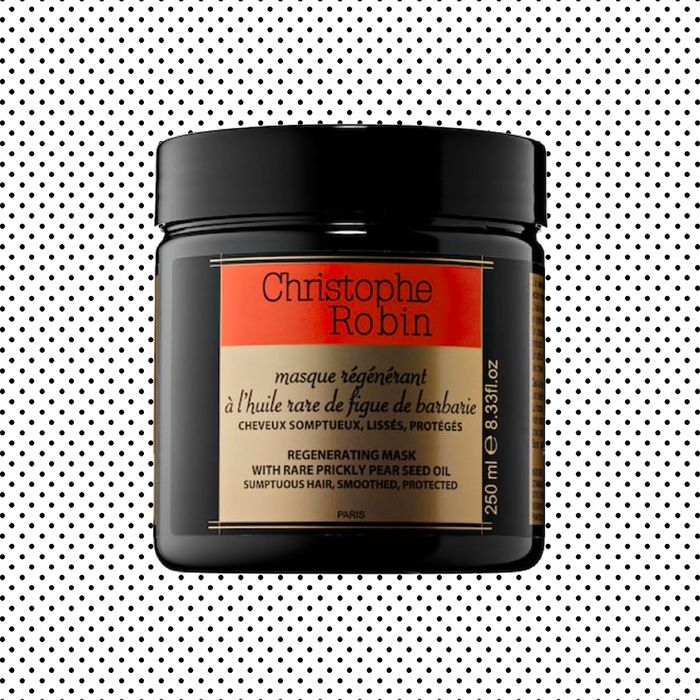 Welcome to This Really Works, in which people who are not beauty-world professionals tell us about the products that have changed their lives.
If you give me a sample beauty product, I immediately turn into an excited raccoon lovingly inspecting the fat bunch of grapes I just found outside Whole Foods. I love anything free, and as soon as it's gone, I want more. This is, of course, why product samples exist. Like pharmaceutical companies and drug dealers, luxury beauty brands get you on the comeback.
It's also how I ended up with a tub of Christophe Robin's Regenerating Mask with Rare Prickly Pear Seed Oil. I'd netted a big bag of samples from Bergdorf Goodman after splurging on perfume. I was mainly excited about the mascaras and skin-care products, so when I realized this was a mask for my hair instead of my face, I tossed it in my sample bin.
It remained there until a couple months ago, when I found it while searching for something to help my hair. I have dry, heat-damaged, bleached, thin, fine, naturally curly hair that I wear straight — which is just about the worst combination of follicular attributes and preferences a person can have. Things were getting desperate.
I slathered some of the oppressively powdery-smelling formula on my dry hair before I went to bed, knowing nothing about Christophe Robin as a brand and also not having read the instructions, which tell you to use it in the shower in place of conditioner. The next morning, I could feel the difference as soon as the water hit my hair.
I've used many deep conditioners and masks before, as well as regular coconut oil, and they've all either weighed down my fine hair, turned me into a grease ball, or failed to work any better than regular conditioner. The product had soaked into my hair overnight, and even after shampooing, it felt healthier, stronger, and — unexpectedly — thicker. My hair had the sheen of an immaculately groomed celebrity's, and in the days after washing, it felt less greasy than it would with regular conditioner.
The particular combination of results seemed impossible. The sample tub had done exactly what brands hope they will do: turned someone unfamiliar with the company into an eager first-time customer.
When I found out how much the mask cost, I let out an involuntary noise: $71. I closed the window but kept using my sample, this time as directed. To my dismay, my hair looked better with every wash, and I became increasingly convinced that one day in the near future, I would spend $71 on a hair product that, if we're being real, smells like the beauty parlor at your grandma's retirement home.
And you know what? I did, and I don't regret a single penny of it, which is as nice a thing as I can imagine saying about hair goop that costs that much.