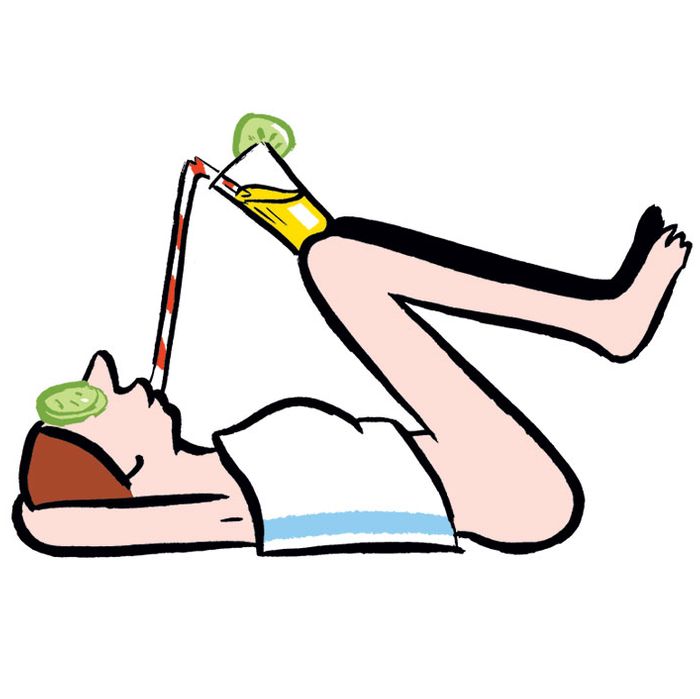 Illustration: Nishant Choksi
If you're among those who believe there are shortcuts to fitness, the city is teeming with treatments aimed at firming you up (or at least giving you an hour to lie down).
The Sleeping-Bag Sauna
For a good sweat.
Shape House, the L.A.-based "urban sweat lodge" regularly seen on celebrity Instagrams, arrived in New York last year. Treatments ($70 for 55 minutes) are based on infrared-light heat, believed to make high temperatures more tolerable than air-warming classic saunas. (Shape House also offers the distraction of Netflix.) Founder Sophie Chiche says she sees "a ton" of brides: After all that sweating—lying on an infrared bed at 165 degrees Fahrenheit — the dress is bound to slip on better, if only temporarily. 1316 Madison Ave., nr. 93rd St., first fl.; 855-567-2346
The Mindful Colonic
For a holistic cleanse.
It's a gentle type of colon cleansing that Michael Perrine employs at his "detox studio," Vitality NYC, founded in 2016. His Gravity colonic uses the natural pull of gravity to introduce non-pressurized water into the body from a tank raised above the table. The 45-to-60-minute treatments ($140 each) yield the same type of flatter stomach as more traditional (and painful) colonics. Perrine says the results can last up to seven days, and if you want to start seeing him well before the wedding, he'll work with you on your "diet mind-set." 213 W. 35th St., nr. Seventh Ave., Unit 305; 212-244-1330
The New Age Non-Gym
For a one-stop wellness tour.
in an airy building on the Lower East Side, a wellness collective offers an array of body-tuning treatments: Go one level below the herbal-medicine shop Alchemist's Kitchen to find a NutriSkinny IV drip from NutriDrip, infused with ingredients like pyridoxine, a B vitamin said to rev the metabolism ($199 for 60 to 90 minutes); an infrared sauna, courtesy of HigherDOSE ($45 for a 30-minute session); and a 15-minute white-light-therapy session ($45) designed to mimic the feel-good "flow" state one can experience during an intense cardio workout. 21 E. 1st St., nr. Second Ave.; 212-228-5909
The French "Workout"
For cellulite.
In the 50-minute Remodelage, the lymphatic-drainage technique meets Parisian aesthetician Martine de Richeville's proprietary kneading methods (which include targeting stress points, since she believes stress is a big contributing factor to cellulite). No, the deep-tissue burn isn't as relaxing as your Swedish massage, and the recommended ten-pack of sessions costs $1,900. But for "Frenchwomen don't work out" types, the investment sure beats a bundle of personal training. Martine de Richeville at Saks Fifth Avenue, 611 Fifth Ave., nr. 50th St.; 212-940-4000
The Ease-In Freeze
For a warm-then-cold blast.
The new Kryo Body Sculpt ($350) prefaces the cold torture of cryotherapy — three minutes in a minus-200-degrees-Fahrenheit chamber that allegedly makes you burn all kinds of calories — with a more spalike experience: 40 minutes of radio-frequency treatment (a painless device emits heat to stimulate collagen production) and a lymphatic massage. Best results are said to come with regular sessions over a period of months, or you can just stop in before your next fitting to get that adrenaline-induced feeling of buoyancy. 57 W. 57th St., nr. Sixth Ave., Ste. 1101; 212-551-3333
The Nouveau Seaweed Wrap
For toned skin.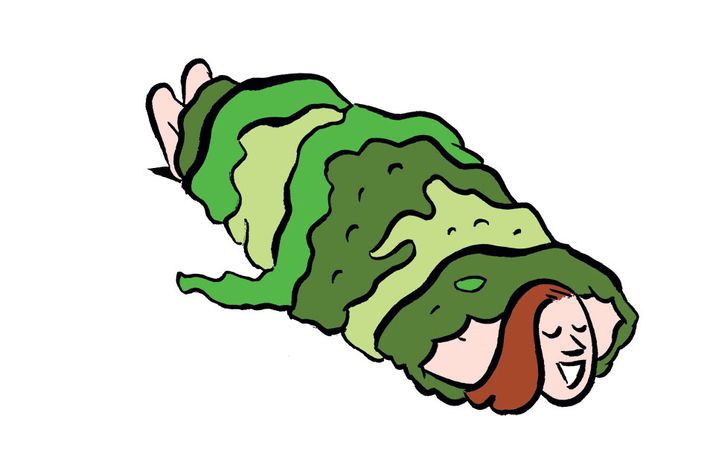 The culty french toner Biologique Recherche Lotion P50 is now being offered as a body treatment: the Lotion P50 Slimming Algae Body Wrap ($240 for an hour). It begins with P50 application and a full-body scrub, followed by a lymphatic massage of the abdomen (this technique, also known as lymphatic drainage, is designed to increase the flow of the lymphatic system and flush out stagnant fluid). Finally, a foamy whip of algae paste, said to release toxins, is slathered on before you're folded into a hot blanket. The science behind the supposedly de-bloating effects of all these measures is, of course, up for debate, but the P50 wrap has gained a following among brides-to-be. "When I got out, I felt lighter," says client Rica Silverio.
Plus: "My dress is backless, and the exfoliation made my skin smoother." Paul Labrecque Salon and Skincare 171 E. 65th St., nr. Third Ave.; 212-988-7816
… And the Gowanus Take on Alt-Fitness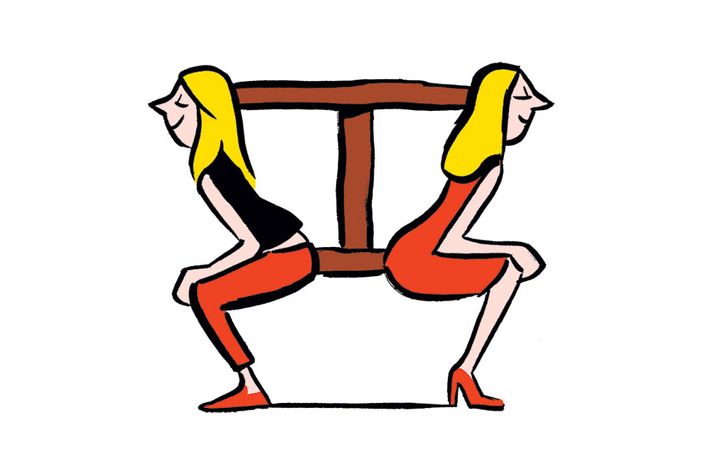 The Soothing Center styles itself as an "alternative spa." The free-admission art-meets-wellness exhibition made its New York debut last summer at Trestle Projects in Gowanus — one work invited strangers to pair up and use bamboo tubes to create "ephemeral sculptures" between their bodies — and it will return again this June (location TBD). Curator Jesse Bandler Firestone calls each piece "an interactive workout for the mind," which, if nothing else, is a reprieve from wedding planning. jessefirestone@gmail.com
*This article appears in the summer 2018 issue of New York Weddings.