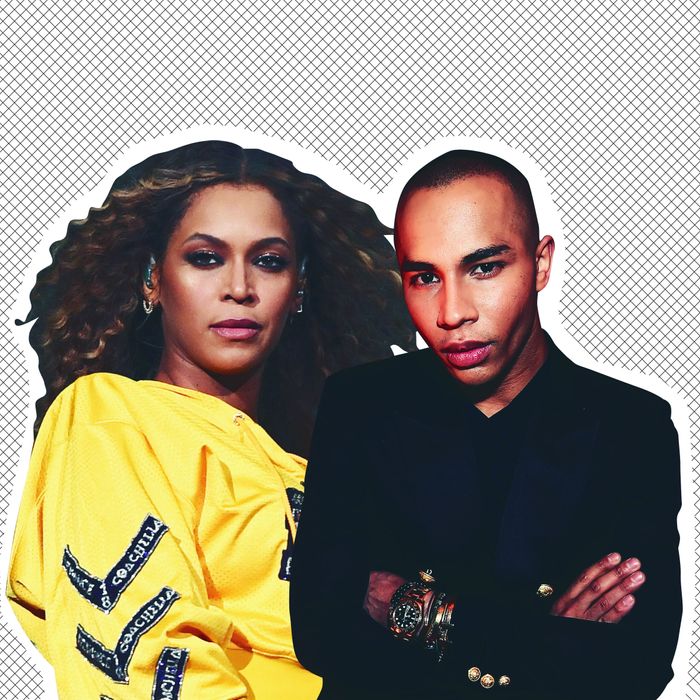 Beyoncé Knowles and Olivier Rousteing.
Photo: Getty Images
It's been about a week since Beyoncé Knowles took the stage at Coachella, but we're still thinking about her historic performance — one that, as many critics have said, we'll probably be revisiting for the rest of our lives.
Beyoncé performed for nearly two flawless hours last Saturday night under the Coachella Valley sky, making her the first black woman to headline the festival since its founding in 1999. ("Ain't that 'bout a bitch," Beyoncé said on the matter.) In addition to setting the bar for Coachella performances past and future, Beyoncé also redefined festival style, offering her own interpretation with the help of Balmain designer Olivier Rousteing.
In collaboration with Beyoncé and her stylist, Marni Senofonte, Rousteing designed all the looks for Beyoncé's Coachella show — including the costumes for the other 200-some performers on stage, plus custom-made camouflage looks for Kelly Rowland and Michelle Williams, who joined Beyoncé for a Destiny's Child reunion.
Needless to say, Rousteing has been busy. Before Beyoncé's second Coachella performance this weekend (yes, there's another one), we caught up with the designer following a late-night fitting this week in Paris. Below, Rousteing opens up about the design process and reactions he got from Jay-Z and Ms. Tina.
Are you going back to California this weekend?
I wish I could. To tell you the truth, I'm working on the Met Gala as well. I also have so much work in Paris — two [Balmain] resort shows (menswear and womenswear), plus my menswear show. So, I'm still trying to figure out if I can go.
When did Beyoncé and her team approach you to work on her costumes?
We had two months. We've been talking about the creative concept since the end of January and it's really been an exchange of ideas.
Was there like a first look that came together? What was your starting point with Beyoncé?
I think the Nefertiti look — the cape with the hat. We wanted something really timeless, but still part of this story. Also something couture that everybody will remember in 30 years. When you work with B, you want to make sure that every single detail is something unforgettable.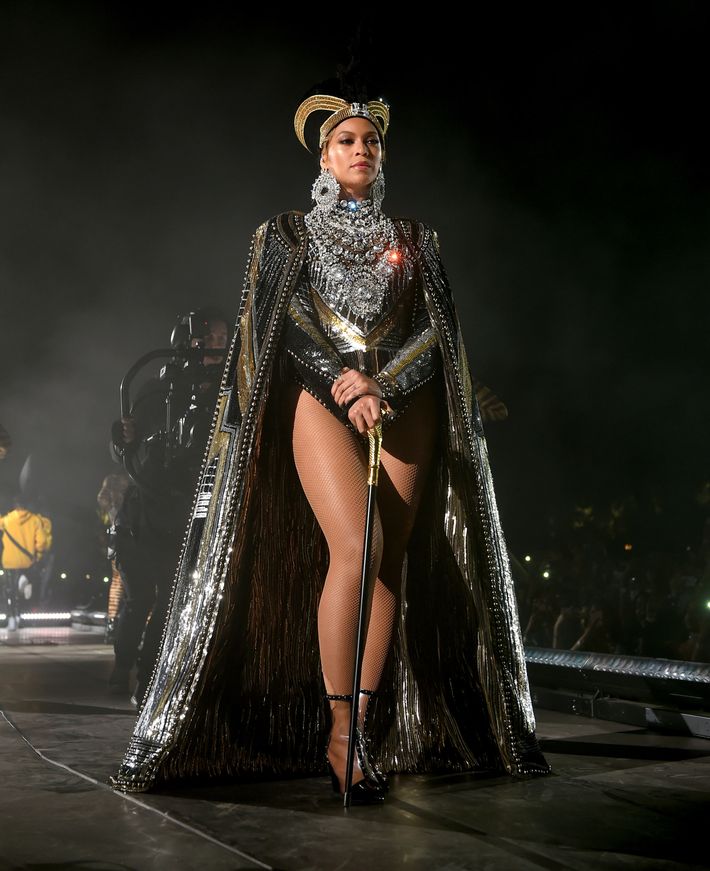 After the cape, she loved the idea of mixing hoodies and sportswear with couture. My spring 2018 show was also all about holograms and futurism, and she liked the idea. The fishnets were also part of my show, so we really had an exchange of stories. The Destiny's Child look, let's call it the "camo story," was a revival of the beginning of Destiny's Child, but at the same time it was part of my menswear show last winter, which was all about military. We really, really had the same vision and I think that's why it came out so nicely.
Ms. Tina Knowles, Beyoncé's mom, used to do a lot of the styling for Destiny's Child. I'm wondering if you worked with her at all, or if she had any input on the costumes?
Ah, no, but it was an honor to speak with her mom. When I was fixing the clothes with [Beyoncé] at her place, her mom came and it was amazing because she looked at me and was like, "You know, we did the costumes in the beginning, and now you're doing it." And I was like, "I hope I achieve what you have in mind." I was a No. 1 fan of "Survivor" by Destiny's Child, and I never would have believed that after all those years I would be the one to actually make the costumes for them. [Ms. Tina] felt really proud, and it was an amazing moment for me. 
Did Jay-Z say anything about the looks?
Yes. Jay was with us when we tried the Egyptian cape for the first time. He was just like, "Wow. This is insane." That's what I want everybody to say. It made me proud as well.
You've been a fan of Beyoncé for a while, and you designed her Formation World Tour costumes. Can you explain in your own words why you think she chose you for this moment, or how this collaboration came about?
I think because she's someone really loyal, someone with a strong vision who wants to work with people that have a strong vision as well. She's such a great perfectionist, and I think she knows that I'm a perfectionist as well. I'm never giving up. I'm always the one to push boundaries in my fashion and with my vision. It was always like: We can do it, we can do it, we can do it better. She's the same with herself. When you have two perfectionists in the same room, you know that there will be no disappointments.
I've also worked with her before, and working for the stage is obviously different than working for a fashion show. I understand the movements; I understand the choreography. I went to L.A. to see the rehearsal in order to understand the dancers around her; the orchestra. I love not only making the clothes but also understanding the music world, and that's something I think she knows from a long time working with me.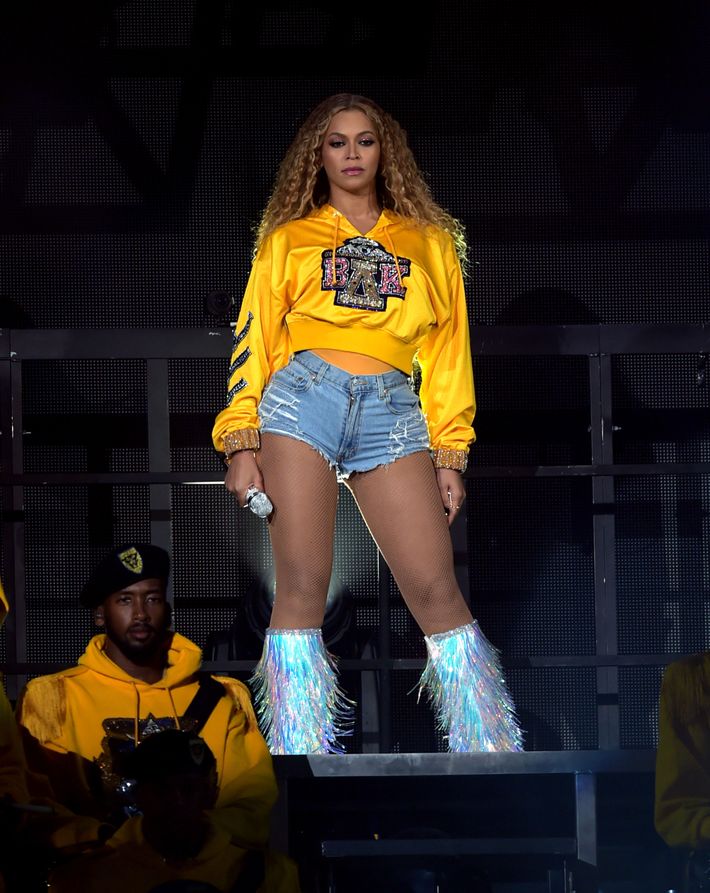 Is there any message or takeaway you want the audience to have from these costumes or your collaboration together?
Obviously working with Beyoncé is an incredible achievement, but I think what made me the happiest in this collaboration was actually the word "collaboration." I've been the creative director of Balmain for almost eight years, and it's really rare to find collaborations in fashion or music where you can actually exchange ideas. I worked really closely with Marni Senofonte, Beyoncé's stylist, and really closely with Beyoncé as well. I think the success of this collaboration was actually having a chance to be close to the artist.
Secondly, I want to mention that as incredible as Beyoncé is as an artist and as a superstar, what touched me the most is that at the same time that she was working and we were all rehearsing, she also took time to hug Blue [Ivy]. Jay was also there, so you could feel the strength of the family. That's something for me that means a lot. You can spend all this time making sure the stage is perfect, but you can also spend as much time making sure that the strength of love is there as well.