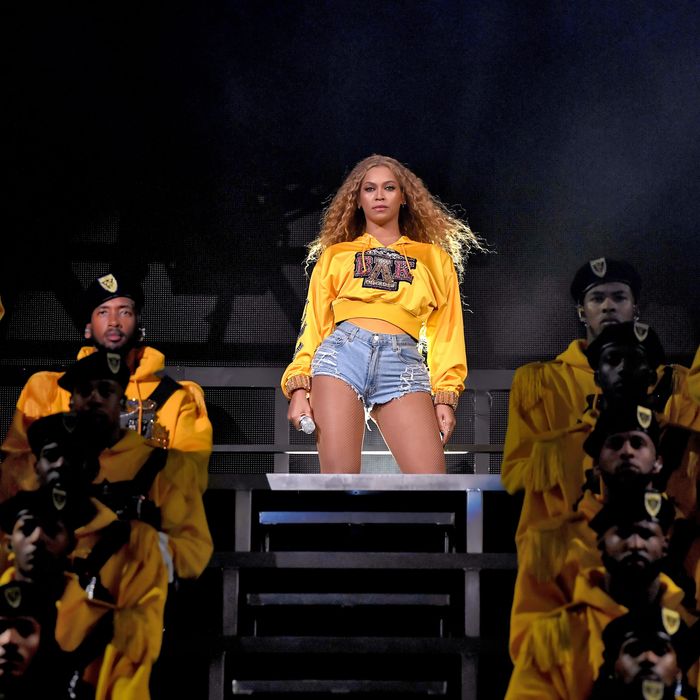 Beyoncé performing at Coachella.
Photo: Larry Busacca/Getty Images for Coachella
Following Beyoncé's historic Coachella performance last weekend, which included an an ode to historically black colleges and universities with a full marching band and some expert baton twirlers, many expressed their desire to enroll immediately in Beyoncé University. While that isn't a reality (yet), you can at least get the school uniform via a "Beychella" pop-up shop, which launched Friday.
Beyoncé began her first Coachella performance in a one-of-a-kind Nefertiti cape designed by Olivier Rousteing of Balmain, but she quickly changed into a more easily reproduced ensemble: a Coachella-esque look of jean shorts and a yellow hoodie. (Plus some holographic, knee-high fringe boots for a touch of fancy.) The hoodie featured Greek-lettering on the front and a crest on the back, complete with symbols of black power like a black panther and a fist.
Although you can't buy Beyoncé's exact look, the Beychella pop-up merch gets pretty close, with more Greek lettering and panthers. Pieces will be on sale for the next 32 days, so don't wait. If you missed Beyoncé's performance last weekend, though, you can catch it again on Saturday.