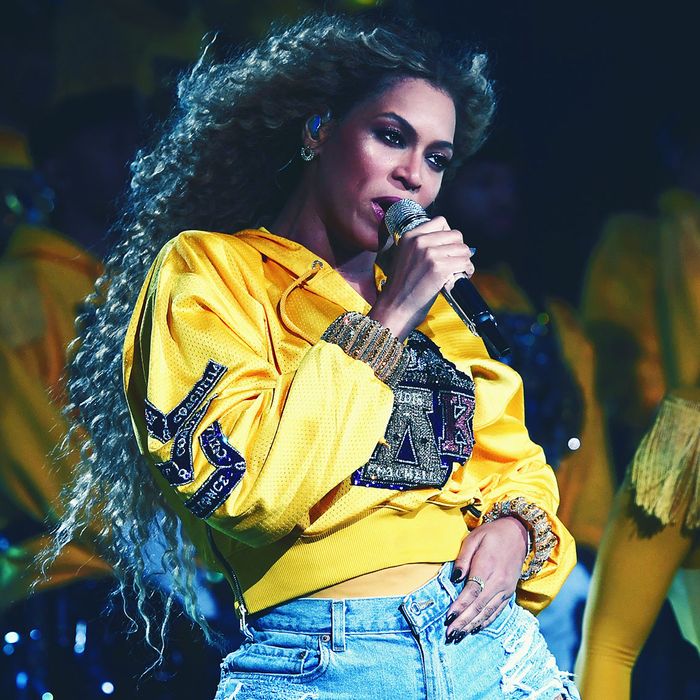 Beyoncé.
Photo: Larry Busacca/Getty Images for Coachella
Last weekend, Beyoncé delivered an earth-shattering performance from which none of us may ever recover. There was a Destiny's reunion, a dance-off with Solange, an appearance by Jay-Z, and much, much more. This weekend, she'll take the stage at Coachella Beychella again. What can we expect from her second performance?
Here's everything we know.
Wait, so Beyoncé's performing again?
Yes!!
Yay!
I know!
Will she perform all the same songs?
No. According to Variety, Jo'Artis Mijo Ratti, one of Beyoncé's backup singers from Weekend 1, said that they are "switching up a couple things, so there could still be a wow factor."
So what does she have planned for this weekend's set?
We're not entirely sure. But as our colleagues at Vulture noted, a photo posted on Beyoncé's site suggests "Upgrade U," "End of Time," "Bills Bills Bills," "6 Inch," and "Cater 2 U" may be added to the rotation.
Some fans have claimed this picture is just "leftovers," and not actually a peek at Weekend 2, but in any case, we'll likely see a few songs we didn't last weekend, and maybe even some new guest appearances. (Blue Ivy? Cardi B?)
Wow, I can't wait.
Me neither.
How do I watch it?
Unfortunately, those of us without tickets to the live performance may be out of luck. For a while, at least. Since it added a second weekend in 2012, Coachella has never livestreamed the repeat performances, and this year is apparently no exception. That means you might have to wait and watch grainy iPhone videos filmed by people lucky enough to be in the audience, or listen to the live audio on Sirius XM's Coachella radio station.
What?! That sucks!
Yes, but before you despair and/or drop all your savings on a flight to Indio, there may still be hope for the ticketless among us. Some fans are hoping the show will be streamed on Tidal, Jay-Z's streaming service, since Lemonade is still exclusive to stream on Tidal, and the service has streamed some of her past performances.
And even if it Tidal doesn't stream it, Caroline Framke at Vox even suggested Beyoncé could be turning her Coachella performances into a feature film, like Lemonade. Given how much attention was paid to cinematography and camera work for Weekend 1, at least according to Ratti, this would make sense.
I wish I could be there.
I know, me too.