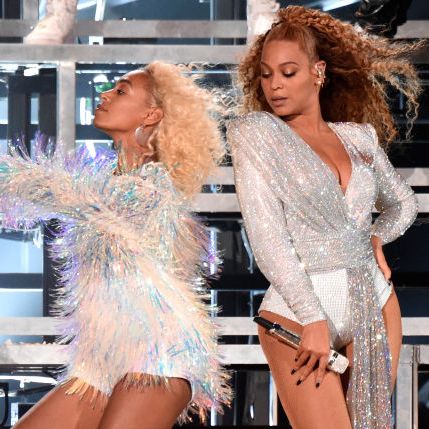 Beyoncé and Solange.
Photo: Kevin Mazur/2018 Kevin Mazur
Beyoncés, they're just like us — .0001 percent of the time. Capping off her already-iconic two headlining performances at this year's Coachella festival, Bey shared a cute moment with her sister, Solange, on stage as the siblings did a dance-off to the certified seduction jam "Get Me Bodied." The sister act was supposed to go as follows: Bey picks up Solange, they gyrate a little, and Solange flutters back down to the ground. Except, nah, not this time. Twist! A fatal drop occurs, and by fatal drop, we mean the duo has a good giggle about it and continue on their merry way. Those stilettos, man. They didn't come to play.
Won't you get the stage bodied?