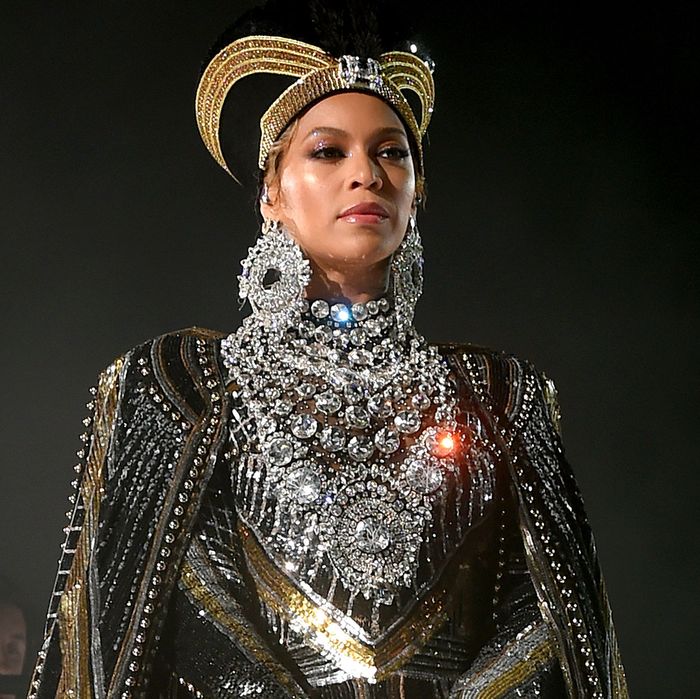 Beyoncé at Coachella 2018.
Photo: Larry Busacca/Getty Images for Coachella
As we continue to unravel every possible detail from Beychella, Beyoncé's makeup artist just elaborated on one of particular interest: the singer's Coachella beauty routine.
First, some context. There was a point toward the end of Beyoncé's Saturday-night performance when the signer dabbed her forehead with a bright white towel. That's not exciting on its own, but that the towel remained white even after she used it, is.
I know what you're thinking: Beyoncé sweats? And her makeup doesn't rub off on white fabrics? I was surprised too, and over on Refinery29, Sir John, Beyoncé's makeup artist, explained how he made her performance makeup incredibly durable.
"Layering is the key," he told the site. "So you want to use a liquid foundation, then set it with bronzer; a cream blush, then set it with powder blush; eyeliner, then set it with shadow. No matter what part of the face, it has a double application."
Sir John also revealed the exact makeup he applied on Beyoncé, telling Refinery29: "I found this new body makeup called AllEven, it's a spray makeup but it will not move. You can have white sheets and sleep and it won't transfer. I use it on her boobs, arms, and legs. We had four changes so we wanted something transfer-resistant."
And there you have it. How she is able to run around in heels for two hours straight, on the other hand, will remain a mystery.